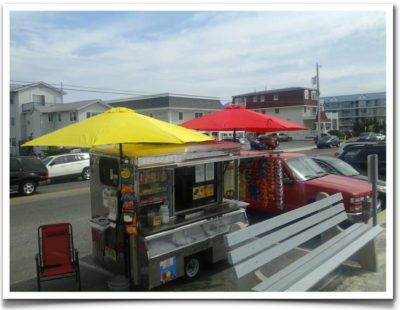 Brian Shores decided to make his hot dog cart 8 foot wide and 4 foot tall instead of how it was intended.  He says any vendor can do it, all you need to do is round a curve, hit a bump and bam !  This HDVR favorite hot dog vendor flips his cart and didn't even get a picture.  Just imagine all of this laying over sideways in someones lawn.
No Worries
Brian and his trailer survived the wreck.  He says it's mostly cosmetic.  Jason and I are going to do a fundraiser so we can get a case or two of bright pink duct tape for him.
This reminds me… insurance.  Yes, you need it and should have both comprehensive and liability.  For liability, check out the hot dog vendor resources page.
Robb Harper Is Getting Ever Closer
Robb submitted two more pictures.  He's been busy getting his cart built and has come a long ways since last week.  He's using the Build A Cart course from www.BuildACart.com and should be giving some more updates next week.  On the show he talks about the build.  Listen above or watch below.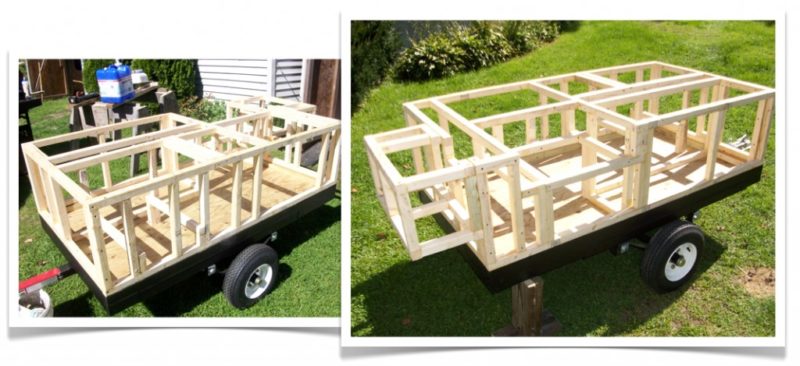 Boo!
AJ from Supa Hot Dogs got a HUGE catering gig.  We discussed the options vendors have in making more money this fall working pumpkin patches, costume stores, corn mazes and haunted houses.  Check out last years article about this here.  AJ writes;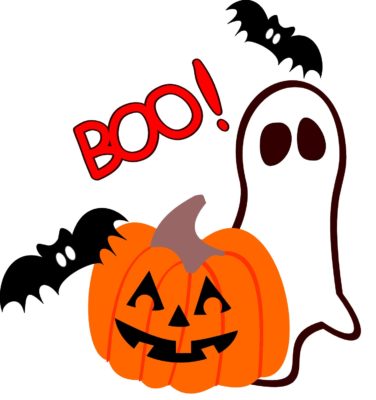 I just wanted to write you this evening about a Catering Job I got tonight!!!  Out of the blue, a guy came up to the stand and asked about an opportunity to cater.  I told him I had thought about it but was only doing this for about 3 weeks now.  He was soooo impressed with the setup, he hired us (wife and I) to set up for a fundraising party he has on October 12th.  1000 Guests!!!  Ben, you were just talking about this on the show this past week and I never even considered it.  I have to be honest with you, even when the other guy was talking about it…I kept saying to myself…not me…not this year…I need way more experience…but in the heat of the day and the heat of the cart…my mouth worked before my brain and I said SURE!!!  Now as I type this…1000 people.  3 weeks.  I better get my rear in gear and start planning.  I am going to do a Sams Club dog that was discussed instead of my signature SABRETT hotdog…I know I hate to lessen my standards, but I can not afford to take a hit if something goes a rye with 2000 hotdogs even at my discounted price.  Sams club is way more reasonable and if I take a little hit with over estimating, I can still make money.  I will send you more as I get more details…but I want to thank you again for your information and really making this business a reality.
The ONE BIG THING EVENT!  FREE TO Mafia Members!
If you haven't heard, then you need to check it out.  I'm doing a live online exclusive event for all street food vendors.  We have about 30% of tickets remaining.
I will show you how to make up to $1400 daily by doing ONE BIG THING.  Join Us and make serious cash!  If you are a Hot Dog Mafia member, please click here to get your free ticket.
$50 On Demand Hot Water Heaters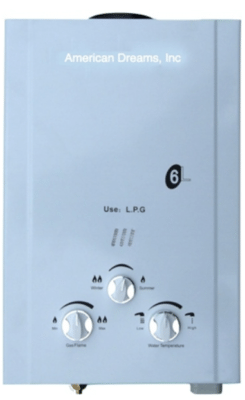 I started something new.  It's kind of reward for our live listeners.  During each show I will have a fantastic deal on something at HotDogCartStore.com store.  It will only be available during the show and will be announced during the beginning of each show.  This time HotDogCartStore.com offered the L6 hot water heater for only $49.99 to it's Hot Dog Mafia Members and $69.99 for others.  A huge savings either way!   We opened the doors up with 50 heaters available 43 people jumped for the deal.
Heck, these sell for over $100 on some websites so you could resell them and make money.  Next week HotDogCartStore.com will have another fantastic deal.  Stand by.  Don't miss your chance to pick up some great bargains.
No Show This Sunday
But I will make it up either Monday or Tuesday Night.  Submit your questions at https://www.speakpipe.com/AskBen, email me or just call in during the show: 424.258.9364
 Who Needs A Pickup Truck!
Duggs Doggs sent in a picture of his supplies that he will attempt to fit inside the Smart Car.  You may remember the picture of his Big Dog Hot Dog Cart behind this sexy Smart Cart and it looks as if the cart is bigger than the car.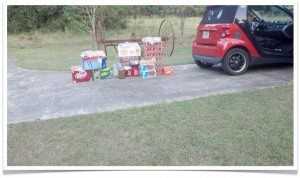 4 each 24 count 12 oz Cokes
2 each 24 count 12 oz Diet Cokes
1 each 18 count 12 oz Orange
1 each 36 count 12 oz Dr Pepper
1 each 36 count 12 oz Mt Dew
8 each 16 count Hot Dog Buns
2 each 80 count Baker and Chef All Beef 8/1 Hot Dogs
1 each Gallon Sweet Relish
1 each 114 oz Bakers and Chef Ketchup
1 case 1200 each Dixie Napkins (6-200 count Packages)
1 case 50 count Lays Chips
1 case 50 count Lays BBQ Chips
2 cases 50 count each assorted Chips
1 box coco, individual packs 60 count
1 container Folgers Coffee, 240 cup.
1 Roasted Whole Chicken (My Supper)
1 Bullet Prof Vest (My Protection)
1 9mm Weapon (My Protection)
1 each Very good looking hotdog guy. (me)
1 Sock Monkey (My buddy)(He lives in the smart car)
Rose and Duane Get A Nice Cart For FREE!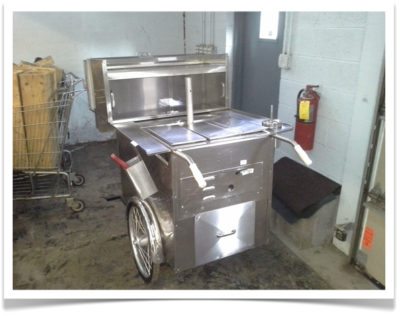 They emailed me with questions about a cart they received and we answered those on the show as well.  If you have are looking for a used hot dog cart be sure to watch the video below first.  It will save you money and help when making the purchase.

Are You Online Yet?
If not, get started now.  It's a legitimate business expense, will add credibility when you go for the big gigs or doing special events and gives your customers a way to learn more about you.  You can set up a WEBSITE IN 10 MINUTES right here.  It's inexpensive and it works!   Sign Up HERE AND SHARE YOUR SITE TODAY!