There are lots of hot dog vendor accessories that can make your work easier and simplify your workflow. Every day, I get asked where to buy this, or where's the best place to buy that, so I wanted to create a page with links and listing to all of those resources for hot dog vendors.
Hot Dog Vendor Accessories
If you find a better price on any of these food stand accessories, or want to share a great resource for hot dog vendors, please let me know and I'll get it added.  We could always use a great deal or two.  A couple of these links are my affiliate links and will allow you to support the blog while saving money.  For example; Amazon is one of my favorite places to shop online.  The prices are fantastic, free shipping on many items and I can usually find the lowest prices there.
I even do all my holiday shopping on Amazon and get free 2 day shipping.  So next time you need to look something up and compare prices, consider using the search box here and your purchase will help support the blog and hot dog answer man podcast.
Thank you for supporting me. Some links are affiliate links e.g. Amazon.com
Professional Vendor Banners – Exclusive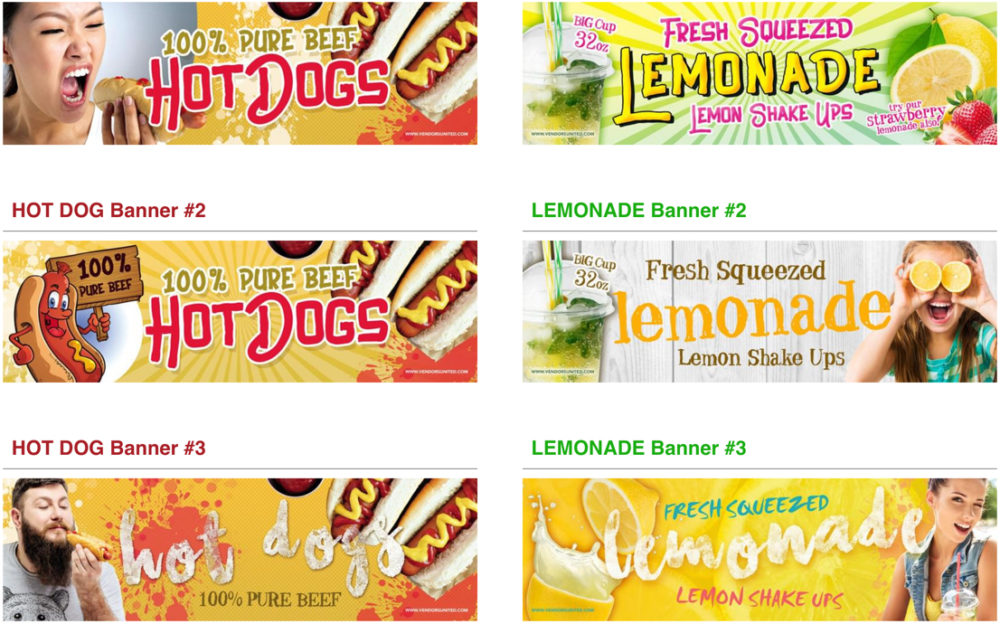 https://store.hotdogcartstore.com/vendor-banners2
Trailer lights, tools and more
I absolutely love Harbor Freight Tools.  They have trailer parts, tools, inexpensive solar chargers, LED lighting, some kick butt add-ons and weekly specials.
Portable Refrigerators 12v and other compact appliances
I love my 43 qt. freezer/fridge.  It features a FAST FREEZE button and it runs off my 12v battery or I can plug it into standard AC power.  They have smaller and larger ones, but this one is perfect for me.  You can add a rack on your cart tongue or off the back to hold it or simply toss it into the back of your car or truck.
Hot Dog Cart Insurance $299 a Year!
The most important thing to do before you sling that first hot dog is to make sure your new business is insured.  This protects you from liability in the event you are sued.  For over 4 years I have paid $650 a year for $1 million in coverage.  You can contact FLIP insurance and save huge.  Only $299 a year.
Pans, Lids and all things Steam Table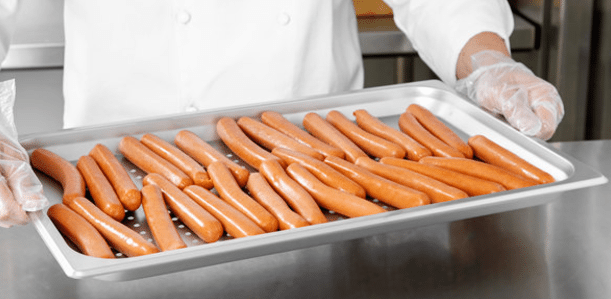 I have several places here for you and you are going to want to spend a little time comparing prices as these change frequently.
www.Katom.com  Fast shipping, friendly customer service and great prices
www.webstaurant.com  Often one of the lowest priced sellers of restaurant equipment (WARNING SEE BELOW)
MANY VENDORS HAVE COMPLAINED ABOUT WEBSTAURANT, BUT www.primasupply.com WILL MATCH ANY PRICE AND GIVE FREE SHIPPING. SO FIND IT ON WEBSTAURANT
www.store.benscarts.com   Steam Pans, hinged pans with lids and much more!  ABSOLUTELY THE LOWEST PRICES!
www.atlantafixture.com  Restaurant equipment, not the lowest prices but great service and fast shipping
www.therdstore.com This is a division of Restaurant Depot (thanks to Daniel Z.)
False Bottoms: goo.gl/c3C6jE
Steam Table Adapter Bars: Amazon
Never Clean Another Pan – Pan Liners For Vendors – PanSaver®
BensCarts.com is an authorized distributor for Pan Saver and has pan liners for vendors at the accessory store.
Ice & Gel Packs
Ice packs help keep things cold in a cooler if you don't have a refrigerator, or during transportation.
http://www.cryopak.com/en/cold-chain-packaging/refrigerant-gel/
http://www.icepackstore.com/ice-packs/216-pack-coach-s-special
Printing: Banners, Flags, Cards, Shirts and More
Currently VistaPrint would be my choice.
Condiment Dispensers From Heinz
Heinz Condiment Dispenser Guide PDF
Build A Cart from Scratch – Do it Yourself 
This jam packed video series will show you how to build a hot dog cart with normal tools.  Not just a hot dog cart either, it's based of of a loaded Cash Cow cart and is designed to last for decades.  Learn More Here
Bulk Foods and Supplies
SamsClub   www.samsclub.com
Restaurant Depot www.restaurantdepot.com
BJ's Wholesale
Used Hot Dog Carts
Concession equipment
Ice Cream Carts
Mobile grills
Food Trucks
Concession Trailers
much more
List yours FREE!

Need to add an electric ignitor to your burners?
Click Here for the Universal Kit.
Vendor Insurance
The lowest priced insurance I've found nationwide has been FLIP.  You can get a $1,000,000 liability policy and $10,000 additional coverage rider for only $299 annually.  www.fliprogram.com
Best Resource For Hot Dog Vendors Finding Events
Save hours of researching and find any event – anywhere!  Search locally, regionally, nationally and even get notifications.  SEARCH NOW
Vendor Forms
From Sales Logs, Business Plan Reviews to Catering Contracts and Property Owner Consents – It's all here. More to come!  If you have a suggestion for the list, please let me know.
Propane Y Connector
ADD A GRILL
GO WITH PORTABLE POWER
Ben's done several articles on outfitting your cart with lighting.  You can find the most popular one here: How to light your food cart .  Use the search box on the home page to search others.
Below you'll find links to two items Ben absolutely loves.   The super quiet and powerful Honda and the solar lights to be used separately.
STREET FOOD PRO TEAM – VENDORS UNITED
The world's largest resource for street food vendors.  Free courses and forms along with tons of tips and tricks.  Give it a spin – use this link to try it all out for free.  GET FULL ACCESS FOR 5 DAYS