There are vendors that will make $20,000 and more this summer.  Sounds like a lot of money, and mostly because it is.  But when you average it out and let's say you use only realistic numbers – we can see just how possible it becomes.
3 months let's call it for summer.  Some of you will have more but for the most part we could say everyone will have at least 3 months.
Average month has 4.3 weeks.  But I'm not working all week and most don't.  Let's say 4 days a week and that will account for rain days too.  4 x 4.3 = 17 days a month.  That's 13 to 14 days off for rain and emergency fishing trips.
3 months x 17 = 51 days of work over 3 months.
Now let's take the 20,000 and divide it by 51 = 392.00/daily.
So how can you make $392 daily?
A meal deal on many carts is now 6 bucks.
Divide 6 into 392 and you get about 65 meals a day to meet that number.  But we want profit right?  392 is the gross sales needed for the 51 days of work out of 3 months.  So we know on average about 33% will take care of all expenses including cost of goods sold.  Get Ben's Newsletters & Go Pro!
Buy 2 Vendor T's & Get…
Ben's A to Z – 11 Online Video Course Free – A $95 Value!  This offer is for a limited time, so get yours now.
Support "LearnHotDogs.com" and Get Rewarded
Become a patron of LearnHotDogs.com
We've teamed up with Patreon to help grow the LearnHotDogs.com training resources.  Can you afford a dollar or two a month?  If so, please click here and become a patron of LearnHotDogs.com.
It is my goal to continue to grow the site and provide the best free training on the planet.  Your support will be rewarded instantly with access to some of my exclusive courses.  Check out the rewards I've set up for you as my way of saying thank you for supporting my efforts in providing the largest and most thorough resource for vendors on the planet.
There are also some milestones that we will try to reach, so click the link and check out all the awesomeness.
SEXY AS HELL – WEBSITE!  That's right, I spent over $3,000 having a sexy as hell website designed for vendors.  You can get yours for FREE!
A New Cart For Under $1000?
Yes, you can build your own cart for under $1000.  I'll show you how.  Click Here.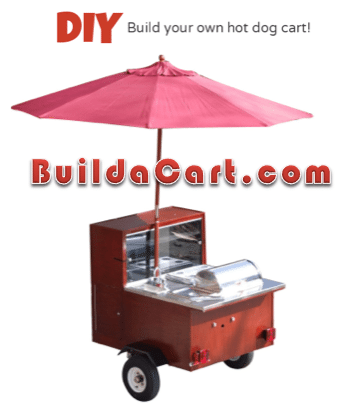 So our cost daily for those 51 days is $131 which equates to about 22 more meals to serve.
So conservatively we need to work 51 days and average 87 meals a day in order to ensure $20,000 profit over 3 months.
No this may seem like a lot and it may be more than some of you average now but I just used numbers based on only working 17 days a month.  Folks like Cory, Jason, Ron and many others work much more.  Working 20 days a month means your average daily sales can be much less because it adds 9 days to be averaged by.
I get emails daily, I talk to many vendors each day and I can assure you that 88 meals a day is very doable.  If you're not doing that, then you've got to make some changes.
1.  Work more days
2.  Change locations
3.  Increase profit per meal
4.  Alternative sources that infuse more cash like Catering and events
A. Requires good record keeping
B. Requires good work ethics
C. Requires re-evaluation of your setup (marketing and overall look)
D. Never quit
You must invest!  Time and money.