This article includes even more than was on the show.  See all the X-tra goodies below – Win $100
Without A Hitch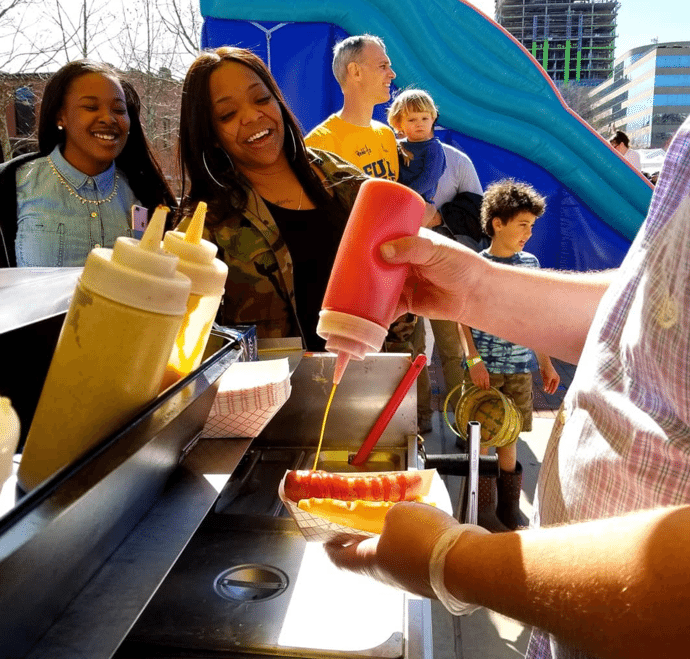 We managed to eek out another great show without a hitch.  We miss you Hitch!  The button that turns on our intro eluded me but I can assure you, this was the Official Hot Dog Vendor Radio Show.
In The News
Jason Brown of Love Hot Dog Co. was featured in Pennsylvania.  The online article included a video shot inside the Love Hot Dog Co. concession trailer. You can watch it here.
Hot Dog Lady still braving the cold and slinging dogs after 20 years.  Lisa Dunn sent in this inspiring article.  Congrats Mamaw!
Brian Shores, AKA The LinkMaster shared a news story where he was featured over on the Facebook page.  This is a great story about the economy.

Watch Shore Businesses See Mixed Bag for 2012 Beach Season on PBS. See more from NJToday.
Announcements
Those wanting free and extra entries into the Great Hot Dog Cart Giveaway this December and sponsored by BensCarts.com have been posting over on the Facebook Page.  It's pretty simple:
Post a picture of you holding my course book: "hot dogs saved my life"
Post a picture of you and your hot dog cart. (Doesn't matter the cart type or manufacturer)
Post a picture of you and a hot dog you made either in your kitchen or on your cart.
Here's just a few that have earned extra entries in the past few days.  If you want a chance or even extra chances to win – start posting today.
We need help on our Pinterest Page.  Are you currently on Pinterest and/or get online a lot?  If so, email ben@benscarts.com/learn if you interested in becoming our Pinterest contributor.

It Didn't Stay In Vegas
BpCorey Blake posted this video on our Facebook Page.  Thanks Corey!
Classifieds For Street Vendors
Buy and Sell Hot Dog Carts in this free Facebook group.
From hot dog carts to food trucks and concession trailers, the new vendor classifieds has it all.
used hot dog carts
used concession trailers
used food trucks
GIG LISTINGS – GRAB A GIG HERE
used equipment for sale
services (commissaries to locations)
IT'S FREE!  Yup, just grab a keyboard and start typing.  Search for your next cart, your next course or list one for free.
This Show Was Jam Packed – Keep Reading
Convicted Hot Dog Vendor Gets Some Major Help
Awhile ago we featured an article and story about a fellow licensed vendor that was arrested after he failed to comply to North Carolina State laws regarding the use of a commissary.  You can get up to speed by watching this video, but afterwards please read below.

Last night, Staff Attorney for the North Carolina Institute for Constitutional Law; Tyler Younts was on the show and briefed us on why the case is pending in the NC Appellant Courts.  Thanks to groups like this who defend our individual liberties.  Mr. Younts and his group work for free, they rely on individual donations and have dedicated their lives to helping others.
From all of us here at HDVR – We thank you, Mr. Younts!!!   To learn more about this case and to pitch in a buck or two, click here.
LISTENER FEEDBACK QUESTIONS ANSWERED
How do I get around my state requiring me to pay a $200 fee for each location?
How can I refrigerate my hot dogs?
How do you warm your buns?
What is the standard mark-up on hot dogs?
How much is the wholesale price for dogs and buns?
How much can a vendor make over a month or year?
What are the best locations for a beginner?
Can I set up at high schools or colleges?
For answers to all these question, click the play button at the top of the page.  If you have a question or would like to share with us on the HDVR show, CLICK HERE and leave a message.
Rob's Event Gets Rained Out
What was supposed to be an all day event ended up being only 6 hours with on and off showers.  Rob still managed to eek out $1400 – I know, it's bad and so we will be doing a fundraiser for Rob soon!  LOL
Brock Davis – Artist
Snack Shack, one of our Facebook friends posted this up recently.  It's the cool artwork of artist Brock Davis.  Soon to be in Target stores Nationwide on various t-shirts, this kick butt concept has to be one of the best I've ever seen.  Ingredients: A napkin, ketchup, mustard, a bun and a hot dog.
Are You New?
Did you know that you can download and listen to the Hot Dog Answer Man Podcasts or the HDVR radio shows from your iPhone?  You don't have to stay on this site to enjoy the episodes.  Listen while you work, drive or mow the lawn.  Heck, listen while you exercise, awww who am I kidding, I ain't exercising.  Watch this short video to learn how.
There are apps for the Blackberry, Zune and any other smart phone or music playing device.  It's FREE so you can take us with you anywhere you want.