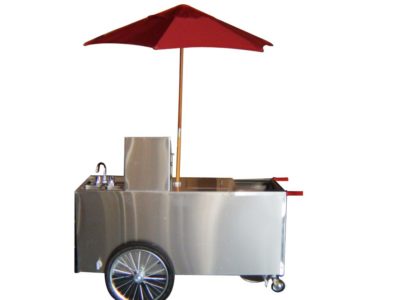 Struggling Hot Dog Vendors
Are you struggling?  Have you recently found that those little income calculators are misleading?  Fear Not!  Rob and I will walk you through step by step on what to do if your hot dog vending business is lacking.  We share some common mistakes hot dog vendors make, we talk about the best places to put your hot dog cart and share some hot dog vendor locations that you may have never considered.
Real Help
I did an article a while back.  It was titled, "It's Hard and I Ain't Making No Money"   which talked about the challenges many vendors face when getting started.  This latest addition to the wealth of knowledge found within this blog sheds more light and new light on the subject of challenges and overcoming those obstacles that many new hot dog vendors face.  Click play above and take advantage of the ideas shared.
Hot Dog Vendor Location
If you have needed to make a change, needed some ideas on new locations, profitable opportunities for your hot dog cart, then listen to our most recent podcast above.

Rob and I pull all stops and give some fantastic locations to pursue and we also discuss how to get those locations.  Thanks to all those vendors that have shared their ideas and their "secret" locations with us all.
50,000 Cars A Day
Why setting up your cart on the side of the Interstate, regardless the traffic count is not a good idea.  Yes, we cover that too!
Listener Feedback Line
You must know by now about the listener feedback line we have, right?  Well this past week more questions came in than I had time to answer.  We attempted to do a 1 hour show and it nearly made it 2 hours.  We did make it to one feedback line listener and answered his multiple questions.
Questions Answered
When should I change locations?
Where are the good locations?
How do I ask for permission for the new location?
Where is the best place to buy my hot dogs?
What prices should I be looking for?
Where do I find the best deals on chips, soda, condiments and more?
Asked and answered, click play above to listen now.
Win $100 – Winner Announcement On October 23rd – Live
Yup, you could win a $100 gift card for The BensCarts Store by simple making a cute hot dog picture.  Listen above for instructions.
Top Hot Dog Vendor Locations
Find even more tips and valuable advice for locations by searching our site.  Remember Google is your friend.  Here is a fantastic link to more of our super duper bestest and goodest locations for your hot dog cart.  CLICK HERE.
The Good, Bad and The Ugly
Vendor shout-out:  Melissa and Harry; I love the shirt.  Especially the Events and Catering – great job!!!