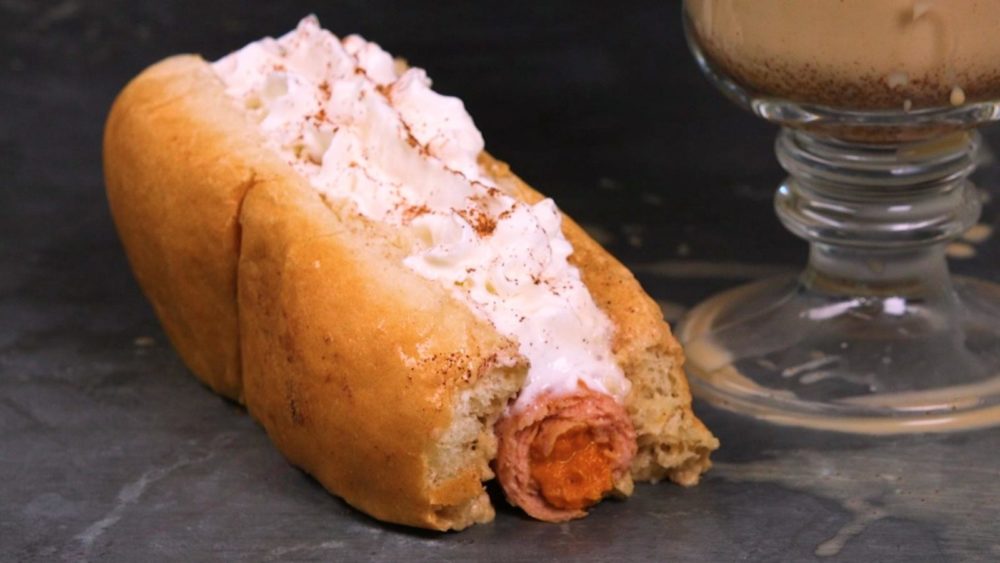 We had fun on our 39th episode of Hot Dog Vendor Radio.  Due to hurricane Sandy we didn't get to talk with Jason but he's ok, just hanging out in the dark until the power returns.  Our hearts go out to all those affected by the storms.
Happy Hallo-weenie!
If you have a picture for halloweenie from your hot dog cart, please share it on our Facebook page.  Many vendors are working during this holiday event, some even set up at corn mazes and haunted houses.
North Carolina Institute for Constitutional Law
We were joined last night by Jeanette Doran, she is the Executive Director and General Counsel for NCICL.  She was presented with a donation from the Mobile Food Vendors Association of $500.00 to support their efforts in defending and the protection of our rights as vendors.  I know, you don't live in North Carolina, but listen in to find out why it matters, why what NC does can affect your court decisions.  A big thanks to Jeanette for staying up late to share with us all.
Nathan Joined Us Live
Nathan is the 13 year old vendor who made National News when his city gave him a permit to vend from his hot dog cart but then took it away calling it a "mistake".  Nathan helps provide for his disabled mom and dad with the proceeds of his cart.  After the city shut him down, he sold his cart and now is needing our help to get started again.  You can watch the videos of Nathan here and you can help him get a new cart by visiting www.LearnHotDogs.com/Nathan
Bob The Builder
Bob is building a hot dog cart from scratch.  He purchased the DIY course from www.BuildACart.com and got started.  He has documented his progress with pictures and updates here on the blog.  Bob is really close but needs some help.  He was approved for his Kiva Zip loan and needs some help raising the funds.  Please check it out here.
Bob From Texas
Bob shared a great idea with us.  Ever had trouble lighting your burners?  I know I have.  Well Bob suggested we add this to our hot dog carts.  It's a universal spark ignitor and it's a fantastic idea.  Believe it or not, Bob built his cart from scratch too.  Here's a link to his story.
All The Way From Holland
Ralph writes in…
Hallo Ben,
 After reading all your pro advise, I like to congratulate you for an excellent job you did with it.
With my son, we plan to set up a hotdog business here in Holland. 
So I started to look at USA made carts, also yours.
But here it rains quite often and the weather is even in the summer very rainy.  I ended up with China. A standin cart with an electric motor. The reason, who wants to stand on a cold street with plenty of rain.  Hotdogcarts are seldom seen in Holland.  Reading and studying your advice, proofs me to continue with the hotdog business to set up.  I like to thank you for your professional good advice and wish you all the best.  If you would like to visit Holland in the near future, let me know.  As a starter some pictures about Amsterdam.
 Best regards,
 Ralph Schuurman
Vendor Randy Newman Moving On Up!
Randy sent me a picture of his Hot Dog-Zilla II.  Upon successful operations of his first cart, Randy has bought his second.  It's a beauty Randy!
Vendor Questions:
Ronnie asks: I was wondering how the lobster rolls with $24/# claw meat went. I was also wondering what kind of food cost he ran with that if he doesn't mind sharing.  As I stated, Jason wasn't on the show and this question was for him.  Fortunately I spoke with Jason afterwards and he shared…  $1.50 an ounce is cost, which each lobster roll gets 3 ounces, a total of $4.50 in just the meat alone.  That is cost!!!  Wow.  He sold them at $10.00 each and no one batted an eye.  2 lbs. should make you 14 sandwiches.  Tip: Don't split the roll to deep.  These are served on a split top rolls that are 6″ long.  "No one batted an eye at the $10 price!"
Jason made the lobster at home and then put the 3 oz. portions in snack size zip lock bags.  This saved time while serving.  You can email JasonB@MyMFVA.org with questions.
Mark asks: I have an event Halloween night that will be about 5 hours long but busy for about 3 hours  Really busy.  What is the best way to serve about 150 dogs in an hours time off my Big Dog cart?  We also do drinks, chips and hot chocolate at this event.  (Answered on the show)
Vendor Tips
As we often do, we shared some tips that can help you become even more successful.  In the very first part of the show I share a method for buying and reselling used hot dog carts, how to find a great used hot dog cart and then all about selling it to make some extra money.  Listen above for more.
Rob from North Carolina shared some great tips to, be sure to listen to the entire show for Robs tips and advice.
Win A Hot Dog Cart
Several vendors posted up pictures on our Facebook page.  Every post was awarded 2 extra entries into the giveaway this December.  Here's Fresh For U Hot Dogs, Al "Boo" Miller, Marc Robinson's Daughter and Duggs Doggs – Good! Good!
Hot Dogma Is Almost There
Remember Carol?  You know from Hot Dogma!  She was the first of BensCarts.com sponsored loans with Kiva Zip.  She is almost raised the funds for her zero interest loan.  If you could help push her over the top – we guarantee you a smile, hug and a hot dog if you visit Nashville, TN.   Click to lend $25 or more here.  No worries, it's a loan and you get it back, thanks to Kiva Zip