LOOSE LIPS
provided for some tips and tricks that hot dog vendors and food truck operators can increase their monthly income by $1200.  Listen by clicking the play button and then I have provided all the links and show notes below.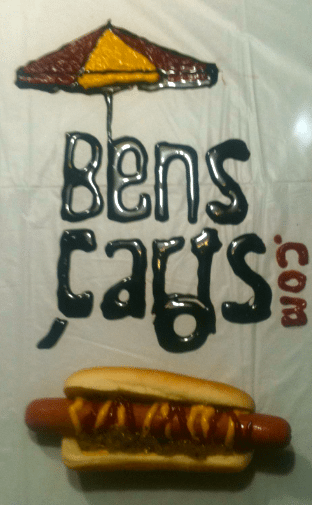 UPDATES
Carol of Hot Dogma Depot raised the $5,000.00 for her Kiva Zip Zero Interest loan in a matter of days thanks to some wonderful lenders.
Used hot dog carts are showing up on the free classifieds page.  Check them out here.
Bob the Builder is building his cart and is half way to reaching his goal.  Let's help Bob here.  Check out Bobs cart progress here, he's building it from scratch using the DIY BuildaCart System.
Brian the Link Master was MIA – Where O' Where is Brian?
Al and Lisa Miller made this sexy logo from hot dog cart condiments!
O'Doggy's gave discounts to those with their "I Voted" stickers!
HOT DOG CART GIVEAWAY IN JUST A FEW WEEKS
Cory Lawrence
Happy Jack's
Al "Boo" Miller
John Cavanaugh
David Street
All earned extra entries into the great hot dog cart giveaway coming next month.  You can earn entries too, just post a picture of you with my course book; "hot dogs saved my life", a picture with your cart or with a hot dog you made on our Facebook Page Here.  Thanks for the posts and comments!!!
Jason Brown / Love Hot Dog Company Tip #1
Jason shared how he took the 3M Command System on the back of the menu boards he found at Staples.  It allows you to take them off and on for traveling and looks better.  Great tip Jason!
Tip #2 comes from Jason as well.  Instead of using towels around your windows and openings, Jason used pipe insulation for a much better look.
CALLER QUESTIONS AND COMMENTS
Marty from Arizona asks:   Having trouble – Commissary owners worried about liability
Al "Boo" Miller drove 2 hours to his Tuesday night location and discovered that the owner had let a concession stand take his spot.  This ended up with tons of tips and advice for us vendors in dealing with our property managers.  You don't want to miss this part of the show.
Hots and Brats tip #3
Duggs Doggs – Good Good called in, Mr. Michael Wood with a great event that you may want to join in with – in your neck of the woods.
TIPS, TIPS AND MORE TIPS
Fiverr – Need someone to hand out flyers, how bout wear a tshirt with your company logo and info around your college campus, what about getting an awesome logo?  What about getting this these things for only $5.00 – yup, five bucks.   Well check out Fiverr.com and then let me know what you got done for $5.00
Want $500 or even $1200 extra each month?  Of course, well check out www.ctswholesalesunglasses.com and check out the cool stuff you can offer from your cart.  Be sure to

listen above for the best item

, the one that made me over $1,000 every month.
A to Z COURSE NOW AVAILABLE
You can now get my all new A to Z hot dog vendor course.  It's a jam packed video series with tips, tricks and all the nitty gritty in order to get started and be ahead of others by years.  I share years of experience in this 5 hour course.  Learn More Here.
DO YOU NEED A FOOD HANDLERS LICENSE?
Get yours online for only $15!  Save time and money with this online course and you can do it all in 90 minutes.  Click here.
AMERICA'S FIRST ELECTRIC HOT DOG CARTS!
HOOOORAAAY!  BensCarts.com now has the Lil Dog and Cash Cow carts available in electric versions.  Videos and other info coming soon, however they are available now.  The electric hot dog cart is here!