I love gifts that give back.  Well duh.  But as you know, all gifts give back.  They do it by giving us that warm gooey feeling of having done something nice for someone else.
I freak'n love that feeling!
The Great Hot Dog Cart Giveaway 2013!
Yup, I get to give away a brand new Big Dog hot dog cart in a couple of weeks.  If you subscribe to the newsletter here on the blog, you are already included in the giveaway.
Every year, HotDogCartStore.com gives away a brand new hot dog cart.  It's fantastic!
Extra Chances To Win
Last year I made some extra special ways for you to gain additional entries.  This year was no exception.  All those who actually open and click links in the newsletters are receiving extra entries.  All those who visit the blog regularly (and yes, the blog is smart, it knows who comes and goes) will receive extra entries.
Those that shared blog articles and posts get even more entries.   (by the way, thank you)
Want Even More?
It's not too late.  If you would like some freebie extra entries, I have a great way.  This is a gift but it gives back twice, maybe 3 times.  It's simple – really.  You give something (something to be announced below) to family members, friends, favorite customers, enemies (that you want to make nice with) or about anyone on your holiday list and you get the joy from giving it, plus free extra entries into the Big Dog hot dog cart giveaway by HotDogCartStore.com and your giftee receives some the best fudge on the planet and you have helped a very small business out tremendously.
Yes – You Can Take My Word For It
This fudge is the most smooth, delicious, melt in your mouth, creamy, can't get enough of it fudge on the planet!  The company is out of Florida and a single mom of 4 little girls owns the distribution rights for this fantastic fudge.
In my frenzy to eat it all before my wife got home, I got a little bit on my forehead.  My tongue almost beat my brains out trying to get to it.
The Deal:
Buy a box of fudge from PLANET'S BEST FUDGE 1/2 lb. – Shipping Included and send me your receipt before December 8th and receive 5 extra entries into the Great Hot Dog Cart Giveaway!  Email receipt to ben@benscarts.com/learn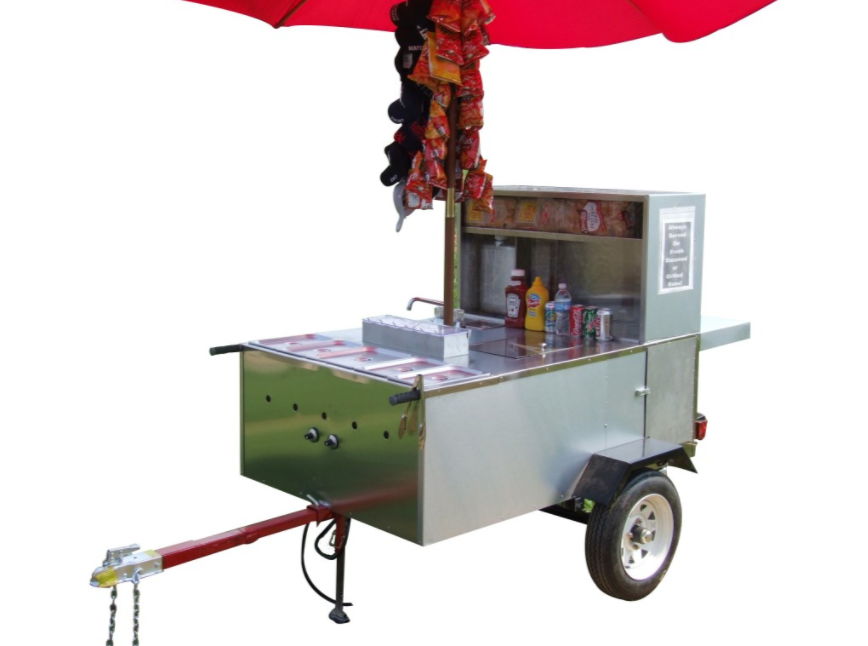 STEP ONE:   CLICK HERE
STEP TWO:   CHOOSE YOUR FUDGE
STEP THREE:   EMAIL ME YOUR PROOF OF PURCHASE/RECEIPT STEP FOUR:   BASK IN THE GLORY OF BEING A HERO, FOR HELPING OUT A NEW BUSINESS, FOR GIFTING YOURSELF OR SOMEONE WITH THE BEST FUDGE ON THE PLANET AND ENJOY KNOWING YOU JUST GOT HOOKED UP WITH 5 (FIVE) ADDITIONAL ENTRIES INTO THE HOT DOG CART GIVEAWAY.
WHY THIS FUDGE IS SPECIAL
Not everyone would divulge trade secrets, but since we are friends and it's been awhile since I've been sued… Cedar Key Fudge first selects the best of the best cows.  The key ingredient in fudge is cream and without the best cream, you can't have the best fudge.
Once the cows are selected, some of the biggest, baddest-ass people on the planet pick up the cows and begin to shake them ever so gently. The cows will begin to drift off to sleep as the cow shaker bad asses begin to shake faster and faster.  Eventually the cream is extracted and put in Granny's ole 12th century handmade pottery bowl.
Trained monkeys help wild parrots from the Amazon and Congo seek out the best cocoa beans, vanilla beans, strawberry juice, praline flowers and vanilla fruits.  They fly across the ocean to deliver what everyone considers to be the very best in ingredients – in which to flavor the cream. Sugar is gathered by the sugar gliders from all over the world and delivered the same day.  (The logistics of this operation are staggering.)
Using the same wooden spoon that the Greek God Mithras used to stir his famous but not quite as good cream, real angels come down and begin to stir.  Slowly they mix all the ingredients until at last the planets and possibly the Universe's best fudge is ready to be shipped to you. For $20 you can receive 226.796 grams of this deliciousness delivered to your door.  In 'merican, that's about 1/2 pound.
PLANET'S BEST FUDGE 1/2 lb. – Shipping Included to get yours now.
Fudge Your Customers – Fudge Your Friends
For that matter, fudge everyone.  Heck you could be done with your holiday shopping in about 10 minutes.
Your welcome!
TIP
Microwave fudge for about 10 to 25 seconds until melty and gooey and pour over your favorite ice cream.  Hurry before they make it illegal.  mmmmmm  good.