If the conditions are right (ripe) – lemonade vending can create a honey bee and even yellow-jacket magnet. Bees all around you, your customers and equipment – so much so, that it's impossible to vend.
Bees are NOT only robbing the sugar – they are robbing you of the money you'll miss in sales.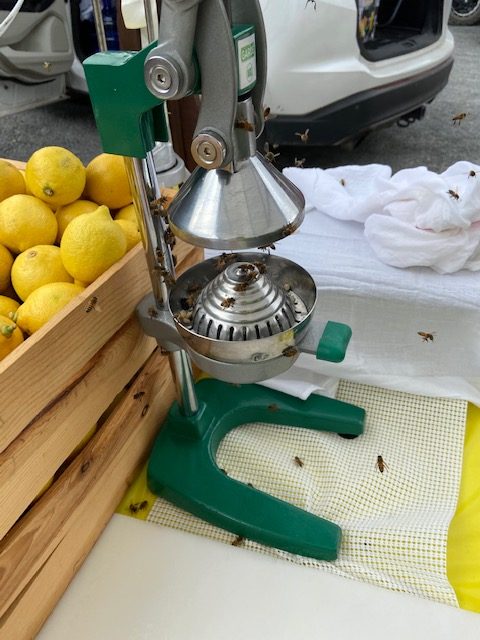 ONLY SOMETIMES BEES DO THIS
One vendor wrote me and sent this picture. Here's an excerpt…
(This picture is nothing compared to what it looked like when we left. I could not see any of the chrome because it was covered with bees.)

Casey – New Lemonade Vendor
THE PERFECT BEE STORM
My dad was a commercial beekeeper in the 1970's & 80's. Probably one of the larger U.S. beekeepers. We were migratory, which meant semi truck loads of bees hauled across the country to the different blooming crops.
Mom trailed behind with us 6 kids, for the months long stays in Florida and North Dakota. And now, my dad just calls it his hobby with about 100 hives.
I keep a few hives and know exactly what causes the perfect storm for bees.
Bees would rather find nectar from flowers. A bee colony can grow to upwards of 100,000 members by July and as the blooms become less frequent – they'll send out more scout bees. Scouts will look for flowers and blooms for up to 5 miles from home. Once found – they'll fly back and tell all the others (waggle dance) and off they'll go.
When the blooms are gone, the bees will look for anything sweet. They'll even find trash with soda cans or anything with sugar. Bees can process about any form of sugar to turn into food for the hive.
And this includes the unsuspecting lemonade vendor's sweet sugars and juice around their setup.
DO THEY STING YOU? YOUR CUSTOMERS?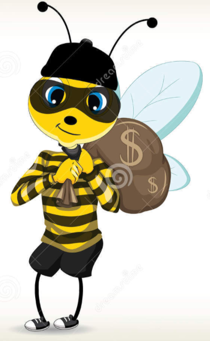 For the most part, you'd have to work really hard to get stung by bees who are robbing from you or a nearby trashcan. Bees are aggressive when it comes to protecting their hives – but when out working as "robbers" – they are 99.9% harmless.
It's like they know they are stealing and they want to get in – and get out as fast as possible. Unless you accidentally put your hand on something trapping one – then odds are… no one will get stung.
EITHER WAY – IT'S IMPOSSIBLE TO WORK WITH 100'S AND EVEN 1000'S OF BEES ALL OVER YOUR STUFF.
BEE ABATEMENT – SOLUTIONS!
This time of year, lemonade vendors are making a killing. I mean = many are making $1000's every week and even every day.
HOW TO START A LEMONADE BUSINESS
And to lose a day of 100's, if not $1000's – to some robber bees is not an option. Here's a list of solutions from the awesome lemonade vendors inside our Vendors United mastermind group.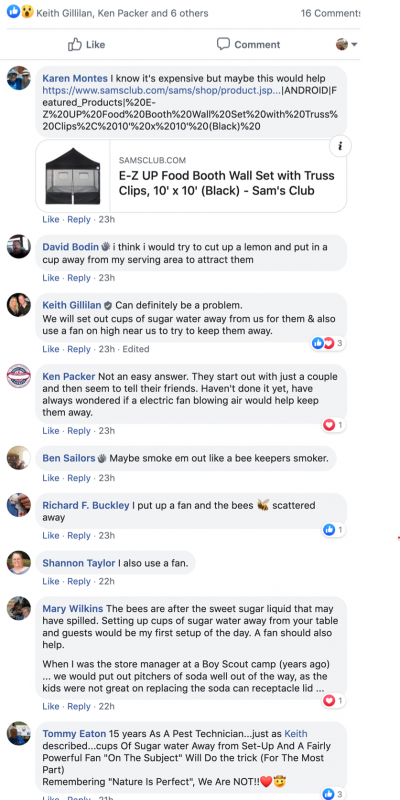 FANS WORK BEST! I've talked with vendors with screened in tents but bees will still find their way in.
I would also put some honey or syrup on a paper plate or napkin or two at some different areas to encourage the bees elsewhere and protect your lemonade vending business.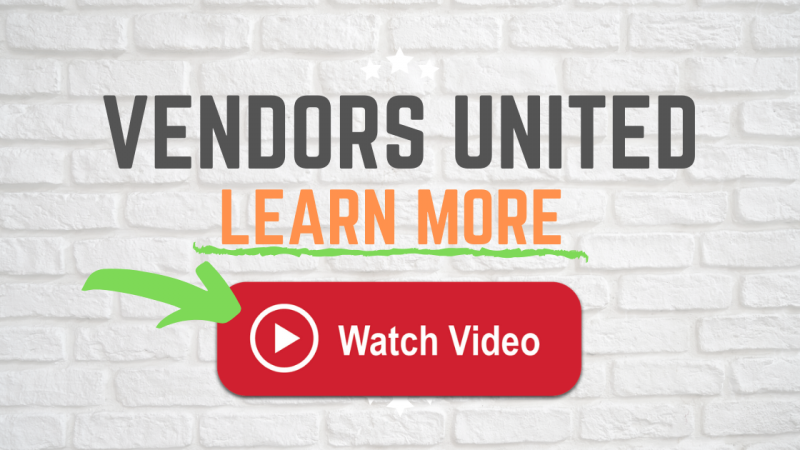 NOT AN (ALL THE TIME) PROBLEM FOR LEMONADE VENDING
Like I explained above, bees don't do this often. Conditions have to be perfect.
big colony
no blooms
perfect weather
no other easy food source
You could vend every single day of the year and you might have 2 or 3 days where bees were a problem. It's not a common issue but can still ruin a good lemonade vending day unless you've got your fans handy.
My wife de-capping the honey comb. Note the bees everywhere and the sound. There are literally thousands of "robber" bees as she works. None of these bees are from the hive we took the honey from. These are ALL bees from other hives around the area. Robber Bees!
Remember: If it wasn't for bees, we'd have no lemons to make lemonade
All you need is a kitchen to turn your life around –
[CLICK HERE]