Don't Miss The Important Information Below (hint):
Get up to $450 additional off these prices!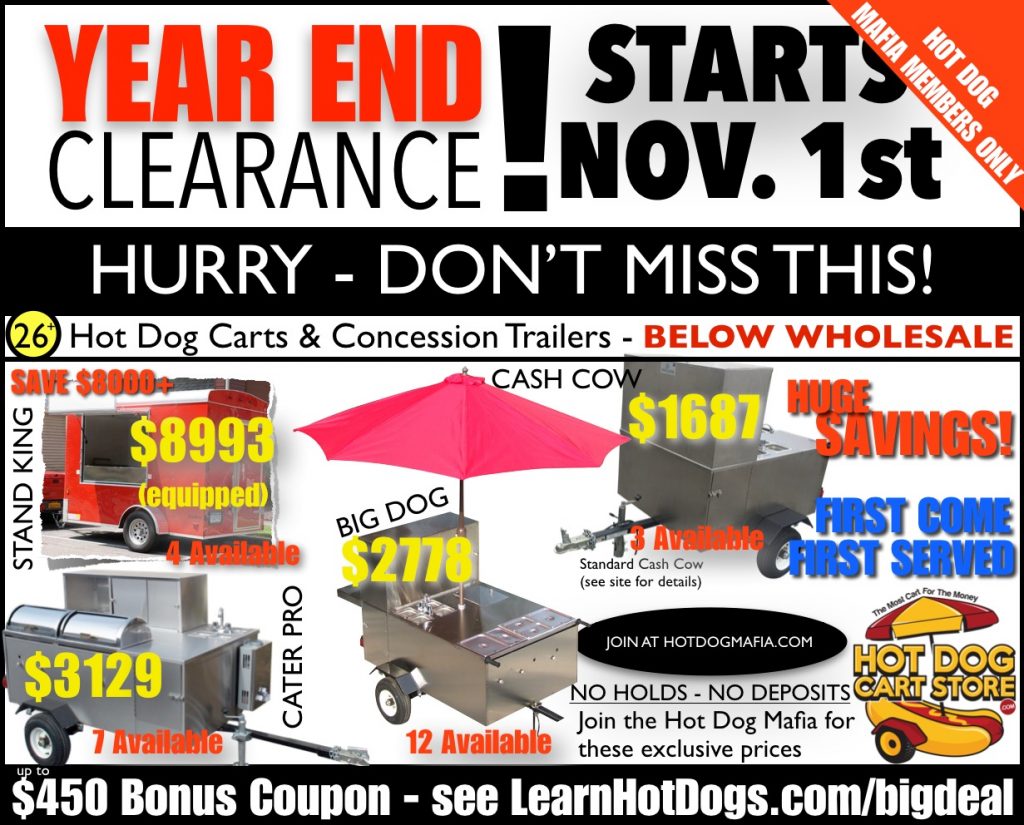 Hot Dog Cart & Catering Cart Year End!
Every year we have a few carts left over as we gear up for the next year.  This year is without exception and starting November 1st, 2016 you'll be able to "steal" a deal on a new hot dog cart or concession trailer.  We must move all remaining 2016 stock.
This means fantastic, below wholesale pricing to you.  Our most popular hot dog carts are on sale now.  The Cash Cow, The Big Dog, The Cater Pro, The King Kiosk and The Stand King are at the lowest prices!
These deals are for Hot Dog Mafia Members ONLY!  If you aren't a member and would like to join, please click here and take advantage of the biggest deals in our history!
FOR EXACT STEPS (SEE BELOW)
Sold Out History
2013 we had only one model available and they sold out in less than 48 hours.  2014 and 2015 it was less than 10 days and every model available was snatched up.  This year we have 4 carts and a concession trailer at unheard of pricing.  BUT YOU MUST ORDER FAST!
When They Are Gone – THEY ARE GONE!
This year we are opening the sale price to any Hot Dog Mafia Member but there is a limited supply of each.  When they are gone they are gone.
As you can see they are subject to availability and current quantities are listed – once all available units of any particular model is sold out, then the price will update automatically on our site.
Please do not call and ask.  If it shows the price, then there is at least one available.  There are no discounts for multiple purchases as we hope many people will be able to take advantage of our biggest sale ever!
The Cash Cow – ONLY $1687 – Lowest Price Ever (3 available)
The Big Dog – ONLY $2778 – Below Wholesale (12 available)
The King Kiosk – ONLY $3827 – Incredible Savings Of Over $1200 (2 available)
The Cater Pro – ONLY $3129 – Incredible Savings Of Over $1200 (7 available)
The Stand King – ONLY $8993 – Incredible Savings Of Over $1200 (4 available)
THE DEAL
Unfortunately we can not do layaways.  We can not accept deposits/partial payments on any of these closeouts.  All sales must be made in full.  When we run out, the special pricing will end.  No additional discounts will be applied.  First come, first serve basis only.  Financed orders will only receive the special pricing while quantity remains or must be paid in full by Dec. 19th, 2016.
BONUS DEAL
I don't want to confuse things but how would you like to receive an additional $100 – $400 off? Nope, it's not a trick question.  It's for real!
We have 2 things here, let me explain briefly…
HOT DOG MAFIA : buyers group that gives you savings and access to free stuff including access to year end pricing – watch video here for more info
STREET FOOD PRO – VENDORS UNITED :  A members only group with access to the best training, best help, direct access with me including incredible discounts too…   It's a monthly program that includes the World's Best Vendors, Street Food Pros.   They get a coupon each month that gives them additional discounts on top of being a hot dog mafia member.  You can get this too and double dip on this awesome sale. VENDORS UNITED
So you can actually take advantage of these incredible one time only prices plus get an additional discount with your coupon from the members area.
Interested?  Learn more and join by clicking here:
STEPS TO PROCEED:
 Join the HotDogMafia (if you want to get closeout pricing)
 Join Street Food Pro Team (if you want additional discounts)
 Order cart and system will recognize your a Mafia member.  Then during checkout, use the coupon code found in the members only area at Vendors United.
Street Food Vendor TV
We will be live at www.streetfoodvendor.tv the first Sunday of December at 9:PM.  Join us and vendors worldwide for the most informative and educational show for street food vendors.