You can easily convert a hot dog cart water system from the "passive" gravity flow to a more reliable, pressurized on- demand system. A few years ago, small portable on-demand water heaters became available and more importantly, affordable.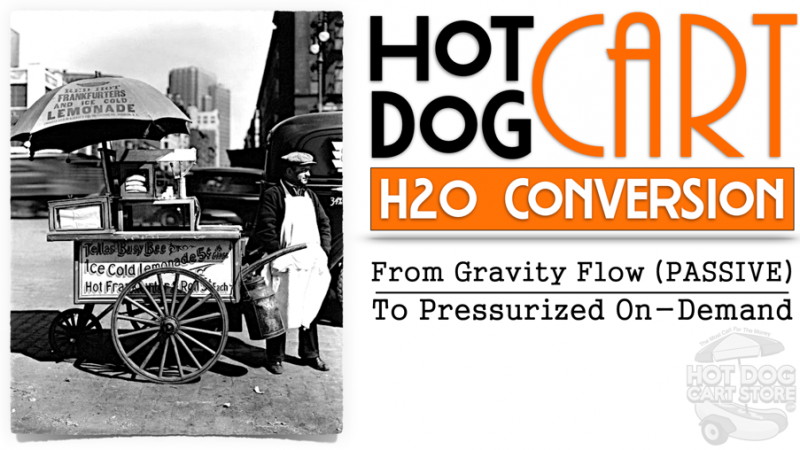 Initially these heaters were marketed to folks living off the grid or to campers. Manufacturers of food carts began using them and states took notice. Now states are beginning to require pressurized water systems on food carts, trailers and hot dog carts.
WHY WOULD YOU CONVERT A HOT DOG CART WATER SYSTEM?
There are pros and cons to either type of system but ultimately, the pressurized on-demand system rules the day and is why recommend you watch the video on how to convert a hot dog cart water system. It will save you time and is more reliable. This is why many states are amending their food codes to include either mandatory conversions of a hot dog cart water system or requiring any new cart licenses to include the feature.
Passive Water System
A passive hot water system uses gravity to push water through lines. The hot water line passes over or near the burners in the burner box (steam table) and heats up. When hot side of faucet is opened, hot water built up in lines runs out.
PRO
A simple system with very little to go wrong
Inexpensive
Requires no extra fuel usage
Cuts down on over usage of water
CON
Very limited amount of hot water per use
Tendency to spit and sputter when turning on faucet
Pressure build up in lines causing blowout in tank or line if not relieved constantly
No temperature control – scalding hot or cold only
Very little pressure
Reduced volume
Pressurized On-Demand Water System
PRO
Reliable and constant pressure
Endless hot water (as long as you have water in your fresh water tank)
Adjustable temperatures to meet state codes
Reliable temperature with no fluctuations
Constant volume (not a trickle)
CON
More expensive
More things to go wrong
More equipment maintenance
Flow rate (volume) is higher and so water usage has to be limited to maintain a daily supply
UPGRADING AND CONVERTING A HOT DOG CART WATER SYSTEM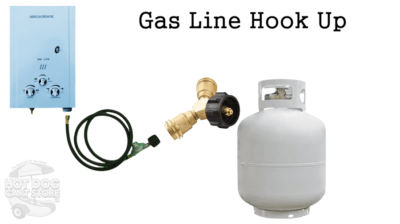 WHAT YOU'LL NEED:
PEX type food safe water line and some connectors
You'll need some basic tools but you can also get any plumber to hook it up. I recommend you supply the parts (less the plumbing lines) to the plumber to avoid the up-charges.
View most on demand water system parts right here on one page.
VIDEO ON CONVERTING A HOT DOG CART WATER SYSTEM