Mail
Hot Dog Vendor Company: Toe -Jam's Dogs wrote in.  They have kindly given me permission to share with you.  This letter is packed full of advice from fellow new vendors.
Hello Ben,
Thanks for the email checking on my progress into the world of hotdog vending. It has definitely been a learning experience. I have learned a new respect for street vendors. There is a lot more to performing and executing this type of work than is visible on the surface. With all of the preparation work, researching new venues, food supplies, loading supplies for the start of the day, set-up, tear-down, disassembly, clean-up, and all of the other miscellaneous tasks that need tending. Dogging is not for weenies ….
All of that said, I have gotten into a routine for getting all of the associated tasks and duties accomplished in a timely and efficient manner. The Kink Kiosk cart performs well and is equipped with all of the right stuff to handle vending at smaller to mid-sized events.
Since my start at "dogging" about 5 weeks ago now, I have found there are a few more doggers in the area than anticipated. During my first two week s out on the streets, I had 3 other doggers stop by to check out my operation and give me a few pointers – I guess word travels when there is a new dogger in town.
 I have had several customers ask if I know the vendor at the Lowe's or the guy that sits in front of the post office, or a couple of others here and there. I tell them I do not know them personally, but I did speak with most of them before buying my cart and starting out. Many of these same customers also tell me I have the best dogs around – I am using 100% beef dogs (regular size and Nathan's ¼ lbs jumbo dogs (Big Dogs)) and an Italian Style chicken sausage which is actually very good.  I now have several repeat customers for the Big Dogs and the Italian sausage. When cooking the dogs, I add a couple cubes of beef bouillon into the water along with a couple capfuls of liquid Hickory Smoke Flavoring and a few splashes of Worcestershire sauce. – damn, my secret is out now.  
I also carry a pretty good assortment of condiments such as chopped onions, sweet relish, hot red relish, mild banana peppers, and of course chili, cheese, sauerkraut, and cooked red peppers & onions kept warm on the steam table.
My third week into vending I did a two day event and secured a booth at the Sharpsburg Heritage Festival (SHF); which I signed-up and registered for a couple of months before I had my cart. This year is the 150th anniversary of the battle of Antietam – the bloodiest single one day battle of the Civil War. The event was advertised for several months and was supposed to be the largest event to be held in Sharpsburg ever – event sponsors estimated 10,000 + people to converge on the small town. However, there were a few large scale reenactments taking place at and around the battlefield that shut down local and main roads into Sharpsburg and the in-town crowds were not as anticipated.
I spoke with several of the other food vendor that were set up at the event – many had been vending for years and several were retirees who travel form event to event – and they all were sorely disappointed at the lack of patrons. Just about all of the other vendors only sold about 1/3 of the product they brought to the event.
My original plan for the SHF was to have enough stock to sell about 500 total dogs and sausages. I consulted with my commissary owner who has been in the restaurant & beverage industry for over 30 years; I consulted with the owner of the local tavern & grill, and a couple of others. All told me that this is going to be the event of the decade, or century. We will never again see the number of people in town that will be there for this event, and it will be a two day event whereas in the past it has only been a one day event. I was told that if I only planned for 500 I would sell out in the first day – which would have been fine with me. Anyhow, I was talked into at least doubling my sales stock; so I did. I stocked up with about 1000 total regular & jumbo dogs, and sausages, and of course the buns, sodas chips and all of the other items needed such as ice, condiments, etc., etc, etc,….  I sold about 300 dogs & sausages in total. I did sell enough of everything to cover my costs of inventory and the purchase of a 10×10 E-Z up tent and a couple of large coolers. So all-in-all I met my goal of at least covering my costs. After the event I donatred 500+ buns to one of the local food banks and did get a receipt which will be used as an expend deduction.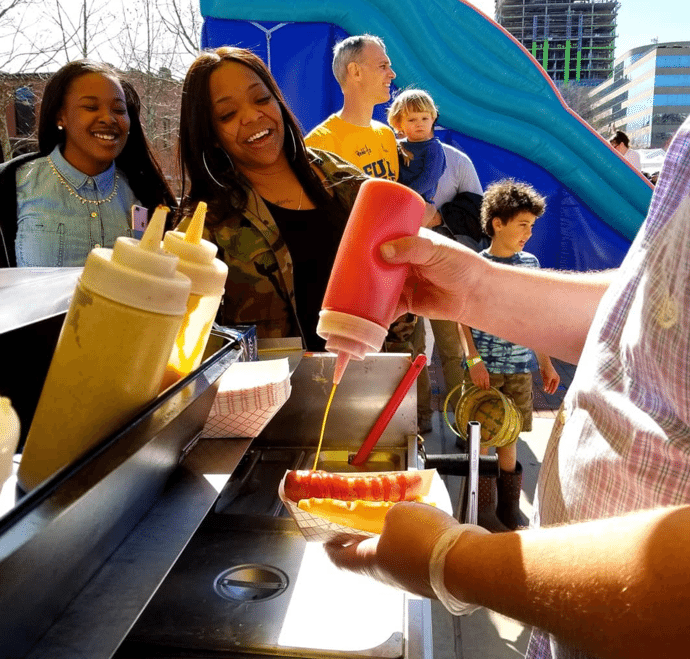 Oh yeah, the logistics of getting  all of my inventory, supplies, coolers etc., to the event is another story for another time. Maybe a good conversation topic for Hotdog Vendor Radio – logistics support for vending at events.
My extra inventory of dogs, sausages, chips and sodas will be used at an event I am catering this coming weekend at a small shopping center. A few weeks ago a woman stopped at my stand and asked if I would cater her event. She operates an antique store in a small shopping center and, along with the other store owners, is having a fall festival in the shopping center parking lot. She told me that her parents had a hotdog stand when she was a little girl and she love hotdogs. She is anticipating about 300-500 attendees and I will be the only food vendor.
My big hit of SHF event amoung the other vendors, event workers and early- birds walking around town was my breakfast menu. Using the grill on the King Kiosk cart, I cooked and served bacon & egg or sausage & egg breakfast sandwiches on steak rolls I used for the Jumbo Dogs and Italian sausages. I used pre-cooked sausage and bacon and egg beaters. The first day was a little slow with breakfast because of the last start after getting set up for the weekend. I did have several patrons ask if I was going to do breakfast on Sunday. Although the event did not officially start until 1200 on Sunday, I was there at 0800 selling breakfast. I served about 20 breakfast sandwiches on Saturday and about 50 on Sunday.
Over the past couple of weeks I have had several other people stop at my stand ask about catering their events such as a church function, a new feed store opening, fall sales for another store, and a fund raiser for a school. While daily sales may be a bit slow at times, I am finding that it just takes a little time, persistence, tenacity, and patience, but – to steal a line form a movie, "…build it and they will come…"
Toe-Jam's dogs
Mobile Catering Services
Breakfast Items, Hot Dogs, Sausages & BBQ
Hot dogging is not for weenies…
A Big Thanks and A Fantastic Idea!
I want to thank Toe-Jam's for taking the time to write such a nice letter.  So many details shared to help others.  Stay tuned, Toe-Jam's will be on the Hot Dog Answer Man Podcast with a fantastic tip for the Holidays!  You don't want to miss it.