Today we have some hot dog cart wisdom from top dogger Michael Wood, aka Duggs Doggs!
What Items are Needed on a Food Cart (that you never think about):
Here are some things you might not remember until you need them! Consider adding them to your prep list.
Salt and Pepper for customers. (People ask for this all the time)
Hot Sauce for the customers to use as needed. Let the customer apply as much as they want.
Bags. Lunch size bags to put the meal in to make it easier to carry (2# and 3# tray fit in bags and this also provides a cover for the food). Works great when people are on the run.
Straws (only get the kind that are covered).
Hand cleaner and Hand Soap. Most Health Departments require Hand Soap for operator but having Hand Cleaner for the customer is a plus for them.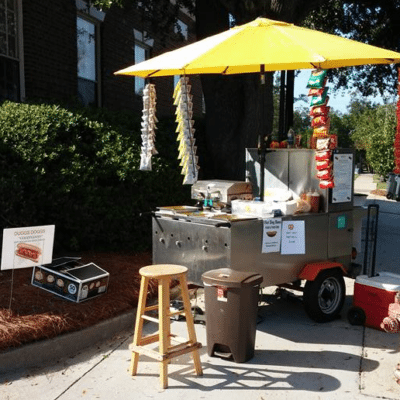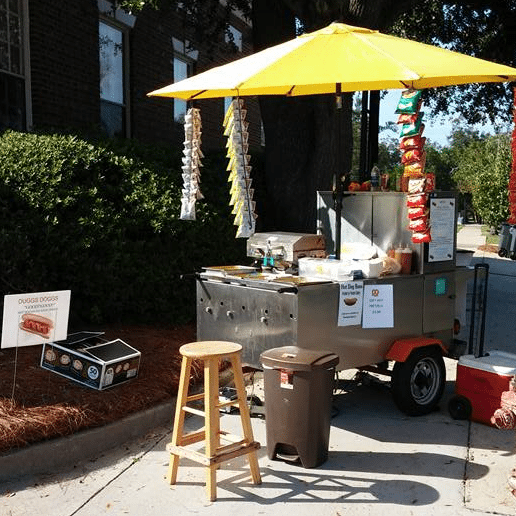 For Catering Events:
Here are some things to remember for your catering jobs!
Offer Organic Juice Boxes for the kids. Parents love it when they are sugar free or natural, and you can charge $1.00 to $1.25 per box. (Cost $10.68 per case of 40- 6oz box or 26.7 each).
Offer 3# trays. They hold two hot dogs, cost is only about .02 each and make it easy for the customer.
Charge setup fee but waive it if the Catering is local. This makes people feel they are getting special treatment by being a repeat customer and/or local.
Award discount for repeat customers. Even if you only give them a 5% discount they will remember. If you have a customer spending $500. with you giving them a discount of $25 will not hurt you but it will make them feel great.
Always have extra food, and let the customer know it that you will have extra but they will not be charged unless they request to use the extra. You can use the extra during the week or at your next job (keep it stored frozen). It does not have to be a lot and the only thing you may loose would be a few dozen buns.
Inform the customer that you will take all trash/waste at the end of the event if needed, at no extra charge. This will cost you a few trash bags and maybe a trash can or two but is worth it in the long run. They will be happy that they don't have to deal with the garbage. You can get a recycle bin and resale the empty cans which will pay for your trouble.
Send a card or a gift to your best customers that cater with you. I do Christmas Cards and send a calendar or a magnet or something that they can keep. I even just drop some donuts or a cookie tray off to my special customers.
If you can offer to do all the shifts at the factory — "Yes I can serve all three shifts!" — this may keep you up late, but companies remember that you went the extra mile.
Accept credit cards. Most large companies prefer to pay by Credit Card so have one available. Square works great for me.
Bring your documents. I am not a tax or finance expert or a legal or an insurance expert but have a copy of your Insurance Coverage, Serve Safe Certification, Health Inspection, Business License, Tax ID Number and a W9 available if the customer ask for a copy. This also can be used as a way to get the business. People love you when you are legal. If you have it brag about it…
Do an invoice for the customer. This will make you look more professional. Also, give the customer a receipt. Keeping records will help you track your catering business.
Always keep an extra copy of the name, phone number, address and any other special information about the customer. You will need this when you contact them if you get slow, or for your next event next year. Remember repeat business makes you money over and over. Computers die and break so back up everything and keep a copy of everything. Record keeping for any business is the key to making it a business; even if you do it on a yellow pad.
Always Think About Customer Service
Doing these little odd things may seem small and forgettable. But these items set you apart from the other vendors. Good!! Good!!