Breakfast is a big money maker, so what to include for a great breakfast menu? Breakfast sandwiches are hugely popular, and some fast food chains even do breakfast all day.
You can sell breakfast from a mobile food cart or as a catering business and it's not too hard to get started. Here is an idea for a quick and easy breakfast menu item.
You can do this at home or modify it for your hot dog cart or catering business. Scroll down for more tips!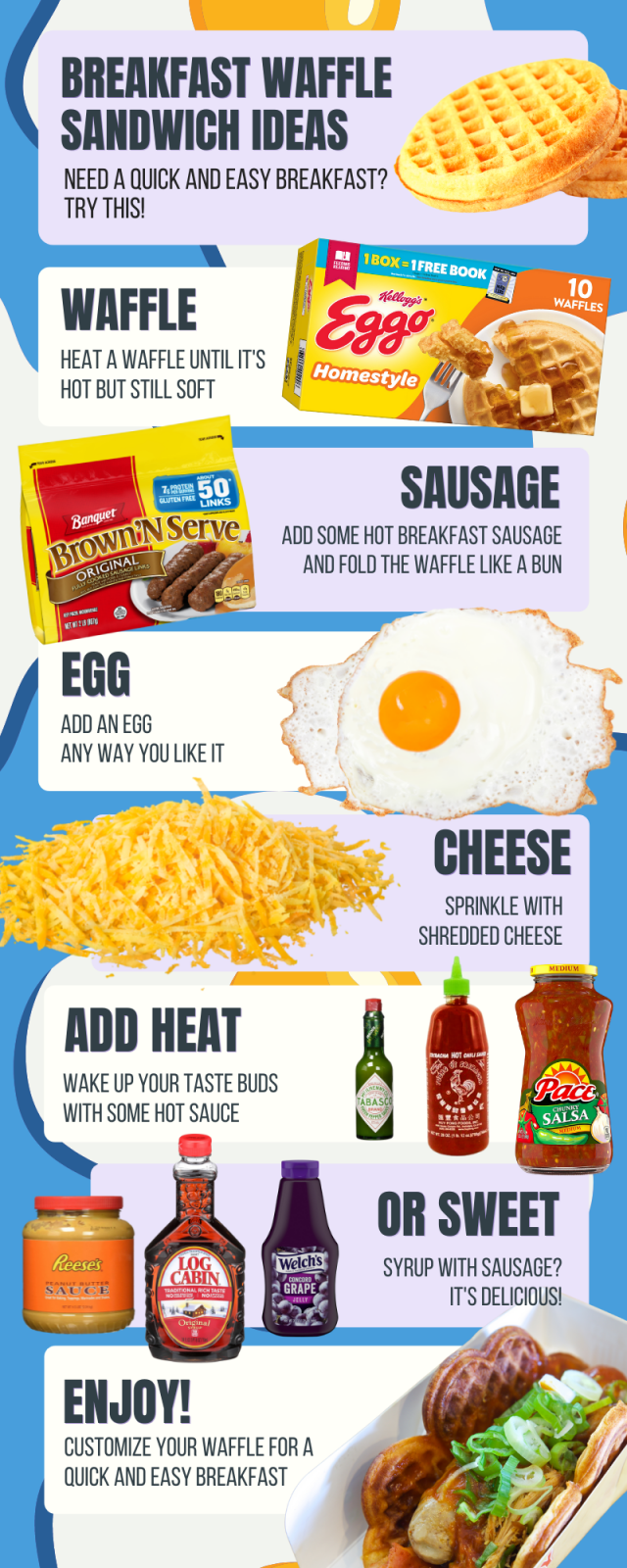 Breakfast Menu Idea: Waffle Sausage Sandwich or Breakfast "Taco"
Depending on your location, there may be rules about what foods you can sell for breakfast, but this is a good starting point.
Even if you're limited on adding eggs and other ingredients, you can probably offer precooked waffles and precooked sausages on your breakfast menu, which is enough to make a basic pig in a blanket.
Serve the hot waffle with sausage inside, fold it over like a taco shell or bun, and give folks a choice of hot sauce or syrup.
These can be pre-assembled and wrapped individually in foil. Hold them in a hot steam table until it's time to serve. Easy peasy!
People love having a hot breakfast sandwich, especially on cold mornings. The combination of sweet and salty flavors is amazing.
Waffle and Sausage Combos to Try
Depending on the occasion, you can get really creative with your ingredients and toppings! Put together a whole waffle taco bar for brunch.
Wrap several dozen ahead of time for early morning sports practices or office meetings. There are so many possibilities!
Try these for your breakfast menu:
Waffle with sausage = basic pig in a blanket
Sausage, Waffle, egg, cheese, salsa = waffle taco
Waffle with peanut butter and jelly, plus sausage = weirdly wonderful waffle
Sausage in Waffle, bacon bits, and maple syrup = sweet and salty
Change up your sausage flavor if you have a local or regional favorite. Hot links, bratwurst, andouille, chorizo all have loyal fan bases, so try some new combinations.
Same thing with sauces! Local hot sauce, mustard, or horseradish? Feature your local delicacies and create your own special recipe.
Learn more about these pro tips by networking and asking questions to the best vendors on the planet inside Vendors United community. Check it out here…