The Walking Taco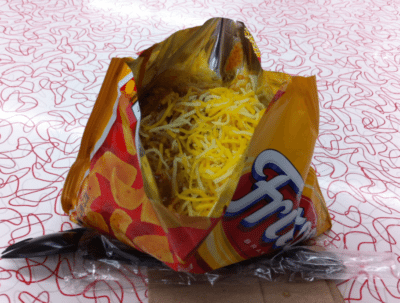 Not just easy to make but the profits are HUUUUUGE!  You can carry Frito's® corn chips or a multitude of Doritos® flavors and let your customers pick.  Or you can just stick with Frito's® and buy in bulk.
How Much Can You Make?
Assuming you weren't buying in bulk and you just topped with a couple ounces of ground beef, cheese, lettuce and maybe some Jalapeños you'd have about .89¢ in it.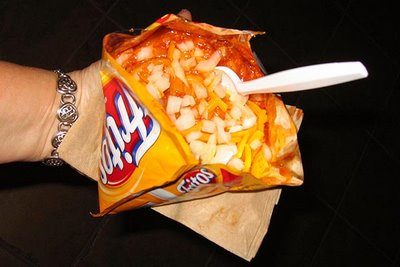 I've had some vendors tell me they load it up, sour cream too and have about $1.40 in it using the 3oz. bags instead of the 1oz.   Either way, vendors are selling these delicious walking tacos from $3.00 to $7.00 each.
At just $3.00, you've tripled your money and made a new happy customer. Sell just 50 of these a day and you've added a cool $100 to your net income daily. And some vendors, they are selling over 100 daily while making $4.11 per bag.
Thats a whopping $411.00 per day EXTRA!
Not Just Easy – We Make It Even Easier
Instead of using all those toppings, why not add a scoop or two of the chili you already have on the cart.  Make it a chili cheese walking taco.  But even if you want to stay faithful to the true taco ingredients…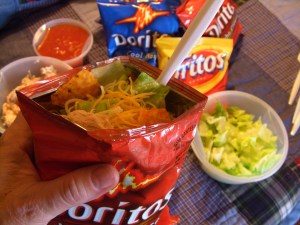 a few containers of toppings and you've got a profit maximizing meal.  Jessie says he offers it as a stand alone item but also has a meal deal with a hot dog and a walking taco.
Several vendors use their chili, cheese sauce and throw in a sliced up hot dog. You can use one of these to make short the work on slicing.  You can even pre-slice dogs and hold in water bath.  Use a perforated ladle to scoop out a few chunks and toss in the bag.

Hot Dog Slicer
SOLUTIONS:
Some vendors have had issues with the health department and offering shredded cheese and sour cream from their carts.  Most states do require you have potentially hazardous foods in individual serving containers.
To resolve this issue if faced… grab some containers like these…
Pack of 500 Serving Cups w/lids
From your commissary make up into individual serving containers and then you can serve easily from your cart.
For more recipes and tips, join the Street Food Pro team at Vendors United!