Hot Dog Catering Agreement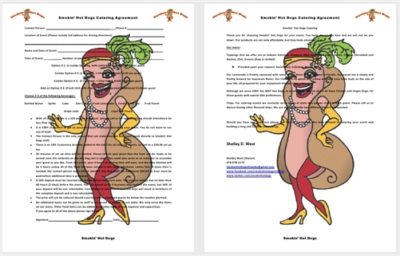 I wish I could claim responsibility for this, but I can't.  This is from fellow vendor and friend Shelley.  She is the owner of Smokin' Hot Dogs in Orlando, Florida.  I'm so impressed with how professional this is and creates great detail for the client and yourself.  It's a complete catering contract agreement.
She asked that I share this with everyone and I'm so happy she did.  Please feel free to make edits to the file as you see fit and maybe even add your own logo for the professional look like Shelley did.  You can update the terms and conditions depending on the situation.  
WHAT'S THE CATCH?
There is none.  But if you want to give a thanks, go on over to her Smokin' Hot Dogs on Facebook and say thank you and remember to click the "Like" button.  Too bad we can't hit a "love" button because this certainly is deserving.
HOW DO I GET IT?
Simple.  Watch this short video for step by step instructions on how to download the sample catering contract.