Literally from nothing to my first kettle corn gig in just 72 hours. Talk about baptism by fire. My supplies came in and the freight company called and said the kettle corn machine would be here the next day. I got excited – again and started looking at nearby opportunities to set this sucker up and make kettle corn.
KETTLE CORN GIG IN JUST 72 HOURS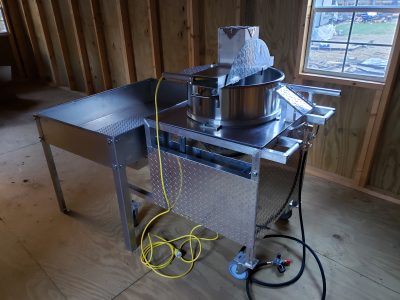 I swear – it was by accident. Up here – in the mountains there really is no (nearby) flea market. A Google search led me to the – once a month flea market at the county fairgrounds.
According to their website – you must book one month in advance. It was too late for January, as it's already January – so I emailed about booking a spot for the February one.
One Day A Month – Really Means…
The one day a month flea market is really just on one Saturday a month and is ONLY – from 8:AM to 1:PM – hardly a day.
I'M GOING TO STOP RIGHT HERE
This story is too good for you to skim over because it takes me a page and a half to type out – so instead… I'm stopping… I'm going to do a quick podcast and embed it here… (I promise it'll be worth every penny – or your money back).
[TIP: Just being a part of Vendors United was like name dropping – and I scored big]
Unpacking – Un-Crating The Kettle Corn Machine
I hadn't even done this part and already had a gig lined up. That meant – Friday, regardless the weather, I must get familiar with this kettle corn machine and do a few batches of kettle corn.
Before You Even Use The Machine
Ya gotta do it. Clean your kettle corn machine like this before you cook the first batch of kettle corn.
SETTING THE KETTLE CORN BURNERS
Before you start that first batch, you'll want to set your burners correctly. Here I show the kettle corn machine burner and regulator adjustments for the pilot light and the burner unit.
FIRST TIME – MAKING KETTLE CORN
2nd BATCH – CARAMEL KETTLE CORN
13 HOURS LATER – VENDING
It's my first day. Mine and Nick's. We're out at the fairgrounds (fleamarket day) popping and serving kettle corn. If nothing else, we learned a lot and got paid to do it.
After The Trial By Fire – What I've Learned
Again, instead of risking carpal-tunnel from typing and you risking carpal-eyeball – I'm again going to jump on the podcast channel and record my learn'n for you to listen to at your leisure. It's short and sweet, but will be very helpful as you get started.
Remember – I'm here to help you avoid all the learning curves.
A couple things I forgot to mention…
– I hate cleaning the unit and have ordered an electric pressure washer that I'll hook to a hot water supply for quicker cleanup
– I hate my loud generator that I used at my first gig. (needed it to power the paddle monkey) – ordered a new portable generator that is 1 decibel louder than the quietest brand – HONDA. It's a WEN Portable Generator and I ordered it for about 75% less than a Honda off Amazon.com
ANSWERING YOUR QUESTIONS
Where'd ya get your kettle corn machine? here
How much sugar do you recommend? I recommend a 1:2:2 ratio (oil:kernel:sugar)
Why you hate cleaning? Duuuuh… I'd rather be fishing
When is your next outing? Not 100% sure – but you can get on my newsletter here
What flavors did best? I only had 3 flavors at my gig: caramel/apple – caramel – regular (and don't know that I could tell with sales which one did better.
How much did you make? I was ready by 8, closed down at 12:30 and did 31 bags. $5.00 each. Not real good and I'll talk about that later. *I made some mistakes
Have you figured out your exact cost per bag yet? No but I'm working on it. Once I nail down my exact recipe and ratios I'll release my numbers.