HOT DOG CART CATERING GIGS FOR FREE
We created some training for the Roasting Nomad Tribe® so tribe members can book jobs before their Pig Roaster Pro® even arrived.
Talk about being able to test your market quickly and on the cheap…
This does it.
YOUR HOT DOG CART IS MORE THAN A HOT DOG CART
I've been yammering on about this for 3 years.  Your hot dog cart is a mobile kitchen.  It's a cook anything, serve lots of people mobile catering cart too!
Don't limit yourself by just adding "we cater" to your signs and cards.  Hang a sign that says:
– We Cater –
– BBQ, Soup, Pasta, Tacos, Fajitas etc…
GET THE GIG BEFORE THE PIG
In the Roasting Nomad Tribe, we call it getting the gig before the pig.  A way for you to test our tips and tricks before you spend a dime.
A way to get gigs before you even have your cart or roaster or if a hot dog vendor, a way to break into catering fast with minimal investment.
Using these tips below you can explode your opportunities for private catering and often without any upfront expenses for running ads.
HOW TO GET CATERING GIGS RIGHT NOW
Odds are, in fact, I guarantee you that you have in your home town, Facebook groups for your community, town, city etc…   (probably more than a few)  Yard-sale sites, community complaint groups, community news groups etc…
STEP ONE:  find those
STEP TWO:  post a picture of your cart with food in it, the pig on the spit, whatever it is you're going to offer, Google a image if you don't have one… then post it up.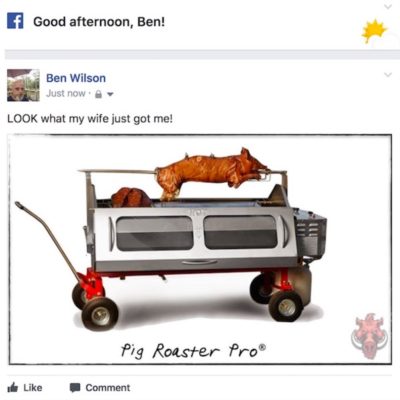 Now that's just an example, but you can have anyone post something up with a statement like:
Look what my husband just got!
Pig pick'n coming to (your town). Who's in?   
Have you ever roasted a whole hog?    
(Name) just ordered this mobile roaster that will do whole pigs, 40 chickens, seafood and everything in between.
Oh my! NAME just got a dadgum mobile pig roaster. We can't wait!
loOk whAt NAME just g0t! It's a mobile pig rotisserie / cooker. I'm so excited. It does veggies, whole hogs, chickens, seafood and more.
Who's up for a pig pick'n?   
You can substitute "pig roaster" for look at my husband's Big Dog mobile catering machine!
Note:  None of these say:  Hey, call me or anything.  They are teaser ads.  This is important.  This keeps the ad-nazis from taking down your post from a community group because they may not allow advertising.
So keep it simple, basic.   As if you're showing it off not to advertise, but simply to say, OMG!  Look at this!  My daughter is going to be doing drop off catering with this thing.
"BUT BEN!  HOW DO I GET THEIR BUSINESS IF I AIN'T POSTING MY NUMBER?"
Easy!
When people start commenting, like "oh wow, what can it cook"  "oh my, how much?" … you reply to their comment with a link that goes to your free google form page like my daughter's right here:  www.obxpig.com  or you tell them your phone number.
Win! Win!
(if you visit my daughter's page above, please don't fill out the form – it's for real customers)
That right there is called Ninja marketing.  It's subtle and creates responses and potential clients without advertising dollars.
Another great one is www.Craigslist.org.   You can advertise free there but you will also find community pages as well.   Do the same.  Rinse and repeat.
FACT: my wife posted in a community page for my daughter.  Within 30 seconds we had 1 request for info and multiple comments.  That one post got 2 jobs in less than 48 hours.
Here's a file we give to the Roasting Nomad Tribe® members that I'll share with you here.  These are some images you can use to test out the Pig Roaster response….
Remember, don't try to say too much.  No one wants to read a book.  Pictures are a must.
Post a pic with a short comment and watch the magic happen.
Once you do it, share a screen grab with me… I'd love to see what you created.
P.S.  very short video clips with no sound work well to
Here's one that's been working great: