Successful Vendors Share Valuable Information
With so many hot dog vendors finding the show, our conversations and topics are helping a wider range of vendors.  Daily now I receive at least one thank you letter or kind note about how the learn hot dog blog or radio show has helped them reach success.
Hot Dog Vendor Radio has become the goto place for successful vendors wanting to expand their horizons and become even more successful and increase their opportunities.
No Excuses
There shall be no more excuses.  With the immense amount of knowledge, tips, tricks, success plans and advice offered up on the archives and annals of LearnHotDogs.com there is no reason, no way a faithful and diligent future vendor can fail.  Simply learn and follow the steps and become as big as you would like to be.
Organic Natural – Healthy Hot Dogs?
Mr. James South shared a link with me about healthy hot dogs.
Some vendors cater to the health conscience and provide a service to this niche market with great success. Here is the link with pictures.  Healthy Hot Dogs
Hot Dogs Saved My Life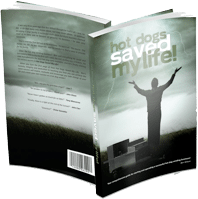 You can now get instant access to my course, hot dogs saved my life.  The e-book is now available for instant download.