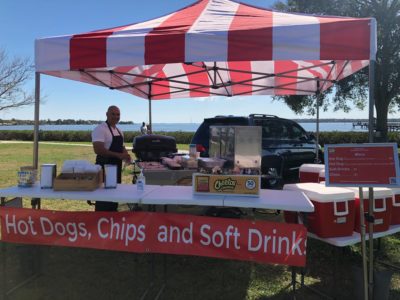 Perforated pans are one of the essentials for a food cart. In this episode of Hot Dog Vendor Radio and Street Food Vendor TV, Jason (Love Food Truck Co.) and Ben (Ben's Hot Dog Carts) tackle questions from street food vendors from all over.
HDVR 190 Topics Include
Vendor of the Week: Sunshine Hot Dogs of Tampa, Florida
Is there any benefit to registering a business in wife's name?
I have an LLC for a different business. Can I set up a DBA under that business for my food cart?
Advice for cold weather street food vending? Winter? Canada?
What do you put into hot dog water for seasoning?
Tips for setting up signs for hot dog cart along road
Dealing with Workman's Comp and insurance, liability, etc.
My cart doesn't have a title (see Replacing Lost Title)
What size pans for homemade hot dog cart sinks? (Tips for DIY Hot Dog Cart)
Is it cheaper to buy perforated pans or make them with a drill?