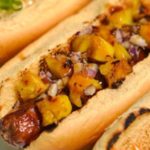 Welcome to HDVR 192! It's your weekly dose of street food wisdom and hot dog cart knowledge, with Ben (Hot Dog Cart Store) and Jason (Love Food Truck Co.)! The pros are back to answer questions on selling hot dogs, catering, lemonade stands, and more.
HDVR 192 Questions and Answers
Here are some of the topics we covered in this show:
Congratulations to our Vendor of the Week: Sgt. John's Hot Dog Stand! You can hear more about this business on last week's episode
What's the cheapest cart to start selling hot dogs with?
How to keep cooked onions and peppers hot for serving?
Umbrella on Big Dog Cart
Shipping the Stand King to the UK
Do I have to register a business to sell hot dogs?
What size lemonade do you sell and what price?
How to choose the best smoked sausage
How to pass the food handler's test
How to certify a hot dog cart in Kentucky
How to clean diamond plate cart
Can I run a food cart from an RV?