I CALL BULL$#&%!  STREET FOOD VENDORS
We take calls, talk to vendors, get tips and advice and I get a little pissed off.  HDVR – Hot Dog Vendor Radio is a live broadcast for street food vendors – we answer questions, take calls and talk to vendors from around the world.  Sponsored by www.benscarts.com, HDVR is a totally free broadcast built to promote vendor equality, help with vendor issues, state regulations and to discuss current topics that will help increase your successfulness.
This show includes:
My reaction to the ignorant pig who was quoted saying that when street vendors leave, cities are left cleaner.
Going across state lines with your cart.
First day jitters
Don't get rushed, people will wait for fresh food
Working in front of a Drivers License office
Commercial Account or start off cheaper
Institute for Justice helps vendors
And more…
Duc's Hot Dog – Cash Cow Cart in France!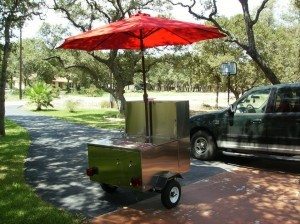 Our Friend From Canada Sent In A Pic