Hot Dog Vendor Radio 30
I would love to say that it went off without a hitch.  But the outdate and overwhelmed software/hardware at BlogTalkRadio showed it's true colors again and shut down prior to the shows end.  Fortunately, I recorded the entire episode separately and have included it here.  I think I will do this from now on and make the show recording available here as well.
Music
A listener feedback line question was asked about playing music at your hot dog cart.  Don't you love easy questions.
Taste Testing
We discussed doing taste test to determine the right brand of hot dog to serve on your cart, in your area.  We discussed Vienna Beef vs. Sabretts and boiling vs. steaming a little.
Brian Shores – The LinkMaster
Joined us live and co-hosted with Jason and I.  I just love being able to mingle with all these great minds and fantastic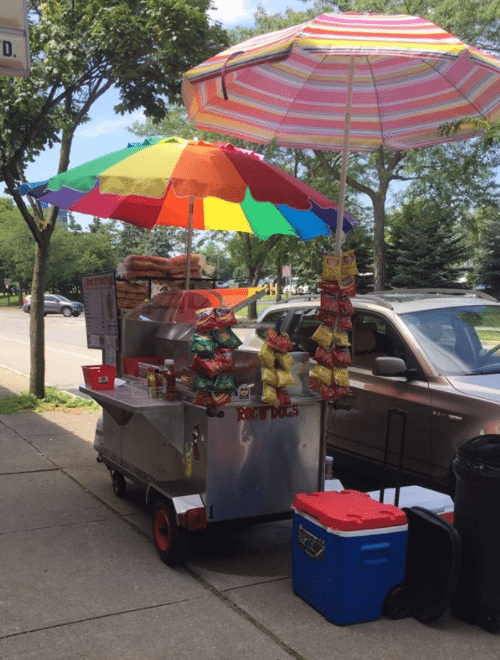 people.  A big thanks to Brian for helping.  Rob wasn't able to join us; he was out slinging weenies and couldn't make it.  We missed him.
Hot Dog Vendor Mastermind Session
This weeks hot dog vendor master mind session was an idea that Kevin Kelleher of the Wiener Wagin shared with us.  Great idea.
Chip Clip Winner
The show messed up, thanks to BTR and so the winner was never announced.  Next week we will announce the winner.
Boo Hargis – fellow vendor
Boo called in to ask about setting up tables and chairs for his customers.  Several opinions on that were discussed.
No Better
There simply is no better place on the web for hot dog vendors.  With thousands of vendors, thousands of stories, loads of advice, tips and suggestions.  The LearnHotDogs.com blog offers videos, articles, hot dog vendor podcasts and much more.  Thank you for supporting the site and the shows.