What choice of hot dog cart you go for? Today I'm gonna save you some money, some time and some headaches.
It is natural for us, type A personalities, to want to do something cool.
Something different.
Not follow the crowd, right?
But there's things that when they ain't broke, don't fix them.
You don't want to reinvent the wheel till you get a good foothold.
It's like, well I'm going to use a shovel for a little while before I try to reinvent a better way to dig a hole.
My First Hot Dog Cart
When you're starting out in this hot dog cart business, a lot of people jump to all the other cool things that could be in the business, whether it be their menu items or it is the thing that carries it all.
A lot of times we go, Oh my gosh, I gotta have a food truck cause I'm going in all the way, I'm spending a half a million dollars on a food truck.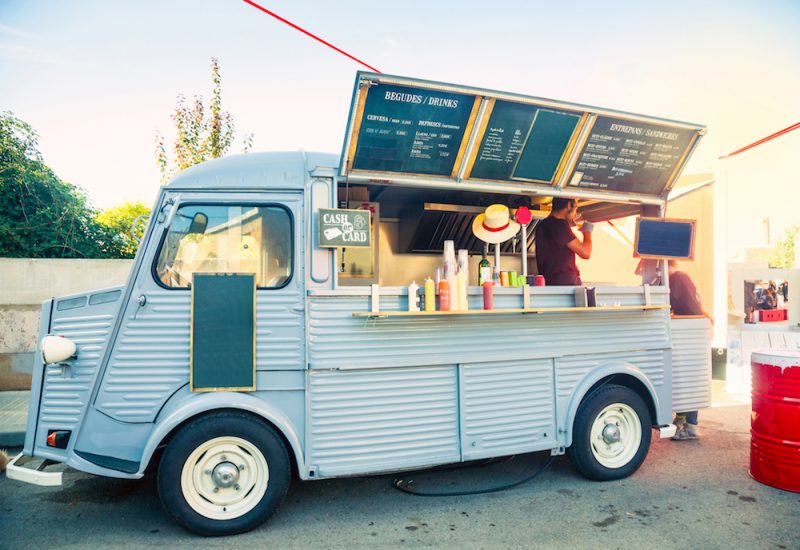 And believe it or not, there's people that do that. They usually have their food trucks up for sale about two months later.
But there's people that start off slow and work their way up.
And not necessarily slow, but start off on a lower budget, even if they can afford or get credit for something bigger.
Why do that?
Let the smaller thing buy the next thing.
Right?
Hot Dog Cart Tricycle
There's another thing that just doesn't make sense and there's people that do it.
That's why I wanted to share this with you.
Check this out real quick… a hot dog bicycle or tricycle.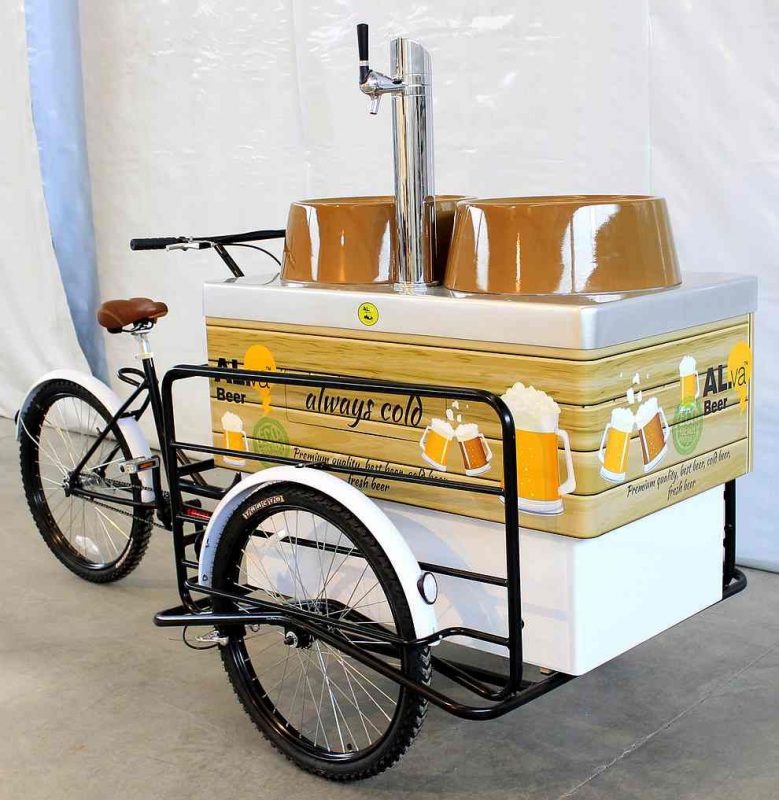 We used to make these for hot dogs we used to make them for ice cream.
And ice cream works pretty good with it.
But the problem is, with hot dogs you got all your other peripherals, you got other stuff.
So unless you're going out to sell 30, 40, 50 dogs, it isn't wise.
It isn't a good thing to do.
Now is it cool? Like if you're doing a party or a catering event and take that, sure.
But for day to day vending, this isn't the thing. You may go, yeah, but it looks cool to bring in more people than a normal hot dog cart.
Not necessarily. And I've worked off one of these.
But the problem with something like this is all the extra stuff you need, especially water.
Typically on a hot dog cart, you have a steam table, right?
You have to pour water in and it heats up. And then when you put the dogs in, you got grease coming out of them.
Whether you're steaming or boiling them, there's grease coming out of them.
Now you got greasy water, right?
And then you're going to drive to the next block and slosh that crap all the way around. It's a mess. It's a nightmare.
Then, I want you to think at this…
Yeah it looks cool, it does all that stuff.
But then where do you put all the storage?
When you go to pack up at the end of the day, even if you were loading this on a trailer, how are you going to protect the stuff?
Where are you gonna store all this stuff?
It doesn't make good sense.
Here's another cool one…
The Motorcycle Cart Version
This is a motorcycle with a hot dog cart built on.
I've seen these.
They don't use them much. It's just that they're not efficient.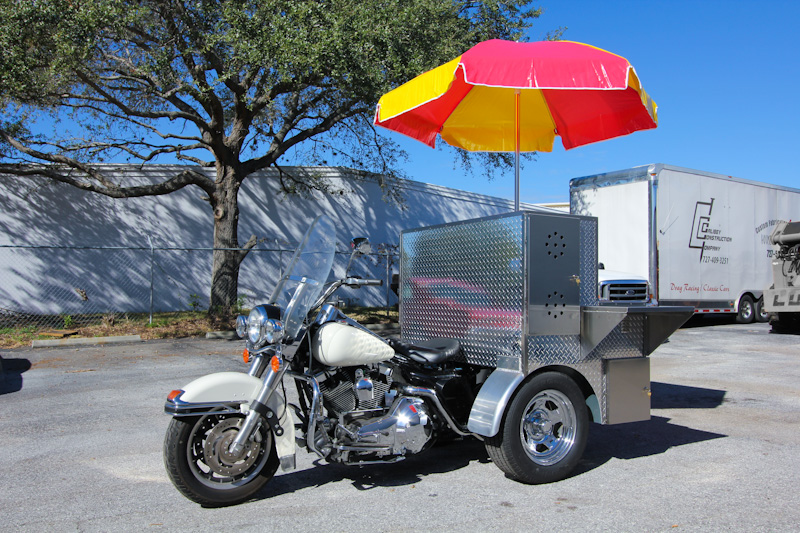 Because when the vendor gets done at the end of the day and he goes to empty his water, what is he emptied into?
Typically, if we don't dumping it there, like have a place to dump it there safely, we dump it into a five gallon bucket, so that we can go along and not slosh that crap all over the cart.
So you put them in a five gallon bucket and now where's he going to put the five gallon buckets?
Cause he brought water, he's got his gray water, he's got all that stuff.
Where's he gonna put all that stuff?
This is all where it becomes a problem.
And in the beginning, when you're first starting out, you don't know about all these little things.
So I'm just trying to deter you from making this decision in the beginning.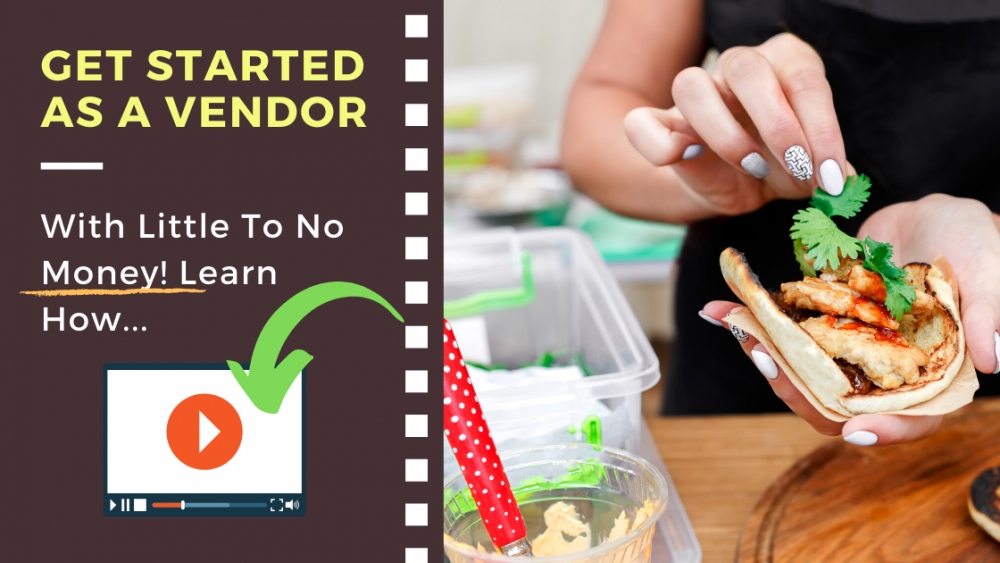 Not that they're not good decisions later.
When you get a second cart.
You want to do some of your private catering gigs or riding a parade with that kind of stuff, that's awesome.
But for day to day vending, not so much.
Here's another one…
The Golf Hot Dog Cart
This is a golf cart.
It's awesome, right?
And it's powered.
So you're not having to even pedal it.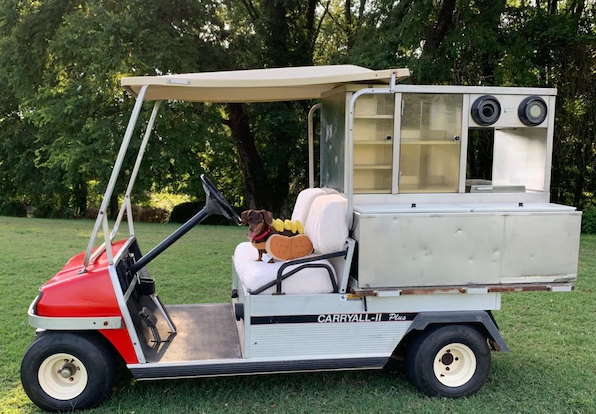 But same problem.
We've had people call me up being, I need a custom cart, I'm going to be doing a lot of stuff and I'd love to do it on a golf cart.
And I think it'd be awesome.
It is awesome for the first five minutes, then it's becomes not so awesome.
They're just too self-contained.
If that breaks down or the motorcycle breaks down, if either any of this breaks down, you are screwed for a little while til you fix it.
Where if your car breaks down, and you normally pull your hot dog cart with the car, then you can go rent a truck from Lowe's for 20 bucks, or having a friend take it for you, and you're not stuck.
It'd be ridiculous to have your friend tow your motorcycle cart to a job. Right?
So I just wanted to warn you, and let you know that it's not always a good thing to do these what looks to be cool items.
It's better to wait.
Check out the best carts on the planet at hotdogcartstore.com
Help Us Help More Vendors, Share This…