Since he was 5 years old and ate his first Chicago Dog – in Chicago – he's had a dream of becoming a hot dog vendor. That hot dog vendor dream has come true – and he's loving it.
I sold out of 350 hot dogs in 2 hours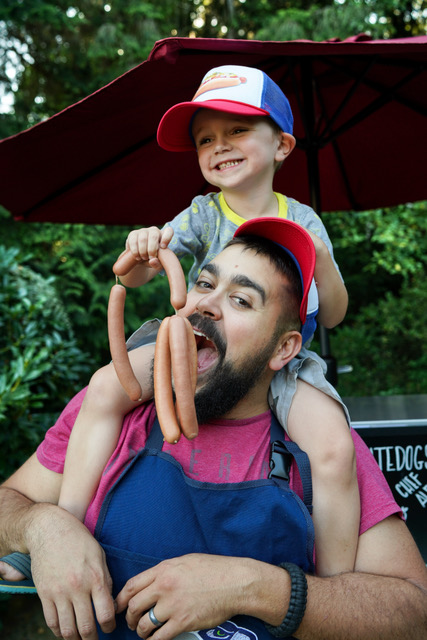 A Hot Dog Vendor Dream Come True
A professional chef, husband and father of 2 – Alex is ready to go full blast. He writes…
Hello. Just wanted to say thank you so much for an amazing cart and for all your helpful videos. About a year ago I I purchased the big dog cart. After receiving it and I quickly put it together and started getting ready for my first event. It was a huge success! I sold out of 350 hot dogs in 2 hours. I have done two more events each with the same results. I now am getting ready for the spring and summer as I have been given a slot in our local farmers market which is a big event every Thursday. Just wanted to say thank you for all your hard work. This has been a dream of mine since I was 5 years old living in Chicago and now its finally come true ( it was either become a fighter pilot or hot dog vendor).



Lick The Screen
When Alex sent me these photos I wanted to lick my computer screen. Totally – wow! A brilliant array of photos and you can bet – they'll be used to attract the unsuspecting customers to his cart.
Marketing Your Hot Dog Business
One of the many things vendors miss on – is their marketing. It doesn't take much for a picture to conjure up excitement and often vendors will snap the blandest – ugliest pictures and post them on their hot dog business page.
Not Alex! His pictures – as you can see – will be shared and envied. He took the time to create some of the best photos of his business and family enjoying hot dogs.
We teach many of these tips inside the Vendors United group and it's what makes up the difference between super successful vendors and the mediocre (average) vendors.
GOT A DREAM?
Imagine – working a couple or 3 days a week. Imagine on those days working only about 4 total hours. (including prep, setup and cleanup)
It's how the pro vendors roll. Check out all the free training right here and get the freedom you deserve.