Tom's first outing… 
I had my first event on April 28th at, of all
places Country Side Greenhouse. That's right, a place that sells
flowers. They are very busy in the spring but who would have thought I
would do $ 750.00 in 6 hours.

It was also a learning experience. I found out less heat is better.
I'm using natural casting hot dogs and found out they will explode.
OPPS! I didn't have plugs for the sinks so I went to a store and
bought some pencil bobbers and stuck the in the holes.
It worked.
In addition to selling  Coney, slaw, build your own and kraut dogs I
started sell a different dog which quickly became a customer favorite.
Sausage gravy dog. Add a little cheese for color andWOW people love it!

I serve dogs in a 3 lb food tray with potato stick as a base and put
the dogs on top.
I'm having a blast. the only challenge I have is working with Cities
and retailer to set up my cart.
I just need to just keep working on it.

The other challenge is I hate washing pans 🙂
If you would like visit us and like us on Facebook ( MESSYDOGS)
Messy dogs, don't forget you napkin, this could get messy.
Attached are a few photos I thought you might enjoy.
Thanks for all you do, Tom Williams
Want to make success more obtainable?  Want to be years ahead of others?  Then you should read this…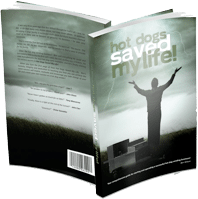 If you like Tom have gotten sick of the dreaded clean up and counting of the money;  Simply put the money in a large envelope and mail it to me.  I'll count it up for you.  And if it's the pan clean up you dread more.