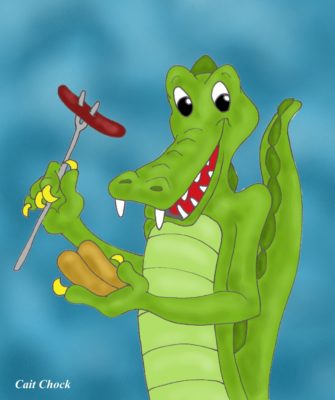 It's Fall Ya'll – Episode 35 of Hot Dog Vendor Radio ran about 15 minutes long, but well worth the extra time.  Jason and Rob both offered up some great info, from crocodile dogs to haunted houses.  We covered location ideas, top 10 hot dogs in America rated by Forbes and sausage gravy on buns plus much more.
Locations For You
Rob T. joined us and mentioned he has locations.  Yes, if you live in the Winston Salem area or about anywhere in North Carolina and you need a great location, Rob has them.  
Even if you are not in the N.C. area, the techniques used to secure the best locations on the planet can be found in my A to Z Course.
Seasonal Gigs
The Fall Season brings with it some great places to set up your hot dog cart.  Corey Blake posted on our Facebook page that Haunted Houses would work great for setting up your cart.  Another idea came by way of a phone call from Emily Kuhn who states that she has set up for 2 years at a very popular corn maze.  Rob mentioned setting up in front of these 'cut and run' seasonal costume shops.
All three of these spots could prove quite profitable for your business.  What do you think?  Have you tried these types of locations before?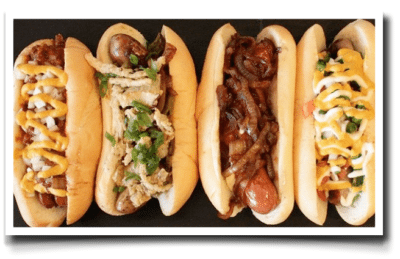 Americas Top Ten Hot Dogs
Congratulations to Biker Jim of Biker Jims Dogs.  Jim started slinging weenies about 6 years ago.  He now has a restaurant, hot dog carts and concession trailers.  His menu boasts some of the most exotic meats on the planet he now has taken a spot on Forbes Magazines "America's Top Hot Dogs".
Now consider this; thousands upon thousands of hot dog joints in America, many with "that special hot dog" on their menus and our very own Biker Jim makes TOP TEN!  Again – CONGRATULATIONS JIM!
We were fortunate enough to have Jim on the show this year.  You can download the interview or listen here.  See all of the hot dogs that made America's Top Ten here on the Forbes article.
Rob's Breakfast Gravy
Rob is going to be serving breakfast soon off his cart and came up with a great idea.  He's using a regular hot dog bun, a regular sausage just like you probably already serve on your cart and pour over the sausage gravy.  He makes note to not use regular sausage, he says to use the same standard sausage you offer, like a smoked sausage.  Works best in a styrofoam hot dog boat and all you do is:
place bun in boat opened up
place sausage inside bun
pour sausage gravy over the top
top with cheese or bacon bits
You can buy #10 Sausage Gravy from SamsClub for about $8 – it tastes great and goes well on top of your sausage.
Do you have a cool breakfast item that works well for you?
Rob's Lemon-Lime Cherryaide
I know you must already know about Rob and Jason and even me – how we did big 32 oz. glasses of lemonade from our carts?  If you don't, click here.  I did it twice this past summer and made a killing during one event.  Rob and Jason do it weekly and have had huge success as well.  Jason even started an entirely new company with his lemonade.  See image right.
Rob's new creation is about the same except you add one half lime and a splash of cherry syrup. Cherry syrup just like you use for snow cones.  It's a little more work, but it's a crowd pleaser and for $4.00 to $5.00, you make about $3.00 on each glass.
Thanks to Rob for the great ideas!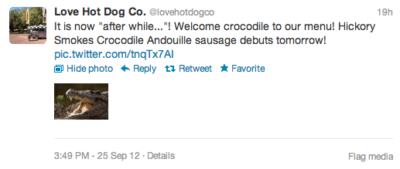 Jason says: "it's after while"
Jason has been sharing his success with us all as he continues to grow his Love Hot Dog Company into a purveyor of exotic meats.  Today he rolls out the new crocodile hot dog.  Crocodile hot dogs to Pheasant hot dogs, The Love Hot Dog Company has it all.  You can visit Jason here.  Or follow him on Twitter @lovehotdogco
Are You Missing Out?
Rob T. is one of the board members of the Mobile Food Vendor Association.  He ran through the many partners and sponsors with us and shared the valuable deals many of them offer.  As you may know, BensCarts is one of the sponsors and is proud to offer special discounts at our store on stainless steel pans, lids, chip clips, dog sleds, portable hot water heaters and much more.
Winner!
The winner of last weeks Facebook challenge was Ryan Esser.  Ryan posted a picture at their hot dog cart and won 2 extra entries into the hot dog cart giveaway for this December – AND he won a Pro Pack from BensCarts.com
Each week until the drawing, if you post on our Facebook page, you will receive extra entries and a chance to win on Tuesdays HDVR show.   Congratulations to Ryan!
Rules:
Post a picture of you and your hot dog creation.
Post a picture of you and your cart.
Post a picture of you holding my course book, hot dogs saved my life.
Any of these will get you free entries and a chance to win weekly.   Thanks for posting.