Doggy Bagz Says Thanks
Hey, folks! It makes my day when I get stories from street food vendors who use my training and tips to make big money. The vendor who runs Doggy Bagz wrote me a "thank you" note and shared a photo of his October sales, and told me I could share it with you.
The numbers speak for themselves. Take a look!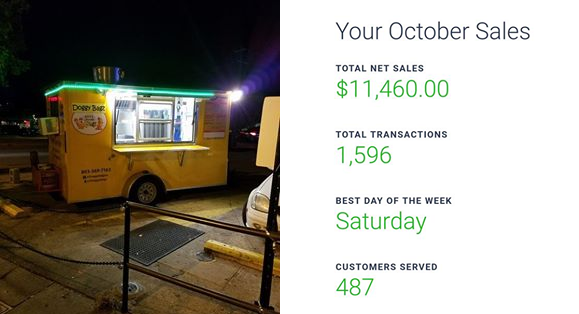 October Sales
Wow, right? The message he sent with the photos was, "All thanks to you!" Well that made my heart and head swell up for sure. But ego aside, look at the sales he did in October. That's a screenshot of his street food sales, and you can see the total is over $11,000, with more than 1500 transactions. He sold to 487 customers, which means many of his sales were repeat business! That's a sure sign of a great street vendor serving delicious food. People appreciate a consistent product, excellent customer service, and a clean, attractive food cart or truck. Doggy Bagz has all of those!
You Can Do It, Too!
You might ask why a hot dog vendor would be willing to share this information with others. Because he's successful, and excited and happy to help others do the same. And if you want to learn how to start or improve your own street food business, you can get all the same training and resources! Just take a few minutes and check it out: https://learnhotdogs.com/doit.
Stay Informed with the Best Tips and Training Opportunities
I do several live webinars and video question/answer sessions every week. To subscribe to text/voicemail notifications, I set up an easy notification system. Do this:
Text the word streetfood
to the phone number 292929
That's it! And don't forget to enter to win a brand new Cater Pro cart in December!
Text the word caterpro
to the phone number 44222
And come say hello to the street food vending community at I Love Street Food Vending on Facebook. See you there!