I'll show you the easiest way how to build a portable concession sink system with hot can cold on-demand water. If you're vending from a table or cart without a sink system – more than likely, your state health department will require a hand wash sink at the very least.

Portable Concession Hand Wash Sink
Two buckets (3 and 5 gallon) $9.85 for 2
drum faucet $2.00 – link
How To Build A Portable Concession Sink – Parts List
It will take you longer to round up the following parts and supplies than it will to build your new portable concession sink system. A cart is optional but makes it convenient.
Buy One – Instead Of Building One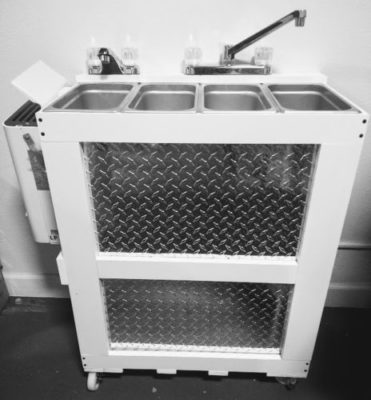 Sure, you can spend $400 to $1200 on a concession sink system if you want – but I promise, you can do it yourself and save time and money.
I've seen some pretty nice ones on Ebay for sale but keep in mind, they've done the same thing you could do.
The concession sink to the left is not even using a cart but has a simple home-built frame.