Buying Used Is Smart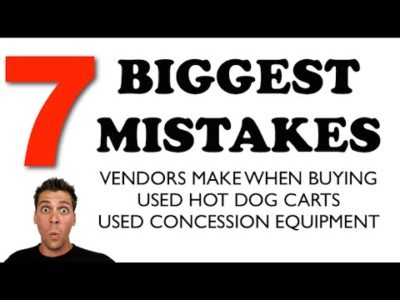 Especially when you're first starting out. Typically you'll spend less and depending on the time of year, you could get an incredible deal.  More on that in a second. Here I'll show you exactly how to buy a used hot dog cart without getting scammed, burned or tortured alive.
In all my years vending, buying and selling carts and helping thousands of vendors, one frequent complaint I hear is…
Ben, I bought this cart but they won't approve it!
You can avoid all the pitfalls by doing a few things first.  However, you can always make changes later, but you the saying, An ounce of prevention is worth a pound of cure.
Do This Before You Buy A Used Hot Dog Cart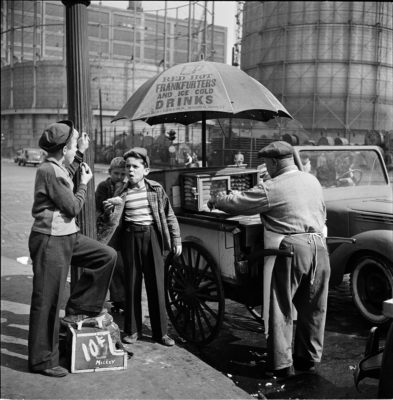 Never buy a used hot dog cart (mobile catering cart) over the internet.  If you can't go see it, touch it, feel it… Don't buy it.  Heck, don't even consider it. This is crucial info in how to buy a used hot dog cart.
Find out the manufacturer so you can see if the schematics "drawings" of cart are available online.  (if not, you can hand draw them yourself and they don't "have" to be to scale or professionally done)
Find out if the cart would be approved easily by your health dept. inspector.  You can do this by calling the health department and asking what the basic requirements a cart must have or by sending them the drawings.
Those 2 are the most important but and the second one is the catalyst for the comment quoted above.
WHERE TO FIND USED HOT DOG CARTS FOR SALE
Craigslist.org
Facebook pages like this one
Ebay.com (local only)
Classified pages near you
WATCH THIS FIRST!
HOW TO INSPECT A USED CART
The following list will help you when you go check out the cart.  This will keep away UNWANTED surprises and expenses you didn't plan on.
Soapy water spray bottle – for spraying gas lines under pressure to check for leaks
A 20# (grill size) LP gas tank – just in case they don't have one – you'll need to test gas lines and burners
Magnet to test if it's even real stainless steel. (doesn't matter but it gives you bargaining power)
You'll need pans in the burner box so you can check flame burn rate.  Without pans many burners get too much oxygen and won't burn right.  If seller doesn't have them, find out sizes and get some used ones.  You can learn all about steam pans and sizes and steam tables here.
Check water system thoroughly. Test the pump, heater and flow. If the cart doesn't have a pressurized water system, you'll probably need to upgrade that. You can find parts and videos here.
Check underneath the cart to make sure it's got leaf springs and is not just a frame welded to an axle. (this is done by some manufacturers) If no leaf springs I wouldn't recommend buying it.
Check for a VIN (vehicle identification number) and make sure it matches the title or certificate of origin if never been titled. If neither you have one option, watch this video.
WATCH VIDEO ABOVE FOR MORE INFO AND DETAILS
BEN, I NEED MORE HELP!
I'm here for ya. To get started or to grow your current business, click here and let my magic unicorn powered Wizard help you. And if you want to get my latest mini course on how to create a full-time income while working only part time, then grab the 7 WAYS HERE!
UPDATED VIDEO (LONG VERSION)
Depending on how serious you are and how much due diligence you want to do… this is a newer version of the video above. I know it's long and that's after I sped it up. I might have been into the bourbon a bit when I made this.