Vendors ask me, shall i put ketchup on hot dogs? Oh my heck okay!
For years now, I've been just miffed by the idea that people are like,
I don't serve ketchup from a hot dog cart because you don't put ketchup on hot dogs.
That's a crime against humanity!
And I don't know what moron came up with this at all. It's idiotic.
But I'm a Southern boy and it'd be like somebody telling me…
– you put bans on your hot dog? Oh, that's crime. Crime against humanity.
That's like a sin. That's the 11th commandment in the Bible.
What the heck?
I'm just blown away that that's a thing.
But I hear it from time to time. I hear vendors going…
– I ain't throw no ketchup on no hot dog. If you're under 18 okay,
but eighteen or over ain't allowed.
Hold on. Captain underpants.
What the hell are you talking about?
Why would you not offer ketchup and how does that affect you?
I love ketchup. It is delicious. I love it. I love it on hot dogs.
I'll make a chili cheese dog with cayenne pepper and I'll throw some ketchup on it, some mustard and some mayonnaise. I do it all.

I just can't even fathom the logic like who came up with that and how did it stick?
Like who said?
I mean, I don't care if a customer comes up to my cart and wants Skittles,
Reese's cups and rabbit turds on their hot dog, I'm going to put it on it.
I just don't, what the hell… don't let somebody you hear somewhere in some group or something
called "we are morons or us" or whatever it is, and we believe this old thing about, you know, don't put ketchup on a hot dog.
Helloooo!
It's mind blowing to me.
It's like it doesn't even make sense.
It has no logic to it.
It's like, why didn't they choose mustard?
Why is ketchup bad? But Mustard's good.
Why is mayonnaise good?
Why is onions good?
We've got vendors that put peanut butter on a hot dog…
… and guess what? People love it.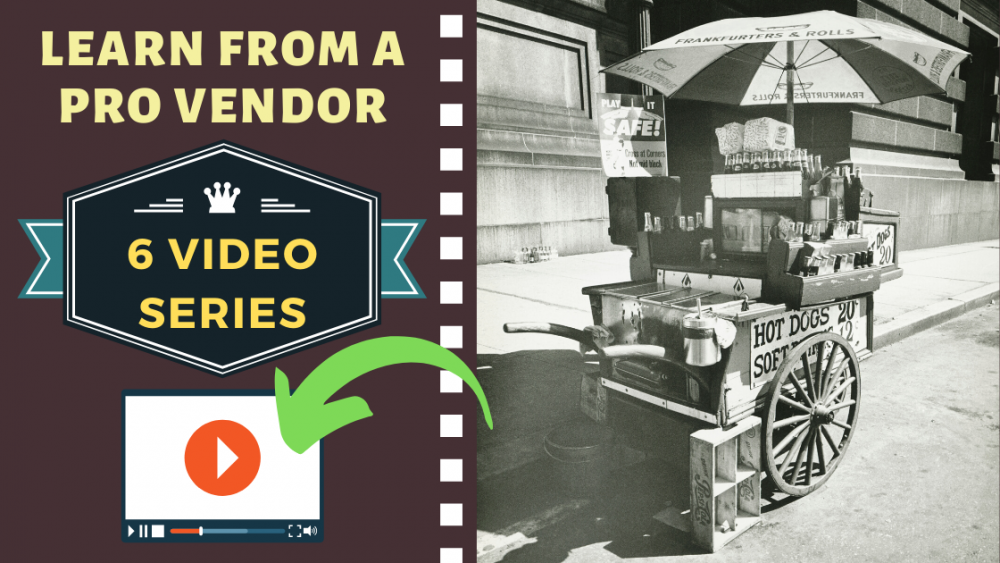 We've got people that put jelly on a hot dog, cause some jellies work well with hot dogs.
Why would you take away and risk earnings that you could make,
because you have heard from some dude that you ain't supposed to put ketchup on a hot dog.
So stop it!
Stop it right now okay?
I'm putting my foot down.
That is ridiculous.
I can't even believe I'm talking about this.
Like who does that?
Who says..
Oh yeah, I was on this website and there's another website and then somebody's cousin and, and his wife who's also his cousin said that you ain't supposed to put ketchup on hot dog.
Honey, are you kidding me?
Throw Some Ketchup On Your Hot Dogs!
Some of the best dogs are infusions of flavors from other things that you wouldn't even think of.
We got Cory Lawrence, good friend of mine with a Mac O' Dog dog.
It's mac and cheese on a hot dog!
We've got vendors putting barbecue and barbecue sauce, pulled pork on top of a chicken pecker and pork hot dog.
So, why would you say, Oh, we can do anything.
Literally anything.
Anchovies.
We can do onions, Coca-Cola, onions, cream cheese, peanut butter.
We can do it all!
But Ketchup no, we can't do that. Can't do ketchup.
Are you kidding me?
There's adults that like ketchup on a hot dog.
Just give it to him!
You're not in the business of teaching people how not to eat something cause you heard something ridiculous.
You're in the business to make money.
So grab you some ketchup and throw it on a hot dog if they want it.
All right, love you.
Bye.