Why aren't you making a million dollars with your hot dog cart? Are you allergic to money or something? Recently I sent out an email to vendors in the group. Apologizing.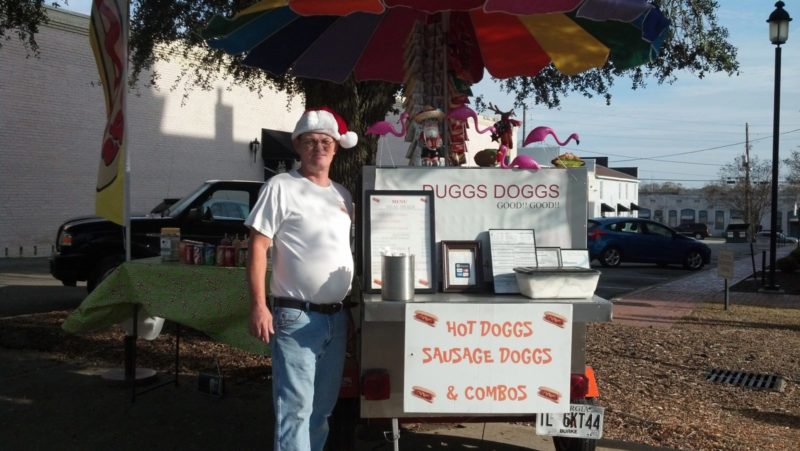 [DON'T RUN OFF BEFORE YOU READ WHAT DUGGS DOGGS HAS TO SAY]
Yup, I was apologizing for spending too much time writing and talking about the vendors making a killing, those having huge days, those making well over $100,000 a year and those who keep expanding.
There is nothing wrong with making a million dollars with your hot dog cart!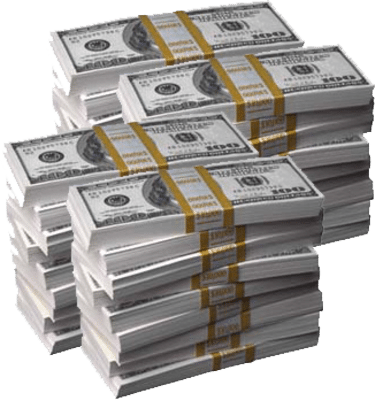 I'm not saying there is something wrong with making a ton of money. I'm not saying there is something wrong with sharing those stories with you. What I am saying. Is that many vendors choose to stay small and that I wasn't given enough credit nor attention to these very happy and very successful vendors.
By only sharing the big wow moments and the struggling vendor stories, I was unintentionally making some vendors feel inadequate or as if they weren't living up to their potential.
THAT CERTAINLY WASN'T MY INTENTION!
SUCCESS IS IN THE EYE (WALLET) OF THE BEHOLDER
Not everyone has the desire for $127,000 a year. Nor $252,000 a year. Not even $61,000 a year. Success for many is having a reliable income from doing.
SOMETHING THEY LOVE
NOT WEARING THEMSELVES OUT
ADDING A MONTHLY INCOME THAT ALLOWS MORE FREEDOM
HAVING FUN WHILE MAKING MONEY
HAVING EXTRA CASH
NOT RUNNING OUT OF MONTH BEFORE MONEY
NEVER HAVING TO WORK OVERTIME
There are hundreds and hundreds of happy, successful vendors who aren't making a million dollars with a hot dog cart. Below is word for word the email I received from a great friend and a successful, happy vendor who works part time and has for 8 years now.
IN HIS OWN WORDS
Staying part time and small is not a bad thing.
I talked to people for years about being in the vending business.  I guess by now that everyone knows that I am part time and I enjoy being part time.  I vend in my little town and when I started I really was surprised at the number of people that would eat a hot dog every time I set my cart up and to this day I am a little amazed that this has continued.  In saying this I hear every day of all the people that want to do more and more.
My business plan when I started out was to go out maybe once a week with my little cart so I guess that I have exceeded that by going out this year an average of 7.33 times a month to date.
Most also know that I retired from the Army with 23 years so when I started this business I was looking for a business that I could run and call it my own and run it my way.  Well right or wrong that is what I have done.  I only take the events that I want to take.
I only do the catering gigs that I want.  Yes, I do have some customers that if I lost their accounts I would not make as much but I hope that I could find others to take their place.  I also still have a full time job which now I work 7 days on and 7 days off which gives me 14 days a month to run my cart but I still need time for my family.
At the end of October I will be fully retired well except my (Big Dog Hot Dog Cart) which I plan to keep running at the same or slower pace.
I spoke to a friend that has a very large catering business here and does large weddings and large events.  The story goes that a local restaurant got a catering for a very large group of about 3000 people well to make a long story short the event did not go well because the local restaurant did not come to the event prepared and it took about 4 hours to feed the people.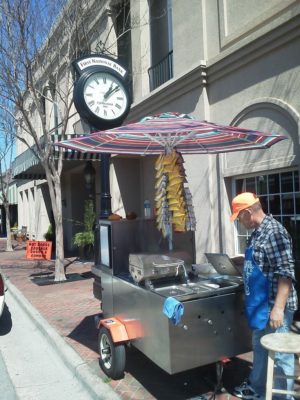 They did not have the catering setup to feed that large of a number of people (only had 2 lines).  To top all of this off they were feeding Hot Dogs.   Well the customer was not happy so this restaurant will not get big caterings again there again which could hurt their business as a full service BBQ restaurant.  I am also not sure if my friend is not mad that he did not get the gig since he has the equipment and staff to do a gig this big.  I tell you this story to say we can't do everything that comes our way.
Sometimes you have to just say no, it is too big for me.  I would not have taken a gig this big.  Feeding 300 meals from my cart has been and can be done with a little planning and I would say you could do 3000 but the planning and personnel needed to pull off a catering this size would be huge. 
We all want to be all we can be but I have found that you can find one thing that you are good good at and do that.  Being the little guy with just one cart is not a bad way to make a living.  People are surprised to hear this because everyone wants to be bigger and bigger and make more money and more money but for me being the little part time hot dog guy works for me.
When I started I hit a few bumps in the road, little road blocks like dealing with the city, county and state to get my permits.  People also ask me all the time how much do I make running my Big Dog will the answer is:  I am not getting rich but    I make a good income part time and have fun doing it.  Yes, this is work but for me the work in fun.
DUGGS DOGGS
GOOD!! GOOD!!  
Michael S. Wood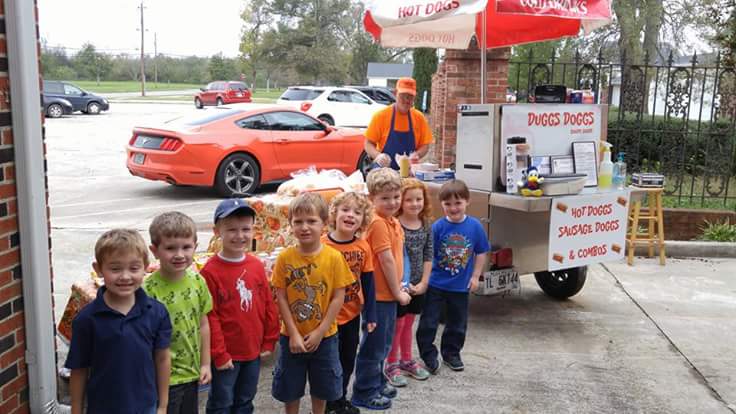 SPEND A DAY WITH MICHAEL WOOD
You don't even have to get off the couch. We filmed Duggs Doggs and compiled the DAY IN THE LIFE video set that you can watch right now. See how Michael does it all. Watch a pro vendor prep, load up, set up, serve and break down…
You get it all. Was $197 – RIGHT NOW JUST $10 – WATCH A DAY IN THE LIFE WITH MICHAEL WOOD
From 22 Carts To 3
My first year I reinvested every dime I could and kept expanding. Pretty soon I had a large fleet of headaches and pockets full of money AND NO TIME TO SPEND IT.
I went back down to 6 carts and was making about the same money (I teach how to expand correctly here) and then to three. By the end of my 2nd year, I was a 3 cart operation.
I was happier, had plenty of cash and could go fishing anytime I wanted.
Yesterday I was on the phone with a vendor. He has expanded, like others and now has carts, a trailer or two and a restaurant. His words: "I WANT TO GO BACK TO JUST CARTS".
Why?  Because he was happier, less headaches and more FREEDOM!
I want to thank Michael for sharing his thoughts and for allowing me to share it with you. If you would like to learn exactly how Michael Wood operates, how he preps, sets up and serves, you can see it all here.