When you're buying a hot dog cart, whether it's new or used or you're thinking about building your own, there are many questions you need to think about. For example, start with "what can you put on a hot dog cart?"  Almost anything you like but all states restrict what you can serve, so having a deep fryer on your cart may be legal, but using it probably won't be. Of course you can use an enclosed concession trailer and we have those for less than $10,000, but on an open cart, you most likely won't be able to use a deep fryer.
Buying a Hot Dog Cart – Options
There are many ways to start this business with little to no money, you can buy a used hot dog cart, you can build a hot dog cart and you can even lease hot dog carts.  In Part Six, I will help you decide the best methods to go about any of these options, things to watch out for and things to look for.  There are several Mistakes To Avoid When Buying A Hot Dog Cart.
Part Six:
Used Carts
New Carts
Building a Cart
Food Cart Space Available – Cooking, Prep, Storage Space?
The space available is what's on the cart that you may potentially want to buy. Consider the space available. Lets say is there room for you tongs, is there room for extra bread how much of the stuff that you are going to bring with you. If your planning on doing an average of 100 meals a day that is 150-200 dogs that I factor, if you're doing 100 meals.  If you doing that kind of volume then you need that kind of space to put all of the buns you know you need 150-200 buns and where are you going to put all that. Some carts that wouldn't happen, the breadbox would have water tanks and takes up all that space, consider those things such as inside storage.
Sometimes you'll see a cart that has space for one propane tank. Many states require that you have two, and now you have this cart with one propane tank holder and you get it home and the health inspector goes "you know your required to have two, where are you going to put the other one?" know you have to figure out how to jimmy rig another tank onto the cart. That is something else that you will want to consider, is all that extra space, where are you going to prep the dogs are you going to do that on the cart or are you going to have a little table on the side. Its not the end of the world its just something to think about.
Food Cart Option – What about a grill?
I've talked about this plenty of times. Even if you don't use it is like "eye candy" to a customers, even if you only use it to create steam and smoke and through a couple sausages on it every now and then, its wonderful. If you do have a grill and are able to use it, its typically a good place to cook the dog but is good to use just before serving cause you can through it on there and put the pretty black marks on the dog and the smoke and creates a good atmosphere.
I use onions on my it creates the smoke and I have a good video on here about caramelized onions and showing you how to make them "Coca-Cola Onions" in fact. They smell unbelievable and they will draw people in. If you've ever been to a fair festival and you've smelled the onions and peppers cooking. I don't do the peppers I do the onions and it creates this aroma this sweetness that goes everywhere and people love it and they will come find it.
So if you're in an area where people are walking they will come and find you. A grill is handy thing to have, but one thing to remember is when getting a cart, is there room for a grill? Even if you have room to add a grill later it will be worth it. None of us manufactures are making a grill we are making griddles, but we are not making grills. We are buying our grills like you would find at Lowe's just normal grills you would buy. Keep those things in mind if you plan on upgrading later.
Food Cart Size – Bigger is Better?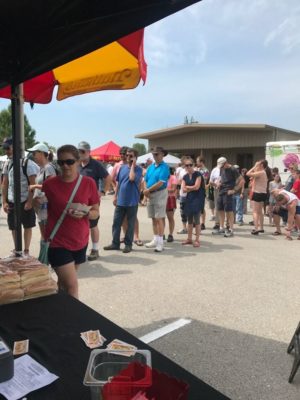 Something else on picking out a cart you will think about the size. Will this cart require me to carry 3 extra tables with me or just 1? So it helps to have a bigger cart I believe. Our big dog cart, its why we call it a big dog cause it has lots of room and I can take one table and I have storage for all my meat and buns and everything. I don't need anything else except my cooler of extra drinks.
Now don't be misled, you will go some websites and they will go "this cooler holds 94 drinks" well what they mean is that holds that many drinks without any ice. So now you add ice and your at half that number. The second thing is very few vendors carry their drinks on the cart. Unless your doing small time potato type volume, you know your serving 20 dogs a day or 50 dogs a day yeah you'll have enough room for drinks and all your other stuff you need to keep cold.
So most of us have an extra cooler that is off the cart, it's the only place that I use ice. The other coolers have ice packs, when I got started I would freeze the half gallon containers of milk with water and that would be my ice pack. They do have those fancy gel packs they have a lower freezing point and it takes them longer to thaw out, but they are expensive. You know you might spend over hundred dollars fixing up your cooler but you'll have something nice that will last you long for years and will keep your frozen foods frozen and your cold foods cold you know it does it all.
Food Cart Water System
You want to make sure your cart has pressurized hot and cold water. It doesn't have to at first because you can always upgrade later, we sell parts and instructions on our website on how to do that. If it is already on it it's a great thing. The old gravity flow systems, most states don't allow them anymore that is where the water drained by gravity. Most manufactures now have pressurized water systems, if it doesn't just keep in mind your going to spend about $100-150 on an upgrade.
The other thing you want to check when looking at a cart is the waste tank. Most states require that the waste tank is 15% larger some people will boast it is 50% larger and it doesn't have to be most states require 15%. This is one of those things you want to check out before hand and again ask about the codes.
Somebody called me the other day from NC and they bought a cart from another persons in NC. They bought and then sold, they said in their Craigslist add that they were selling for "health" reasons. Well come to find out they were selling because the cart couldn't get approved, because it was crap. So this person bought it because it was a good deal, and it really wasn't a good deal, because they can't use it and now they got to sell it. I told him if you wanted to be honest you'll sell it out of state where someone can use it in the state nobody is going to be able to use the cart. If you have a question when your looking at a cart call me, I will be happy to help you and you won't get some fancy sales pitch on why you need to buy our carts, I just won't do that.
The cart skin, the outer part don't be scared of wood as long as its sealed its not a food prep area and most states don't care. I was talking with a lady in Texas and her inspector told her "yes the cart has to have stainless steel all the way down the side" her and her husband had already build it out of wood and sealed it. So I called the inspector and asked him "can you show me where it says that?" because the code says that it has to be in the food prep and serving areas has to be stainless steel.
Build a Food Cart Instead of Buying Can Save Lots of Money
I will mention this we have the DIY course the do it yourself course. Its www.buildacart.com and that will help you build a cart. You can do it fairly easy, if you're handy at all. Keith my partner did the entire thing step by step for less than $900 and it has everything steam table, cooler, and sink and if you notice we did the stainless steel top and we teach you how to install that. If you want to watch a vendor build a cart we have something for that too if you go to www.learnhotdogs.com/bobscart and you can watch Bob as he is building his cart, and you can modify this to suite your needs and you can change it up however you want. This cart is based off our cash cow so it is made to last its adaptable to pass any states requirements and there are no used parts you can buy everything new. If you are handy this maybe the way to go.
Find a Good Used Food Cart
Used carts are easier to find during the winter months. Now rob is against used carts but I'm not. I believe if that if this gets you in faster than by all means go ahead and buy a used cart. So used arts, contrary to some you want to find some good deals. Best place to find then Craigslist.org I'm sure you all have heard of them. We also have a used cart page here: Used Carts to see if there is something near you.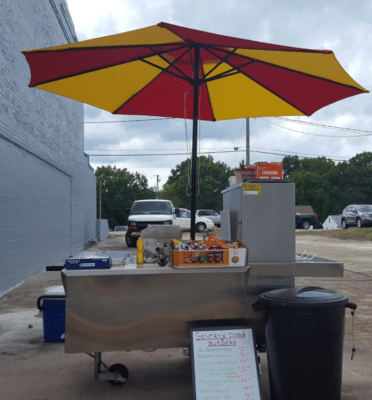 Ready to go with a brand new cart? There are affordable options: New hot dog carts for sale from $1899
What's a good price? A good price is what your willing to pay. Good carts don't really lose their value. I have seen carts on craigslist for $3,000 that are 12 years old and you think, well I can buy a new one for $500 more…
There is always a need. People will call me and go "if business is so good why is there always used carts?" that is similar to "if houses are so good why are there houses for sale?" its because not everybody is not cut out for this or they didn't do their due diligence and there are a million reasons why someone is selling them. You can find a good price.
I have people call and ask if I can take a look at this price, and what it comes down to is what are you willing to pay? Have you've been looking for while and you have an event on the calendar…
I was talking to a guy out in Colorado and he was afraid of getting ripped off. He knew the cart would pass inspection and he thought the seller was wanting too much for it. I told him you can look for two more weeks, and that would be two weeks you aren't serving, and you could have been making money. Why would you wait?
I don't want you to rush into a purchase, but just keep in mind… Once you have done your due diligence and the only thing holding you up is the price, so far as you think it is a good deal. Always always always see the cart in person…never never never believe their craigslist ad you will want to go and see the cart in person because sometimes they can be misleading. Sometimes they don't even work. You will want to check that out too.
Try Before You Buy a Used Cart
I teach you in my book, but I teach to always carry a propane tank with you so you want encounter "I would let you fire it up but I don't have any propane with me" when you hear that it usually means that the gas isn't working or they couldn't get them to work or the burners are burned out or something crazy, you can count on it. Take your propane and a spray bottle of soapy water so that way when you turn on the gas lines before you fire it up and then you spray them down, if you see bubbles turn it off turn off your gas at your tank. Double check it and make sure they aren't any leaks.
I'm not trying to get you avoid buying a used cart, what I'm trying to tell you is to check these things out because you want to know watch your getting and you would want to know if it has a gas leak and if it does you can show him and now you can get him to come down on the price and now you got bargaining room, your not taking advantage you are just making it known that you are aware of these problems.
Beware the Craigslist ads that say, "Hot dog cart $5 I'm in the military and being shipped out" and there isn't a phone number there are a lot of bad deals on craigslist. If you see an ad that sounds to good to be true, it probably is. Here's two good give a ways most people selling something on craigslist will put their phone number, legitimate sales will some don't because they don't want to be harassed with phone calls and I understand that so they'll put an email up. But it won't sound too good to be true, maybe a good deal. If its used go see it, if they tell you can't cause it's already packaged up tell them to go jump in a lake.
What to Search for on Craigslist
Search under the business listing in craigslist and they go to misc. items or go to the general for sale, you will want to do a search. If you get there and there is only one burner on the cart and that's ok if you are going to only use one burner if its not then its not ok. Can you upgrade it? Yes depending on what the cart is made of.
Some carts out there new or used may have 5 pans or whatever and then when you see it they pans are real small and not big enough and now you have a cart that has all the pans but you can only put four hot dogs in there and it's a big deal and you want to go are your steam pans at least 4", and four inches are common 6" are better, usually 6" is for direct heat but on a steam table the spillage will be 6 and the insert will be 4. However, there are some manufactures doing 4" steam table spillage pans and then a 2" insert, which just won't do it.
---