Need help setting up your business identity?
Part of starting your street food business is setting up your business as a legal entity. In part 8 we will discuss sole proprietorships, corporate identities like INC and LLCs.  I will give my personal opinions as I am not an accountant or tax adviser but you will learn some of the benefits from each.
Part 8:
Getting legal
Records and bookkeeping and stuff
Federal EIN
Figuring sales tax
Menu pricing
Street Food Business: Keep Records
Let's talk about getting Legal'd up.  This is important. It's not that hard, but it's required. I mean you need to do this.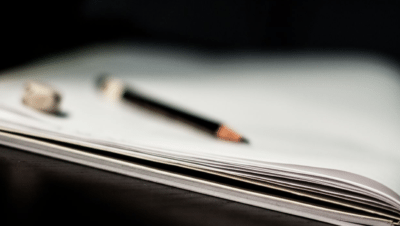 Accountants, book keepers and good old yellow pads… Accountants: an accountant is good if you can afford it. At least if you have the ability to talk to one it may help get your street food business set up properly. There's a lot of free services online that you can find, but honestly a lot of book keepers know the ins and outs and can give you the basic information pretty quick.
You can also call your state for help setting up your business. Some states have advice lines where they will help you starting a street food and catering business. There's lots of questions when setting up a company, whether it's an LLC or corporation. I have a blog article about that, that will help you and it walks you step by step so I am not going to go into that real deep here.
Bookkeepers: I like a book keeper even if you can hire one for just $50 a month to turn your yellow pad scribble into something that goes into a computer system. That's not that expensive to do. It's not that hard. What I do is I keep a legal pad — you know it's a yellow pad — and I do lines down it and you just put in your costs in one column.
For example, say you went to Sam's this week and you just bought a bunch of stuff for your business. So you put in your costs and then you put in your sales for that day in another column, and then you can factor up what that percentage of those sales will cost, based on what each dog costs, and each bun and foil wrap, etc.
Hot Dog Business Setup: Figuring Out Costs
The only thing that gets a little tricky, which I am going to help you out with and I will provide you with a list, a breakdown on average what it costs for a serving cost.  There is also some free software out there you will go to LearnHotdogs.com/freesoftware there is free software that will help you operate your business and won't cost you anything. If you are computer savvy or halfway decent, and you like to keep it in the computer all nice and neat and don't want my yellow pad system, that is a good way to go. It works and it's free.
Street Food Business Setup: Sole Proprietorship
Let's see… If you're considering an LLC, Sole Proprietor, or corporation, what I would suggest is starting off as a sole proprietor. It is cheaper. And that's not legal advice, that's not tax advice, it's advice from starting out on a budget on a shoe string budget. You could start out very cheaply by going as a sole proprietor.
It means I am me, and I am doing business as some business entity. So I can be Ben, doing business as (abbreviated as DBA) The Hot Dog Answer Man, and the name of my company on everything can be The Hot Dog Answer Man. But I have licensed myself with my City or County for my license — my business license, not a vendor's permit — and I would just be Ben Wilson doing business, and it's that simple. It's not hard.
Other Business Types
Now there are benefits to going incorporated or LLC or Limited Liability Partnerships. There are all kinds of businesses you can do and that's where you would need an Accountant. There are benefits to each type,  but the nice part is you can switch it up. You can start off as a sole proprietor, get 11 months into it, and switch it. And everything goes back to day one basically with the LLC. So whatever you form, you get the benefit of being that type of business entity. So there are several ways to do start your business and I am just telling you the least expensive way to get started.
Setting Up Your Business: Federal EIN
Something you will need if you are going to operate as a Corporation if you get an LLC or an Inc or anything like that fancy behind your business name, you will need a Federal ID. This is also called an EIN or Employer Identification Number. Anybody that is operating any business has to have one of these, but if you are a sole proprietor you can do it with your social security number, because your SSN acts as your EIN. It's just an employer identification number, but sole proprietor means that you don't really any employees and so you wouldn't really need any EIN.
But that's your Federal ID. It is basically a Social Security Number for a business.  You will have to have this though. In most states they require you to get a resale ID or a sales tax number. This is simple in some states. In Tennessee you can do it over the phone. It's simple. Over the web you can get your Federal ID practically instantly.
Setting Up Your Business: Resale / Tax ID
Some states may not require a resale ID, because they don't charge tax on food. But most states tax food if it's prepared. A sales-tax number allows you to go to the grocery store or to Sam's or to Costco or BJ or Sysco or any other food distributor and buy your product without paying tax. You give them your tax number they will let you buy without tax. You still pay for it, but you don't pay tax on it right then. Basically the government is allowing you the benefit of being in business. You don't have to pay tax now because you are reselling these items.  Now if you go and buy a typewriter for your business or a new computer and that's not for resale, you would have to pay tax. You couldn't buy that under your tax ID — not legally — a lot of people do, but you are not supposed to.
So you would go and buy your products at the store. Let's say you buy $500 worth of products for your business. There is no tax on it at that time. Then you sell that product and you have to figure out your tax.
Street Food Business Tip: Handling Money
I have done another blog article about that and I will link you to that as well in figuring your sales tax. It's LearnHotDogs.com/tax  I can give you the way to figure out your sales tax the easy way. Most people don't want to charge tax on street food. I don't want to deal with figuring out tax and making change. I don't want to deal with pennies, coming up with change of 13 cents, when I am trying to serve hot dogs.
If you have time, great. I don't have time for that. So what I do is make everything even. Everything is $5, $6, $7 dollars. Pricing in dollar increments means I don't even mess with quarters. Some people do and it's not the end of the world if you do. But I like keeping it simple. Keeping everything at even dollar prices makes it easy for me. Coke is a dollar, chips are a dollar, this meal's a dollar, this meals $5, this meals $10 or whatever it is. And that way all I have to carry for change is 1's, 5's and 10's.  I don't use 20's to change just because I don't want to have to pull those out and get them mixed up and accidentally give somebody too much. So if I get a 20 handed to me, it goes into my back pocket. And in my apron I have 1's, 5's and 10's and so I give them change back 1's, 5's and 10's.
You will find a method that works for you. I know some great vendors that don't use my method, so I am just sharing my method with you.
Figuring Sales Tax the Easy Way
Say I do a thousand sales this week, 2 thousand next week, I skip a week and then I do 1500 the following week. Now I have $4500 in sales.  Well, I basically collected sales tax but didn't add it up separately because it I included it in the price of the meal. Now I have to pay sales tax on those sales.
There actually is a course on the market for Hot Dog Vendors and it teaches you to take the tax amount and multiply your sales by it. So let's take an easy number. Let's say a $1000 in sales, and assume sales tax is 10%. Mine is 9-3/4 % just to give you an idea. But if it's 10% that course teaches you to take the $1000 and add 10% or multiply by 10%, so that's $100. So you owe the government $100 in sales tax, but you go well that's not right. I didn't make $1100 in sales I made $1000 in sales. So what you need to do is back out the sales tax.
The right way to do that is divide your sales by a one – point and then whatever the sales tax rate is. So if my sales tax rate is 9.75, I will take $1000 in sales and divide it by 1.0975 and when I do that I will get a number. I will subtract that number from the total and that's what's owed in sales tax. That's the easy way to do it, and I have this broken down easily on the blog at LearnHotDogs.com/tax
That will help you figure out sales tax. It's 100% legal and it's the right way to do it. You don't want to overpay it, because then you are paying tax on stuff you didn't even sell.
Not Sure? Talk to an Accountant
Now a good accountant is always wise. If you need any advice or help on this you can look online but a good accountant is worth it even if you had to pay $100 to get some advice.  Some give free consultations. I would get some free advice from somebody certified or licensed in your State who knows your State rules. Some states have income tax and some states don't, so if your state does then you have another thing that you are going to have to worry about paying. You have an income and you are going to have tax on that income, so you have to figure that out. I am not trying to discourage you. I just want you to know these are the things that you have to keep in mind.
Setting Up Your Business: Insurance
Insurance — it's a biggie. You want insurance, period. Get insurance. Liability insurance is a must on a food cart! I have talked about it on the shows, the blog, and the forums. You want insurance. The cheapest place I have ever found insurance is $299 for a year. I have been paying $650 for 4 years now and I can get more coverage than I ever had for $299 a year. Check it out from FLIP: street food vendor insurance.
Street Food Business Tips: Menu
Now let's talk about location, let's see menu, pricing and purchasing… This will speed along a little bit for us and help you out.  As I said, insurance is a must. Menu pricing — you know you have got cheap dogs and expensive dogs. Never go cheap unless it's just one of those things, like you are doing a kid's birthday party with Oscar Mayer.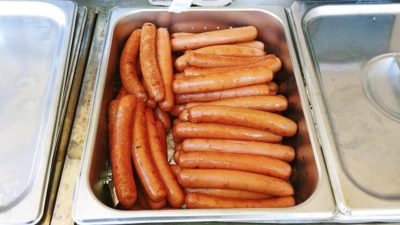 If you are going to be serving and you want to build clientele and you want to build up a following then by all means serve a good hot dog. This you will learn from your taste test.  Sam's club is a great place to get hot dogs. I have been getting them there for 4 years. I buy the bakers and chef's all beef dogs. They won't be in the hot dog area. I get calls from people who go "I read your book; I saw that you use Sam's and my Sam's doesn't have them." Yes they do. You are just looking in the wrong spot.
Believe it or not, they are not with the hot dogs. They are in the bulk food items in the freezer, and they are in a white and blue box. It's got a blue line around the box. They will have a red box and a blue box. The red lined box will be the chicken beaks and peckers and lips and then the other one will be the all-beef premium, all beef dogs. It's like 80 dogs for $19 dollars, 20 bucks. It's cheap and they are really good, and they do well boiled or steamed. They taste good and people like them.
I have got a few people that have said that they are a little salty, but you can even counter that by saturating your water (if you are boiling) with less seasoning. You can use plain water if you wanted to try it, and boil them suckers. You can boil them inside your house and try and go, yep that took out the salt and that solves it.
Other outlets it would be your big distributors like Sysco, your big food distributors, US Food, those types. If you call a restaurant in town you can ask them who the food distributors are. You can look up on line and find out who is the wholesale food distributor in your area, and you will find some.  It's not hard. Sysco is a common one nationwide.
NOTE: I mentioned the MFVA in this video. The MFVA is no longer in existence, but I recommend Vendors United for resources and discounts on the street food business!
---