Pig Roaster Pro – The "Swiss Army Knife" Of Pig Roast Catering
The Pig Roaster Pro®  [PRP] is the Swiss Army Knife of pig roast catering.  It can transform a lowly pig into a delicious meal for hundreds with very little work on your part.  Like the famous Ron P. and his countertop roaster coined the phrase "set it and forget it".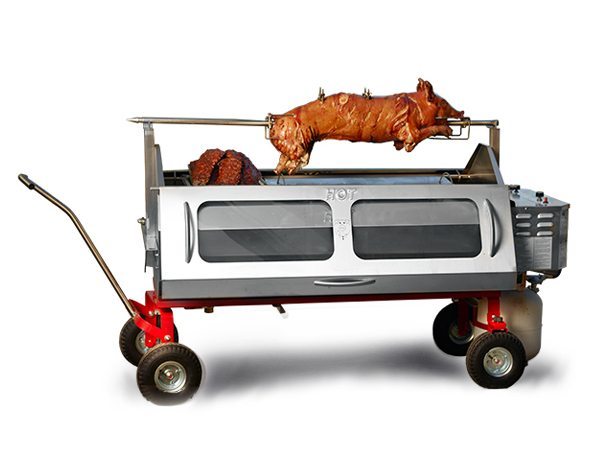 That is exactly what you can do!  20 minutes from start to finish you can have a pig spinning.  Now grab a fishing pole and enjoy life a bit while this whole pig roaster cooks your hog to perfection.
Watch the Full Video Here
NOT JUST A PIG COOKER
40 Whole Chickens
1/4 Leg of Beef / Lamb
6 Huge Turkeys
Bushel or two of veggies
Your entire fish catch
Bbq butts
IT'S A SMOKER, TURKEY ROTISSERIE, PIG ROASTER ROTISSERIE, GRILLER, COOKER, DO-IT-ALL'ER BAD ASS MOBILE COOKING MACHINE.
Most whole hog cookers and pig roasters require you stand on constant guard.  For hours you stand by, constantly checking, constantly turning by hand and checking temps.  BUT NOT WITH THE Pig Roaster Pro.
KING OF THE BACK YARD GRILLS, SMOKERS, COOKERS & PIG ROAST CATERING!
Don't even think you have to go out and make money with this cash magnet.  Because You don't!  You can make every single person in your holler [read: neighborhood] completely jealous.  The preacher will love you.
Because of you the church will be full with your "covetous" neighbors.  Now I'm not saying you can't make a pocket full of cash every week by renting out your new Pig Roaster Pro – but I am saying it's not just for that purpose.
Yes:
It's commercially certified
It is certified ETL (same as NSF/ANSI/FDA)
It can be used in all 50 states
It's built to cook on every day (commercial use)
Catering, yes we have folks in our Roasting Nomad Tribe® doing over $2500/weekly
But:
That doesn't mean you have to.  Many enjoy it in their own back yards.  I recently cooked veggies, fish, lobster and crab legs all at once.
Cleaning The Pig Roaster Pro®
Shutter to think.  Must be a nightmare right?
NOPE… In fact, my friend Jason and I did two whole hogs in one day, then we opened some delicious adult type beverages up [read: bourbon] and we forgot to clean it.
Until the next day!
That's when we remembered.
It was good bourbon though.
So to prove just how easy it is to clean…
I FILMED IT!
Hey now, someone had to hold the camera.
Want More Info?
Of course you do.  I don't blame you.  Come on over and I'll show ya everything this sweet, sweet Pig Roaster Pro can do for you.   Click here to learn more.