Branding

and Expanding your hot dog cart business
Going live this Tuesday night at 8:30 PM Eastern Standard Time.  Covert to your time zone for show times here.
Special Guest:  Pocono Hot Dogs / Share the love, follow Pocono Hot Dogs
Twitter:  @poconohotdog
During the last live show, someone asked to see the rack cards that Rob uses.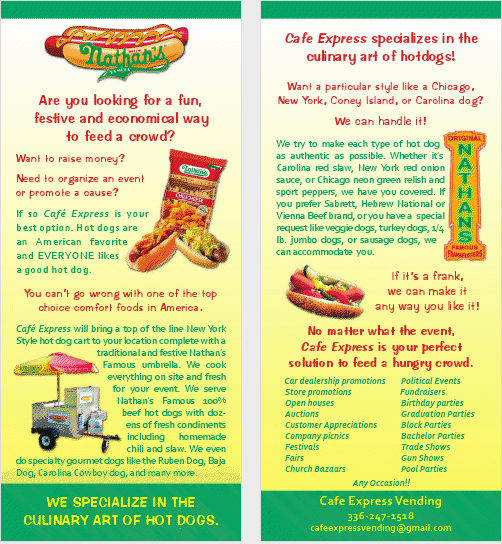 Thanks for sharing with us Rob!
Do you visit hot dog vendor groups on facebook?   If so, spread the wealth, share this link on those pages.  The more minds we have, the more we learn.  Here's how to do it:  Select this code:    http://www.blogtalkradio.com/benscarts    Then click your right mouse button and select copy, click the left mouse button.  Then go over to your Facebook group and start a new comment/post.   Once the cursor is in the box, click the right mouse button and select paste by clicking the left mouse button.   Then hit post.
I want to thank you for reading the blog and helping to grow the site.  Good clear messages are hard to find and even harder to find without exaggerated schemes of wealth and riches.  The blog subscribers grows daily and more so than I ever thought possible.  Thank you!