It is always exciting to see a crowd gathered for a festival, fair, or party! Not only is it fun to hang out with people but for hot dog vendors and food cart operators, it means lots of opportunity to serve!
You know that wherever people are gathered, they will look for food. And sometimes, the big crowds make it hard to maneuver through with a food cart. That's where a slimmer cart comes in handy. Meet the Lil Dog!
Lil Dog Cart is Easy to Move
The Lil Dog Cart is a fantastic cart, and its smaller size makes it easy to move. It's just 37 inches wide!
With two large wheels and and smaller third wheel, it's easy to turn and maneuver this cart along sidewalks, between booths, and through most doorways.
The biggest difference between the Lil Dog and its larger cousins (such as the Cash Cow and Big Dog) is that you don't need to tow it. It doesn't have the full towing ability that those other carts have.
This means you can load it into a trailer, pickup truck, or even a minivan, and take it wherever you need to go. No need to install a hitch, practice trailer towing, or backing up a big rig.
Once you get the Lil Dog to your destination, just use the handlebars to easily maneuver it into position. Even when it's loaded up with hot dogs and condiments, you can still move it around without having to hitch it up.
We even have one vendor who pulls the Lil Dog behind a bicycle! It's perfect if you are selling concessions at a location where you can move around the crowd.
Booth vendors are stuck in one place, but you can take your Lil Dog for a walk around the event! As a result, you have more flexibility to find a great location.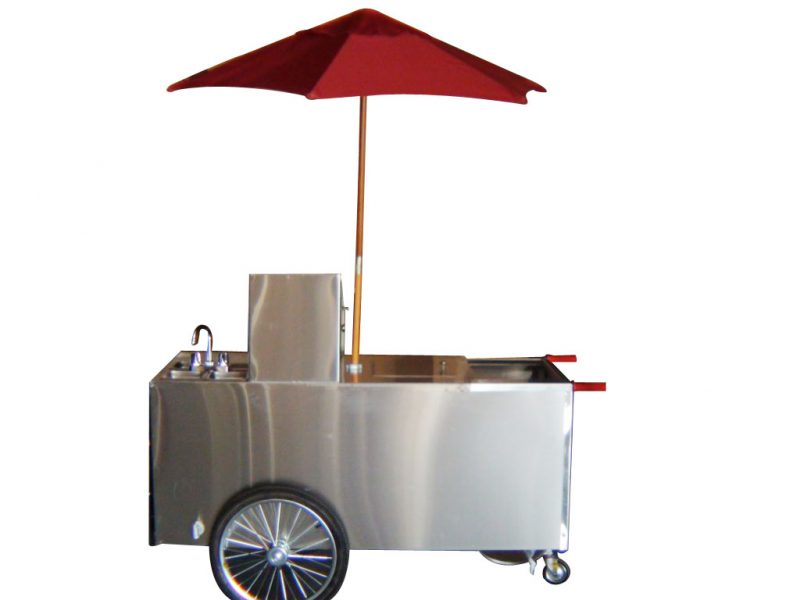 Lil Dog Cart Features
Don't be fooled by the name. This cart can keep up with the larger models when it comes to serving a hungry crowd. It has:
Steam table for your hot dogs, buns, chili, and hot side items
Three 1/3 size pans with lids
Two commercial burners with dual control knobs
Bread box with sliding doors for storage
Enclosed storage with room for two propane tanks
Four onboard sinks with no-clog drains
Pressurized water system with hot and cold water
Fully-insulated cooler with hinged lid
Condiment rack for extras
Market umbrella for shade
and more!
Available Now
Visit the shop to view complete schematics and more details about the Lil Dog Cart. Get it now while there's still plenty of summer left to get out there and make some money!