Today I want to share with you one simple marketing tip for vendors for when you're doing social media marketing or sharing your social media pages from your business.
So for any hot dog vendor, street food vendors, if you're going to share your stuff, which you should be, there's a way to do it and a way to talk about it so that you appeal to more people and so that you grab them, grab their attention.
And this is a simple, simple trick. This won't take 30 seconds to explain.
Marketing Tip For Vendors
I have two options when I put out stuff:
A) I can say…
"Hey, I'd love it if you would tell me what you think of this and then show a picture of something".
Or …
"Hey, you're not going to believe this. We just came out with this crazy thing where you get two bags of chips with your hot dog combo meal"
Or…
"Hey you, we just added crocodile sausages".
You see what I'm saying?
Now, what's the other way to do it? And then I'm going to see if you figured this out.
The other way is go…
Hey everybody, we are awesome! We've added Elk sausage, reindeer, buffalo, house cat and squirrel salsa just to the menu. Come check them out today!
And then here's another way to say this…
Oh my God, everybody, you ain't going to believe what we got for y'all today. We have for y'all this awesome special whizzbang, JAMA, delicious Ketchup phone in from Sweden, picked from the best crop, you know, blah blah blah.
The point I'm trying to make is using "you" or using "y'all" or using "everyone" or "Hey everybody" or "Hey".
If you are putting stuff out there, you want to appeal to the person, not to the group.
The group is going to be determined by how many people are watching your posts. But you ain't talking to the group, you're talking to the person.
So when you talk to the person, you don't have to know their name.
You say Hey, we got something awesome for you today.
Not we got something awesome for y'all or for "everybody" cause they don't care about everybody or y'all, all they care about is them, Me, myself, and I.
Me, myself and I is the most important to most people.
And in marketing it especially holds true.
When Mercedes does an ad or Jaguar does an ad and goes…
"Imagine all of y'all with this brand new Jaguar".
Or do they go…
"Imagine yourself". They specify a person, they make it personal.
So a simple marketing tip for vendors, but it's going to make a difference.
And sometimes your message may not need to contain something like a you, y'all or anything.
But a lot of times it does, especially when you're writing out a message and go…
"Hey buddy, we gotta a deal today and we're going to be"… everybody ain't reading it.
So when somebody sees that, it doesn't feel like you're talking to them. But if it says…
"Hey you, you know who I'm talking to, we're going to be in front of fifth and third today, in front of the bank, or in front of the courthouse"… or whatever it is.
So that's the kind of message you want to put out there.
And if you'll start doing that, and I know it's hard to train yourself, it's hard to get out of a habit, but if you put out your stuff in a more personalized manner, it will do better.
It will do better on social media. It gets shared better, it gets better, more attention is paid to it.
We have so many more tips and pro vendor resources in our Vendors United group. Daily updates and all. Check it out here…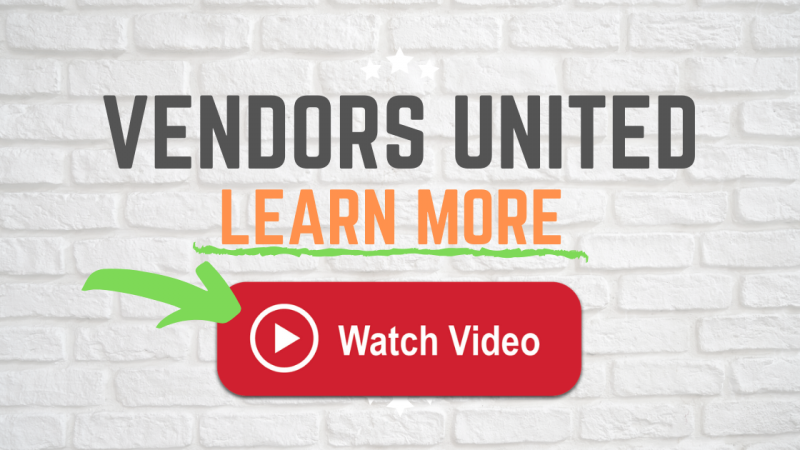 That's all I got for you today.
I love you and I'll talk to you later.
Bye.
P.S.
Check out this interesting post about Facebook for your business