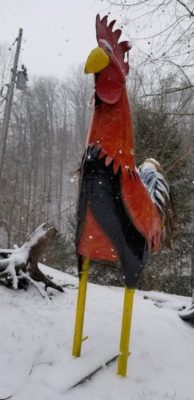 How It Started…
Sometimes getting the cart before the horse (or the chickens before the coop) can pay off. It can give you just enough kick in the pants to force you onto to the dance floor.
My wife wanted a chicken.
Well, we've just moved and I'm in no way ready to build a chicken coop or start raising chickens. (again) Heck…
We haven't even unpacked yet. We literally are still living out of boxes. (the hillbilly way)
So as I passed by a metal art place on the highway I saw a metal rooster.
THAT'S IT!!! (My wife's chicken)
I delivered it home, set it up in the yard and told her to come out that I'd gotten her a chicken.
Saturday was a mini family reunion up in another mountain holler. My brother in law brings my wife a chicken in a raccoon cage. He had heard she was wanting one.
Lucky me, right…?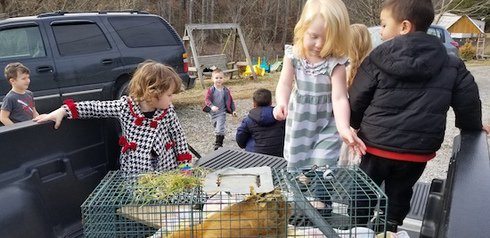 Back at home, we turn the chicken loose on our yet to be organized front porch. [pic below] My wife is ecstatic. Nugget is friendly and loves to be petted. It's all she can talk about the next day.
Well after working outside on this rare, semi warmish (47°) day — all day — and even managing some emails… I got into the bourbon.
WARNING: DON'T AMAZON OR INTERNET ON BOURBON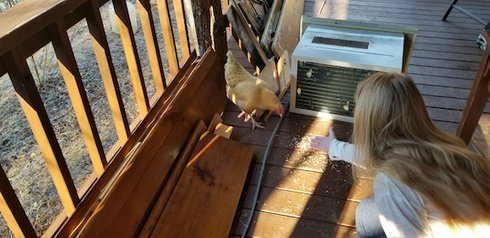 As an ex-farmer of sorts, I knew I had an account at Strombergs. (it's a chicken website) Me and Ezra Brooks (bourbon) sat down and began surfing this chicken website. Two hours later, I have ordered 65 MORE CHICKENS!!! OMG!!!
Here's where the cart before the horse comes in.
I knew all along I was going to get some chickens. JUST NOT FREAK'N RIGHT NOW. But now with Nugget all lonesome and needing a companion or 65… I am being thrust into the chicken ownership in a big way.
I have no coop, no pen, no barn… I have nothing. So this week I shall be building a brood box. Soon after, a real bonafide chicken coop. Not because I want to… Because I have to.
Who wins?
Me, my wife, my kids, the grandkids.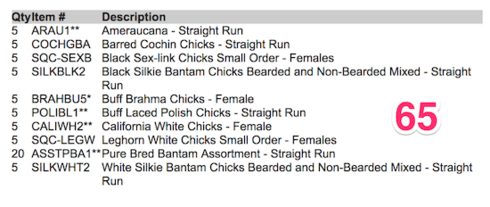 WE BE: Chicken farmers way sooner than expected.
I SAID ALL THAT… To say this….
Sometimes just going ahead and jumping will force your hand.
Sometimes paralysis from analysis happens. Procrastination stops our progress. Go ahead. If you want changes…
If you want to start catering too…
If you want to get that second cart…
If you want a stand-in catering trailer…
If you want THAT FIRST CART…
IF YOU WANT TO BE SELF EMPLOYED AND OWN YOU…
Then just jumping in already can be a great thing.
It can force you to move.
"Ben, I just did it. I pulled the trigger. I joined Vendors United, not for a month but for a year. Paid in advance. Partly for the discount, but I can tell you this much. I ain't about to spend that much and not use it. I'm doing this now!" – Corrine
See how that works? Sometimes ya just gotta jump. The alternative is to sit safely back and watch everyone else having fun and creating their own destinies.
What's your destiny?
Ben "CHICKEN MAN" Wilson
P.S.
DO SOMETHING… TODAY.
Come join us… All the cool vendors hang here…