Welcome to Street Food Vendor TV 177 and HDVR 177. We took last Thursday off and hope you had a fantastic Thanksgiving. We're thankful to be back tonight, with Jason (Love Food Truck Co.) joining Ben to answer questions LIVE.
Street Food Vendor TV 177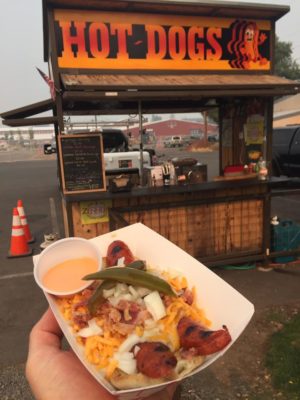 Here are some of the questions and mobile food business topics we discussed tonight:
Vendor of the Week: Phat Saddle Hot Dog Stand
What's the difference between a full size pan and a spillage pan for a hot dog cart?
Having trouble finding a commissary
Getting started selling hot dogs in Tennessee
How can I sell bratwurst? Do they have to be precooked brats?
My location is okay but how do I get my sales up to 50 meals per day?
Do I have to buy my products from a special distributor or can I just get it from a grocery store?
How many punches should I put on a loyalty card?
Do you take money before you make the dogs or collect after?
Offering a kid's meal or a toy for children?
Offering a discount on refills of lemonade jars?
Thank you to everyone who joined us on the show tonight, and to everybody who sends in questions and participates in the street food community. We all help each other and learn by asking questions and sharing information.
Don't forget that we're giving away a shiny new hot dog cart in January 2018, and you can get in on that drawing by joining Vendors United.