Hot Dog Vendors

Serving $5.00 Hot Dogs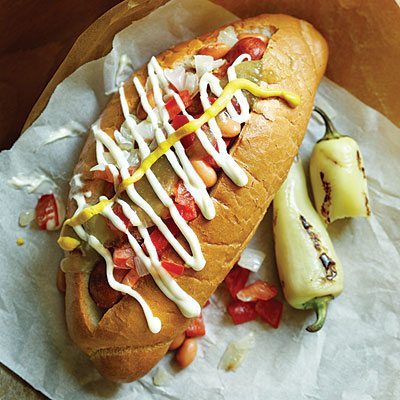 Changes are a brewin' amongst many hot dog vendors.  BensCarts.com has received photos and stories of vendors taking their business up a notch.  I can say that I've never created anything on my cart so dang pretty as these, but I just may have to try one or two of these.  Several of these pics look so good I swear I licked the screen trying to get a taste.
Vendors are getting top dollar for these dogs.  Recently a vendor in New Mexico wrote me and said he was serving a simple wrap; A hot dog, split open with fresh cheese laid down the middle and then wrapped in a tortilla shell which he then grills.  Of course you could steam this concoction as well.  Jesus R. gets $3.00 for these and he's using cheap hot dogs.
"I can add peppers, sauce (salsa), guacamole or anything else they like.  I use the corn shells because they taste better."   (pics are not his)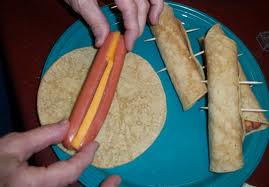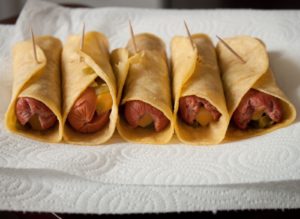 Some vendors have stepped it up 3 or 4 notches with gourmet dogs.  Some commanding prices as high as $8.00   You heard about one of these on last weeks radio show over at HDVR.   Not all areas can support such prices, but how can you know if you don't try it.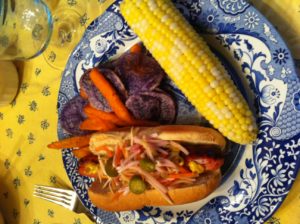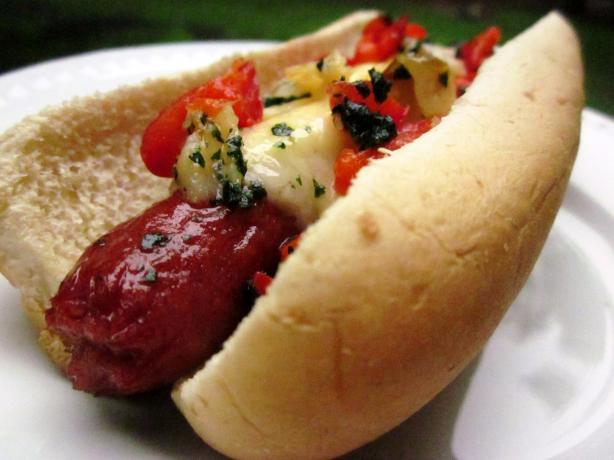 2 to 3 Large Onions – finely chopped (I use a food processor)
1 stalk of celery – finely chopped
1/4 cup of dark molasses
1/8 cup of dark brown sugar
1 tbs. chili powder
1/2 tsp. red pepper flakes (adjust to your preference)
Splash of Worcestershire sauce
Splash of Frank's Hot Sauce
1/3 cup cider vinegar
Pour all ingredients into a sauce pan.  Simmer the sauce for at least 2 hours to allow the onion to cook and the flavors to marry. If the sauce is a little thin you can thicken it with tomato paste to achieve a thicker consistency.  When sauce is done pour into a jar.  Any unused sauce can be refrigerated about a month or so.    I found buns through Sysco.

Check these beautiful buns out.  Pretzel rolls, simple gorgeous.

Presentation can make all the difference.  How 'bout a special event?  You remember the recent radio show with Pocono Hot Dogs, he talked about doing bachelor parties and some uppity events.  How impressed would the guests be with this…

Ready for a little competition!
Post your best dog, your most beautiful creation, made on your cart or from your kitchen and  WIN BIG!
Rules:  Post your creation with details, ingredients, tips and how you did it and win a Pro Pak from BensCarts.com
Post should be made at https://www.facebook.com/Benshotdogcarts/  Video uploads will receive an extra 5 votes.  So get going, start creating something superb.  Remember, it can be done from your kitchen or your cart.  Find recipes and ideas by searching www.google.com   Search terms:  Gourmet hot dog recipe / Mexican Hot dogs / Specialty hot dogs (you get my drift)
Where to post:   https://www.facebook.com/Benshotdogcarts
The picture or video with the most "likes" wins!
See the pro pak here.
Also, don't forget to tune into the next BensCarts Hot Dog Vendor Radio Show.  Click the HDVR logo below.