Rob Thomason sent me this article he wrote to share with you all (or yunz) as we say in TN.  No matter if you have just begun or are a seasoned vendor this is great information to use and remember to practice.
The devils are in the details
Are you paying attention to the little details? One thing that makes a difference is the small details. People pick up on the small details and take notice.  
Does all your signage on your cart look professional? You don't have to pay a fortune with today's home printers and Office Supply stores that can print, laminate, etc for you. Make up signage that looks nice, easy to read and professionally done. It makes your carts over all appearance look the part.  
Do you offer any kids toys, prizes, tootsie pops etc for the kids? I have a small treasure box with assorted boys and girls toys. Don't spend much on each item. I spend about .08 to .12 each. I go to the dollar store to buy these items but there are online companies as well.  At the dollar store they come 6 to 12 to a pack for $1.00. Stickers, temporary tattoos, cars, little plastic dinosaurs, plastic rings, bracelets, etc all are great.  I also have a jar of Tootsie Pops to give out. Parents with children are some of my largest single purchases I have during a day, so give a little to keep them coming back. My kid loves the "happy meal" place. It isn't because the burgers are all that great. It is because he loves the prizes he gets. They didn't become the largest burger joint in the world by being dummies.
Offer to split a hot dog long ways for young children because of the chocking hazard aspect. Parents appreciate the small things like this. Do you offer a kids style drink like a juice box, bag juice, fruit punch? If not you may want to consider it.  
Is you cart clean and spotless? I mean down to the wheels, tires, tongue hitch, chains, propane tank, etc. If any part is rusted, greasy, dirty, etc people notice. Keep you cart "detailed" like a show car and people will notice to the point as saying "I like your setup, it is very clean and neat". Would you eat at a restaurant that had dirty windows, rusted door handles, paint flaking off, etc?
Do you offer paper plates, sporks, trays, straws, toothpicks, napkins, etc? I don't have them out on display (except for napkins) but offer them when people buy the combo deals or have children, etc. or if they ask.  If you are charging enough the small incidentals like paper products shouldn't bother you to give out when needed.
Do you have a logo shirt, hat, apron, etc? You can make these all at home using your computer printer and the Avery ink jet iron on transfers. Ever notice McDonalds, Burger King, etc have uniforms on? Look like a "professional franchise" style restaurant and people will notice and feel comfortable buying for you and even using their credit cards to purchase. Look like a hobo and you will loose business. Look like a professional and you will gain business.
Do you take Square or other for of credit card payments? If not you need to. This makes up to 10% or more of my daily revenue. If you take it advertise that you do with proper decals and on your menu boards.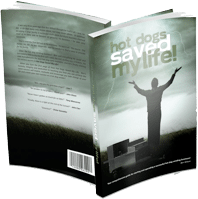 I carry one brand of drinks. Ever notice most restaurants are brand specific? (ie Coke or Pepsi products) It makes it easier to shop and it looks more consistent. While I
am not saying this is a must it is something I do. It also can win you points with local bottling companies that may give you free swag. If you talk to the rep and tell them you carry their product exclusively they may be willing to give you menu boards, coolers, decals, etc. Again, it is just tying everything together so it looks professional and like you are "legit".
Do you do a branded product? (ie, Nathan's, Sabrett, Vienna Beef, etc) I carry Nathans, and have my cart branded as such, along with their umbrella. To me these companies have spent tons of money to get their name out their so why not take advantage of the free advertisement they bring. I hear all the time "you guys have the best hot dogs". When I ask them what they got last time they ate with me they then say "I haven't eaten off your cart till today but I love Nathan's Hot Dogs". It is hard to beat when people think you have "the best" even before they eat off your cart.  I carry Nathan's branded mustard and bags of chips called Chili Cheese Fries. Small details like this make you look sharp. Consider carrying a name brand that people recognize. Some companies offer free swag if you use their products so that helps with your advertising budgets.
I have a tip jar like all vendors should. Mine say's "Thank You for Your Business" with a Nathan's hot dog log on it. It does not say "tip jar" "kids college fund' etc. I think it is important that people know you appreciate their business.
Are you friendly? Do you greet customers correctly? Do you say "how can I help you"? If people are in line be sure to address them by saying "I am sorry for the wait but I will be with you in a moment." At the end of the transaction do you say  "thank you for your business and have a great day"?  People notice these little things and you should be doing it.
Keep in mind there are more than one way to peel a banana but in my opinion and experience people notice these small details. In the end what matters most is you offer a quality product, fair (but profitable) price, and excellent customer service and your chances of making it are pretty good. Add in the small details and your chances greatly even more.    
A big thanks to Rob for sharing with us all.