When you're considering starting a food cart, you might wonder how you will tow it. Can you pull it with a small car or will you be forced to buy a truck? Liz has this question, because she has a Toyota Camry and wants to get a hot dog cart.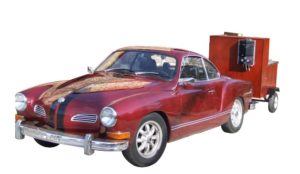 Will a Small Car Tow a Cart?
The short answer? Yes, a small car will tow a hot dog cart. No, you don't have to buy an SUV or truck to pull your cart. Ben's Carts are light enough to be towed by a normal car.
You might need to have a hitch installed if your car doesn't have one. You can do that at U-Haul, and it's not too expensive. They will install the hitch and even the light connections for the trailer. Heck, we even have a cart that's been towed by a smart car, and one that gets pulled behind a motorcycle. So having a small car is not a problem.
Where to Store a Cart
She also wonders where she will store her cart, since she lives in a condo and doesn't have garage space. There are ways to handle the storage thing, from renting space to storing it at your commissary. Some people even rent storage space with plumbing, add sinks, and convert the storage into a commissary. That solves the problem of needing a commissary and finding a cart storage space, all in one nice solution.
Get the Best Mobile Vendor Tips Anywhere
Want to learn from successful vendors right now? Check out Vendors United Street Food Pro team!