Used Hot Dog Carts…
can be found, but how do you know you are getting a good deal?  Well surprisingly enough, I'm all for buying a used cart.  It's not a bad plan, but be sure to look out for these things.  (listen to the audio above for details)
If you have ever felt taken by your purchase of a used cart or you bought a defunct cart, in this HDVR audio clip, I explain how it all is ok and how easy it is to find that silver lining amongst a crappy used cart.
This audio clip was inspired by a soon to be vendor who takes the advice: Do your due diligence, to heart.  He is covering all his bases and will surely be a success if he maintains half his enthusiasm for finding a cart and learning the business as he does actually vending.  I'm sure he will.
He emailed me about a cart that is built to order by a up and coming manufacturer that is offering carts that he builds off of a course.  No, it's not my BuildACart.com course.  Either way, I give this future vendor the details to watch out for but I finish it all up with how come it doesn't really matter in the grand scheme of things.
Look what I found.  This is a 5′ 8″ cardboard cut out.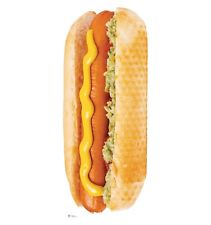 Who doesn't need one of these?  Stand it up beside your cart and let your customers take their picture.  Get creative and put your logo down the side.  This would be a great addition and I found it on Ebay for only $29.99
Makes me wonder if we could find someone to print these with our own hot dog creation.  Imagine this with the Outlaw dog by Sgt. Peppers or Rob's Carolina Dog.

I'll have my people call your people.  We need to get some of these customized.