Are you looking for a good used hot dog cart? It's a great idea to start with an affordable used cart, clean it up, and make some money with it. Then you can upgrade to a bigger and/or new cart later, and it will be easier to do that once you start making sales with your first cart.
Starting with a used cart is smart!
It's normal to want the biggest, shiniest model food cart when you're thinking about starting a mobile food business, but don't get seduced by features you don't really need. If you're on a tight budget for starting your business, find a sturdy cart close to your location.
Check it out in person.
Before you spend any money on a piece of equipment that will be the backbone and foundation of your business, get your hands and eyes on it in person if you can. Use these tips to check the cart, hoses, burners, and make sure the features are working properly. And if they're not working, that's not necessarily a deal-breaker. Most things can be fixed, but at least you will know what work needs to be done, and you can use your evaluation of the cart to negotiate the price to a reasonable amount.
Watch these videos before you look at a cart so you know what to take with you and how to evaluate the cart.
How to check out a used cart (Part One):

How to check out a used cart (Part Two):

I hope those videos are helpful to make sure you don't get stuck with a bad cart. Once you get it home and clean it up and ready to go, don't forget to protect yourself and your investment. Get insurance for your food cart business!
Ready to check out some used food carts and trailers like these (current listings may be different from the ones here today)? Check the listings here: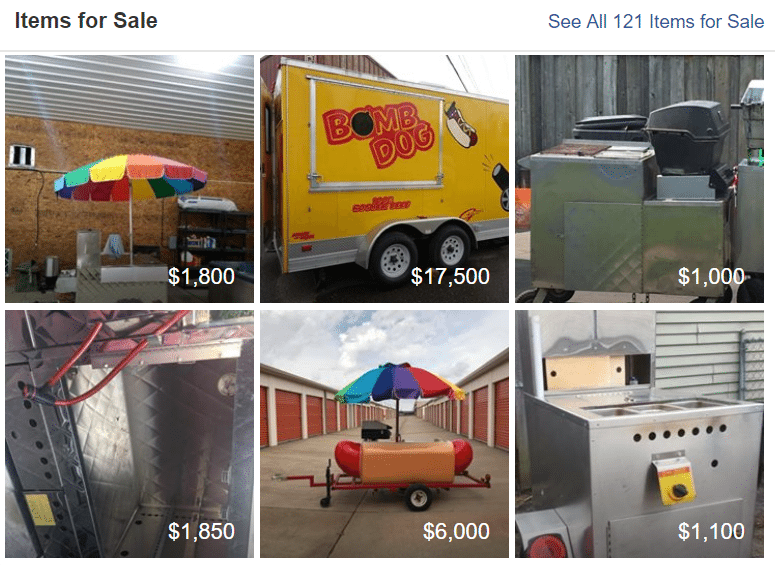 Not what you're looking for? Try buildacart.com or the Cash Cow Cart.