LOW CALORIE HOT DOGS?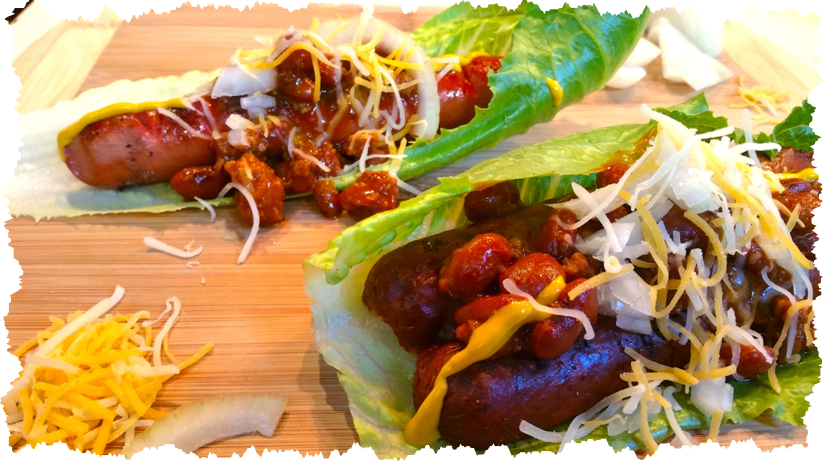 Yes! You can actually do many different vegan and vegetarian hot dogs from a cart.  I'll include a recipe and some other info below. First I must thank Erin, Denver's (not the city) wife for giving me this awesome idea.
I know, I'm probably not the first to blog about it, but I've been vending and working with tens of thousands of vendors for years now and I had never heard of this.
Sure. I've heard of vegetarian and vegan hot dogs, but not like this! 
INTRODUCING THE ERIN DOG
Want to serve vegan and vegetarian hot dogs from a cart? No problem. A vegan/vegetarian hot dog or sausage, all veggie toppings and a vegan or vegetarian hot dog bun.  [note: vegan buns contain no dairy or animal products]
Denver's wife (not the city) asked during the live Facebook Q&A Thursday, if I'd ever tried or heard of replacing the bun with lettuce?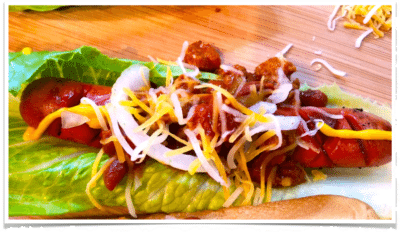 Nope!  Never! But dang that sounds great. As many know, I lost about 1 person worth of fat 3 years ago and have kept it off. Mostly due to my punishing myself by limiting my bread intake and eating more vegetables now.
Well. I had to try it.
The Soon To Be Famous Erin Dog
Romaine lettuce hearts (that head of lettuce is for sure dead now) *thinner and stout, perfect for a loaded hot dog.
Hot dog (your choice, vegan, vegetarian or just normal – either way HEALTHIER!)
Your choice of toppings
As you'll see I did several different dogs. A complete vegan dog with romaine hearts for the bun, then I did a normal hot dog, normal toppings with romaine hearts and then I treated myself to all vegan chili cheese chorizo dog (sausage).
Last but not least, I did normal chili dogs for my family.  They weren't gonna guinea pig with me.
Lettuce Eat!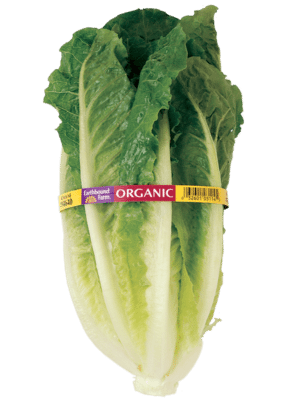 You can cut calories galore just by removing the bun but I wasn't sure how it would taste or feel in my mouth parts.  Turns out, IT'S FREAK'N DELICIOUS!
The lettuce crunches, snaps and has an awesome texture with the chili dog. Sort of like putting chips on your sandwich but not as salty.  It's absolutely brilliant. #thankserinanddenver
We already have many vendors doing vegan and vegetarian menus and some their entire menu is that, but this goes an entirely 'nother level.
You can cut calories!
Not give up meat and still have a delicious meal to offer your calorie conscious customers.
WHY WOULD YOU?
If you live in areas that are super health conscious, unlike East TN and there are Whole Food stores on every corner, then you might should be offering…
Low calorie hot dog: lettuce instead of buns (a regular bun is 120 calories) CALORIE COUNTERS
Vegetarian hot dog: Still can have dairy products like cheese but veggie dogs – VEGETARIANS
Vegan hot dog: No dairy products or bi-products, 100% plant based – VEGANS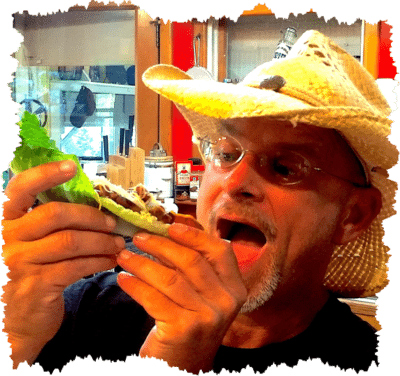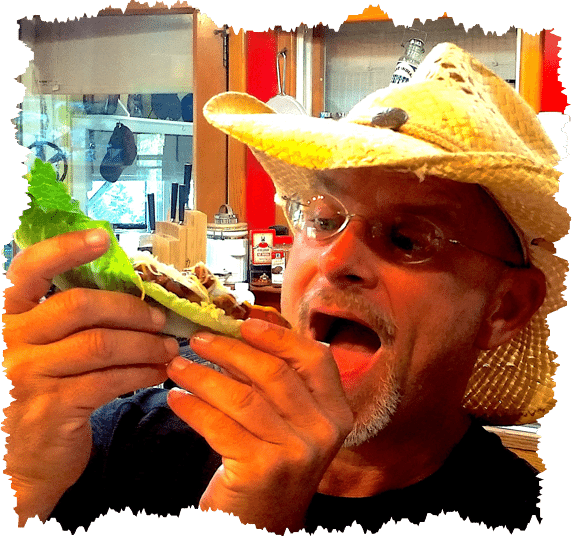 I did two vegan dogs, one sausage and one regular.  Both were fantastic and I'm definitely a carnivore but I absolutely loved them.
A Vegan Or Veggie Artisan Hot Dog could command $5, $6, $7 and probably $8 each. Serve your audience what they want and don't forget the lettuce buns.
LET US NOT USE THE WRONG LETT-UCE
Romaine lettuce hearts come in a bag, usually 3 stalks with enough to do about 30 dogs but they are more expensive.  I did try normal everyday lettuce and some normal romaine but it's not the same.  The Romaine hearts are full of water and crunchy deliciousness.
RECIPES
A great bean free chili but you can always add some.
Chili for Hot Dogs:
1lb lean ground beef  (I used 93% lean)
1 small onion finely diced
1-2 cloves garlic grated finely
red chili flakes to taste
1 tsp cumin powder
1 tsp celery seeds
1 Tbs Worcestershire sauce
2 Tbs yellow mustard
1/2 cup ketchup
1 (8oz) can tomato sauce
salt and black pepper to taste  [See instructions here]
Vegan Chili

1 tablespoon sunflower oil
1 medium yellow onion, diced
1 cup shredded carrots
1-2 jalapeño peppers, stemmed, seeded, and minced
3 garlic cloves, minced
1/2 cup bulgur, rinsed
2 tablespoons chili powder
1 tablespoon ground cumin
2 cups diced fresh tomatoes (about 2 medium or 6 plum tomatoes)
1 1/2 cups tomato sauce
1 (15-ounce) can kidney beans, drained and rinsed
1 1/2 (15-ounce) cans black beans, drained and rinsed
1 1/2 teaspoons kosher salt, or to taste
Chopped fresh cilantro
1. Heat the oil in a Dutch oven or large heavy pot over medium-high heat. Add the onion, carrots, and jalapeño and sauté, stirring often, until the onion is soft and translucent, about 5 minutes. Add the garlic and sauté for 1 minute. Add the bulgur, chili powder, and cumin and stir until well combined.
2. Stir in the tomatoes, tomato sauce, and beans. Bring to a boil, then reduce the heat, cover, and simmer, stirring occasionally, until the beans are tender, about 1 hour. Season with salt to taste. Serve with a sprinkling of cilantro, if desired. [Credit: Epicurious]
Are Ya Ready?  Need Any Help?
Vendors and Maybe vendors can get help from Ben right here. It's Ben's little wizard and can help anyone start, get better and most of all – GAIN REAL FREEDOM!
CLICK HERE AND GET BEN'S HELP
SPECIAL THANKS!  ERIN & DENVER
---
Ben helps vendors world wide. Every Thursday he does a Q&A session live on Facebook.com/benshotdogcarts and almost daily writes on the blog here. If you are thinking about starting your own hot dog vending business or already run a street food business but want to explode sales and work less… Ben will help you.