I wanted to talk to you about vendor complacency, something that I saw yesterday. Vendors become complacent.
They start doing good and then they slowly start to lose that loving feeling.
They kind of start pulling back and not doing as good a job as when they started.
This one took me by surprise cause this vendor, I didn't expect it from.
Here's some things I noticed…
Clear Signs Of Vendor Complacency
It had a swooper flag that had faded and looked like crap.
It just doesn't look good.
He'd be better off without the swooper flag.
It shouldn't be there now because it's so faded that it is junkie.
And swooper flags aren't that expensive.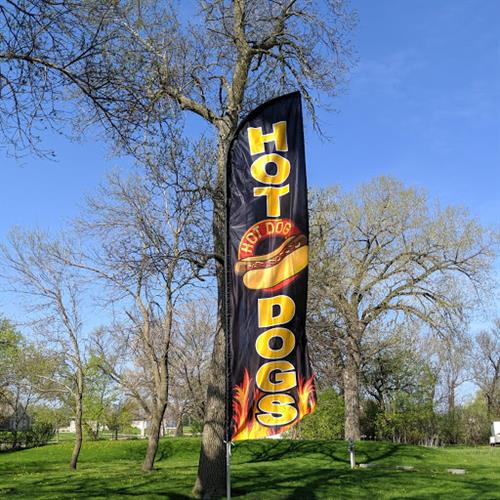 I'm going to go through some fixes, as soon as I get through telling you or sharing with you, the things that I noticed immediately when I pulled up.
Another one yesterday…
The cart was dirty, and I don't mean like food everywhere on it and gross like that. I mean dirty, like been run down the road a lot, rain and nasty.
So the shine was gone.
There was mud splashed up on the sides, where it splashes off the road from the pool car and it just didn't look good, even right there on the front, where the burner holes are.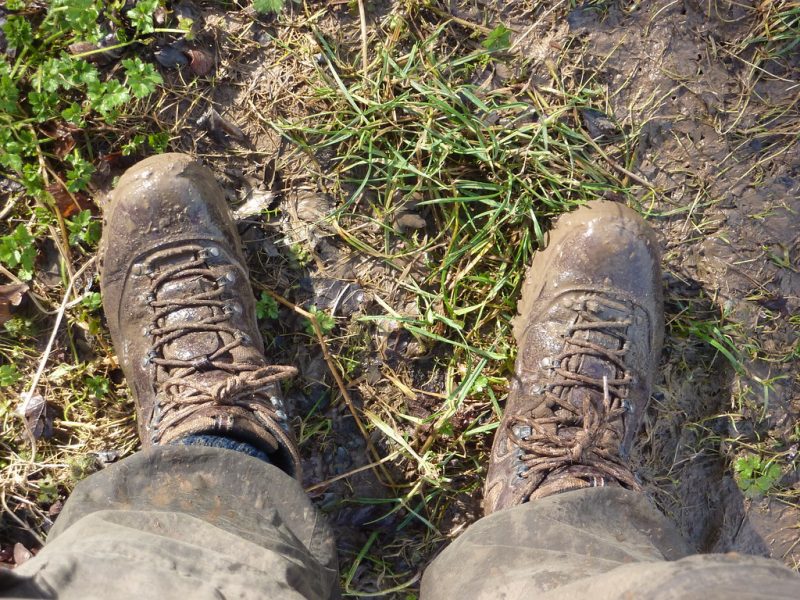 It was muddy and look like crap. This was pure vendor complacency, at its best!
Like I wouldn't want to eat off that.
And I didn't, I chose not to eat, just because it looked so ratty.
So I began looking around, cause I had been there a year ago and it wasn't anything even remotely resemble this look.
A year ago looked fantastic
Another one was, they have a condiment caddie and it's one of those San Jamar condiment caddies, with the plastic lid.
It's black with a plastic lid, and the plastic used to be clear, but now it's sun faded to the point that it looks dirty all the time.
So it doesn't even appear to be clean.
Even it could have been clean, we wouldn't have known cause it now appears dirty.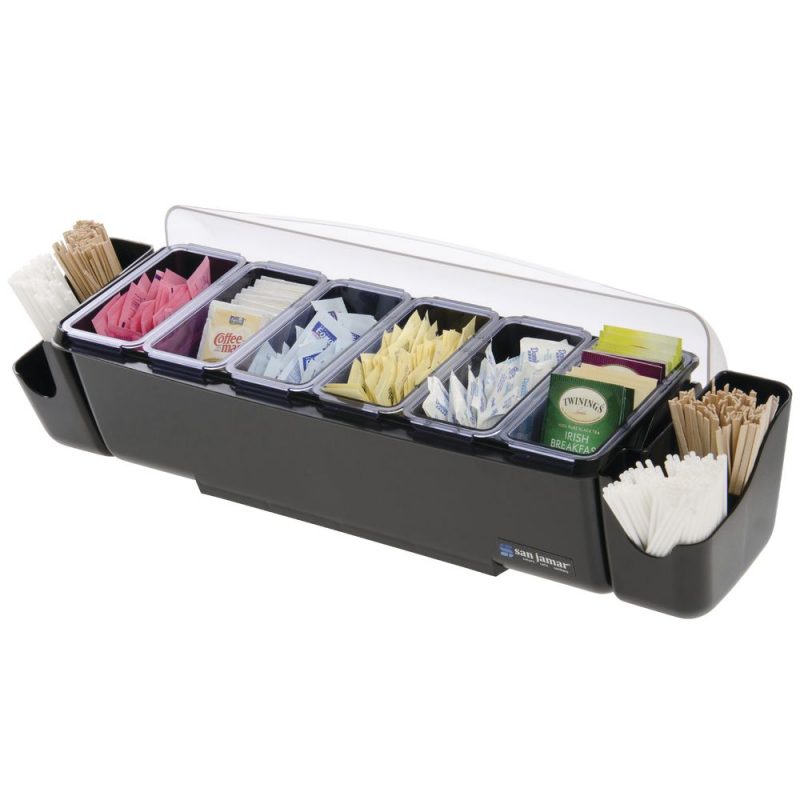 Now I don't know if you can buy replacement San Jamar lids.
You probably can, but San Jamar condiment caddies aren't horribly expensive. And if it meant you had to invest in one every year, what the heck?
The Condiment table…
It had a little picnic style condiment table sitting beside the cart with some condiments on it, and some other things.
But right in front of the condiment table was a hole, like a mud hole and it had been raining the day or two prior, so it was like nasty.
It was muddy there, and even though it was gravel, it was a lot of mud and dirt there in that hole.
So what the customer would have to do is walk around behind the condiment table, not the part facing them, and get their condiments standing in the hole or go around it and not standing in a hole.
Why'd you put that there?
So then the one of the other things that I noticed that just grossed me out was the pickle jar.
The pickle jar…
They have a pickle jar set up, and we teach vendors to have pickle jars because in some areas pickle jars do great.
Some vendors doing pickles on a stick for a dollar, some doing for $2.
You can make a kill with pickles.
It's just a great side item.
Well this vendor has a pickle jar and it is so sun faded, the pickle label on the jar, I don't know if they're taking pickles out of a five gallon bucket.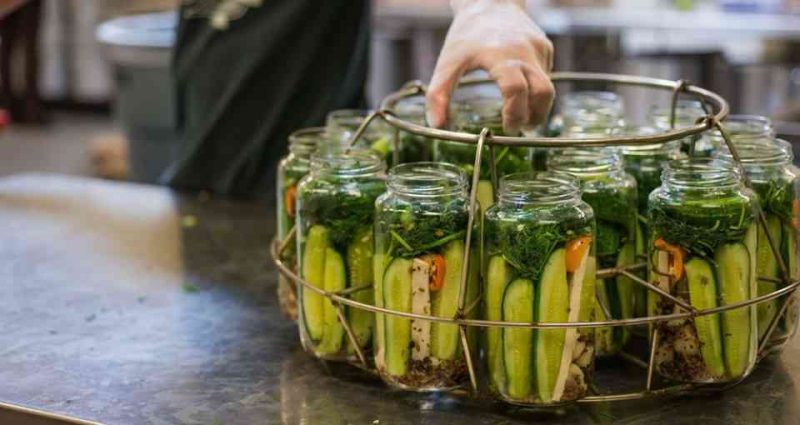 Cause you can buy them in five gallons, and putting them in that jar.
But the label is now so sun faded that it looks like you bought it when that grocery store that closed 10 years ago… That's what it looked like.
It looked like an old jar of pickles and it wasn't appealing to me.
Now if it's the case, if this vendor's moving pickles from a five gallon jug or tub to the jar, which a lot of us do, then make your own label.
Create your own label or splurge and get you a clear jar, or scrape the fricking paper off that jar.
It's clear anyway, people are going to be able to tell that it's pickles. And if you put pickles at a dollar or pickles at $2, they'll really know it's pickles.
They'll see the pickles, they read the pickles.
Some Things I Would Do Immediately
One, I would change the signs.
I would change those out immediately to something that is not sun faded, rip, tattered, torn and looks dirty.
The whole setup didn't look appealing.
Now I asked him, I said, how are you doing?
And he goes, Oh, I'll do pretty good, you know. Normally, a couple of hours, two and a half, about $250 a day. Fricking great.
But what if he could make $330 a day for the same amount of time?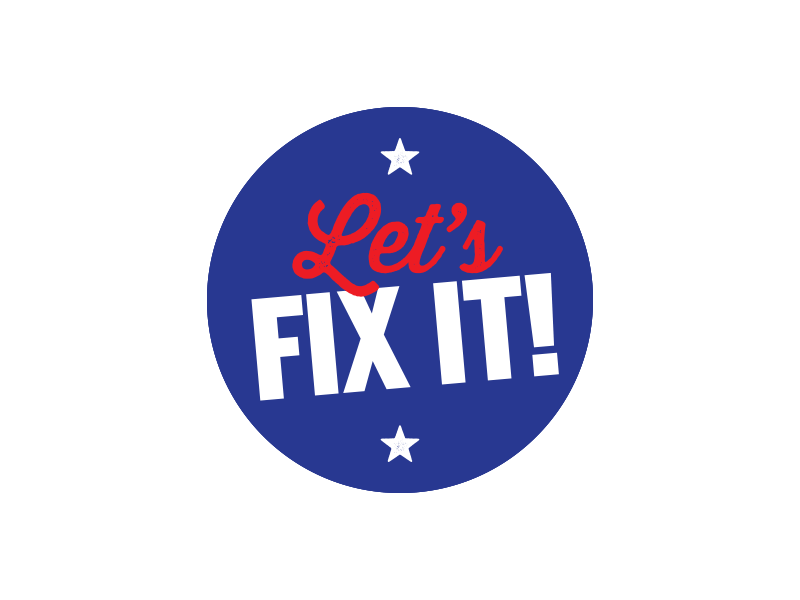 Wouldn't you do it?
I would.
I mean, I would not dare risk my business.
I'm out there anyway.
Why not be the best that I can be?
Why not stop with this vendor complacency that can literally destroy your hot dgo business?
And here's some other fixes.
The condiment caddie, replace the fricking thing.
Replace it.
I don't care if you buy the cheapest piece of crap condiment caddie, it looked better for a little while and then get you another one and keep doing it.
Figure it into the cost of doing business, looking clean and present yourself well.
I'd want you to ask yourself a question
If the mayor was coming today to your cart, or your pastor was coming to your cart, bringing his wife and kids to eat, or if your mother-in-law was coming to your cart, would you go out of your way to make everything perfect?
Like make it look good, clean, wipe down the sides of the cart.
I mean, that takes all of two and a half minutes and you do these things.
Most people would go, yeah, I'm going to do that.
Especially if the mayor's coming right or my mother-in-law.
So then why wouldn't you do that everyday?
Because in truth, we don't know what customer's going to come up that's going to turn into a $40,000 a year private gig at the Ford dealership.
We don't know which customer that shows up is gonna see that nasty pickle jar and would've asked me to host their employee benefit program twice a year, their meet and greet thing with clients.
Who knows?!
But vendors are doing those things.
I'll guarantee you this vendor is not getting jack squat in jobs, private gigs.
Cause ain't nobody walking up to that cart and thinking, I'd love to have him in my backyard serving my friends and family.
I'm blown away!
This is vendors complacency
So maybe he was doing $400 a day, but then he goes, I can get by on $200.
Well, this is your business.
When you go out into the public, it's like creating an ad.
And then going, here's my ad. Oh the cat crapped on it.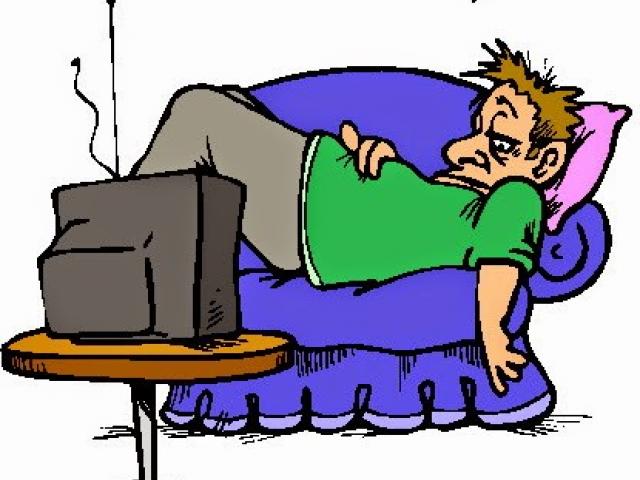 Sorry about that.
But we do have good hot dogs.
Nobody wants that!
Do you see my point there? So make the best of your 2-3 hours there.
Does it take you a little bit more effort?
Yes, just a tiny bit more effort.
Oh, and he was out of mustard
So I said, I would just stop setting up real quick when I figured it out and ran to the store and he goes, eh, it doesn't matter.
I'll bring it next time.
It's on the end of the world.
And I'm like, no, no.
This is important.
Are You Using The List?
We have these lists on learnhotdogs.com that you can just download and now you've got a checklist.
So you know to take your stuff right. Like we teach in our Vendors United group.
Even the best vendors still use a checklist because it is common for us to have 900,000 things on our mind.
We want to make sure we can make it to the emergency fishing trip later and we ain't thinking, did I grab the mustard when we get in the car, we usually think about it once we get there.
So if you have a checklist and you make sure you have everything, then you can go prepared.
So there's proof of vendor complacency
That's somebody who just just doesn't want move forward.
They're happy with the status quo.
They're like, yeah, you know, I could have made more, I could have picked up that $20 off the ground, but Hey, that's a long ways down to the ground, you know, and I'm okay, I got money, I got a dollar too.
What do I care?
That's vendor complacency.
That's kind of the get by attitude, and it's what separates typically entrepreneurs from people that work regular jobs.
But this guy was kicking butt a year ago.
He was doing fantastic.
It was last October.
I was there a year ago October and he was kicking butt and now he's like, I still do pretty good, still doing pretty good.
And I'm like, dude!
Here's another solution to the mud hole and all that
Move the fricking cart over five feet.
Don't set your condiment table in front of a mud hole.
If you're in a dirt lot, go get you a 10 by 12 or a 10 by 10 piece of outdoor carpet.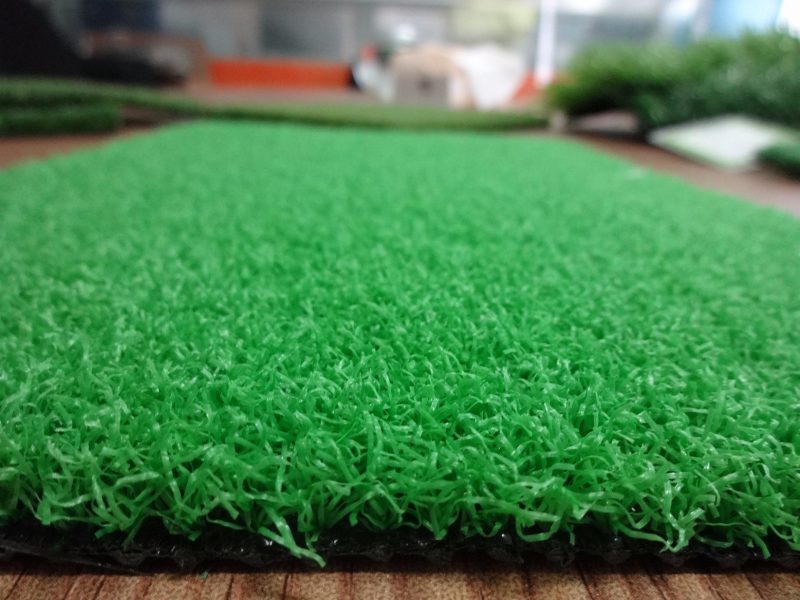 It's easy to roll up, easy to fold up.
Put it in your truck and put that under your cart.
And now you look clean and outdoor carpet's easy.
Like if somebody spills some mustard on your outdoor carpet, you can just spray it off with a water hose.
It's like magic.
So it just makes things look better, keeps the dust down.
Those are the extra steps that you should be doing.
Most vendors do, in the beginning
They do these things and then later go, Oh my gosh man, I don't wanna do the checklist today cause that takes me like 15 and a half seconds.
I'm gonna miss Jerry Springer.
You have to stay motivated.
You have to keep in your head, I'm going to do these things every day that I go out.
If you get to feeling like, you know what, I don't really need to do all this work… then take a week off.
Take two weeks off so you feel rejuvenated enough to do it the right way.
Don't let yourself burn out to the point that you're on a slowly downhill progress path to crapville.
Because what's ultimately going to happen if he doesn't make changes immediately, is that he will go out of business.
Start your own street food business with a small investment –
[CLICK HERE]
There isn't people that want to eat off a nasty cart and I can't imagine them wanting to do that every week.
Sure, there's some, but not enough to make a happy income.
Anyway, that's it.
The problem is vendor complacency, the problem is doing things that way.
This vendor could be making more an hour just by being cleaner.
And I just made up the figure of $40 an hour.
He could make a lot more than that.
He could get all kinds of private gigs.
He could do so much better.
Had he not got complacent and started letting things slack with his vending business.
Help us help vendors avoid these mistakes. Share this…