$900

to $1000 every weekend!
I'm always inspired by stories like this.  Andrew and Kelly sent this in – thanks.  These guys became a hit with their cart, chips, gyros and Chicago Dogs.  Read More   Making about a thousand bucks every weekend!  Congrats Guys!
Vendors Given the Boot!
Simply fantastic and informative article about food vending, the unfair and often unconstitutional codes some cities have created to eliminate vendors.  Information is key, it gives you an advantage and helps others understand the plight of many vendors.  Fortunately those Liberals are fighting to safeguard our rights.  They are organizations like the Institute of Justice and the ACLU whom use private donations to protect our rights.  I encourage you to read the article and possibly donate a buck or two to IJ or maybe buy a shirt.
Any one looking for an electric hot dog cart?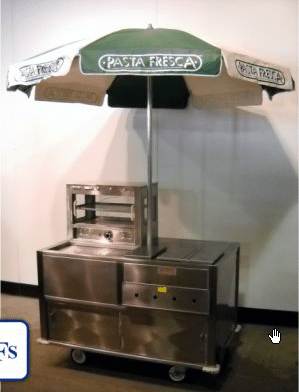 Click here, it's only $1500 – sounds like a good deal.