A true Street Food Pro.  Frankand Steinz – this is What I Learned From Pro Hot Dog Vendor Alex.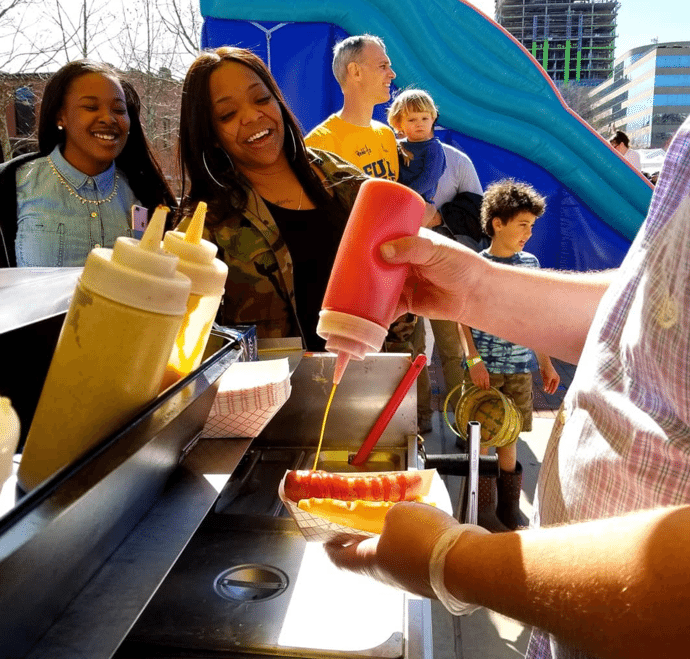 Alex and his wife Janessa own and operate the very popular Frank and Steinz. They have been in operation about 3 years but although pretty much full time, he still was holding down another job.
He is based out of Waynesville, NC. A small town about 20 minutes from Asheville, NC. From vending at Frog Level Brewery to out front of the O'Reilly's auto parts store – Alex draws them in like flies.
Thursday
On Thursday I was scheduled to work with him a bit but my old Toyota decided on a different plan and I was delayed.
Only got to spend the last 15 minutes with him of his 11-2 schedule. At O'Reilly's auto parts.
Saturday I'd have another chance –  but I did show up in time to see him sellout for the 2nd time on Thursday.
Saturday (truck willing and the creek don't rise)
JACKPOT!  I made it. Easter on the Green (Asheville, NC) – in Pack Square Park.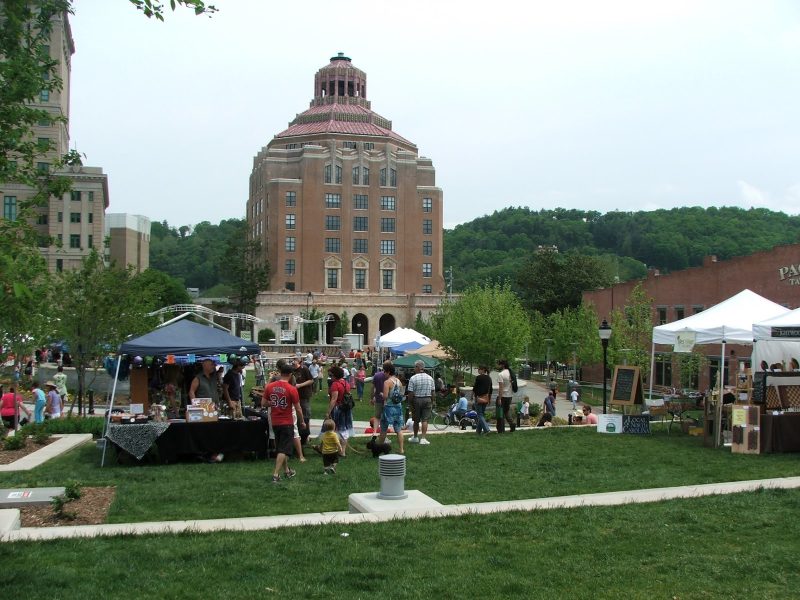 From across the park I can see the bright yellow umbrella, the yellow canopy and the 15 foot swooper flag waving in the wind.
WORRIED
I was worried about this event when I found out the powers that be have scheduled this years event from 2:PM till 5:PM.
I talk about that and why it matters in this video I did with Alex.
Alex was working alone, which meant he had to collect the money, run the cards, serve the food, keep enough going and he did all this and more with one fresh gloved hand (changed often) and one bare hand.
Certainly a pro.
IN MORE WAYS THAN ONE
He's not only working alone… I took a stroll around the park to check out the other vendors. Guess what…?
NO ONE SHOWED.
No food trucks, no food vendors – nothing.
The Bojangles® tents weren't serving chicken as expected. Instead. They served ice tea and gave out biscuits (they're famous for those in the South).
There was a lemonade stand, a nut stand and an ice cream stand – and that's it.
Alex planned smart, he planned on taking the event coordinator's (planner) words for what their worth… usually lies. Exaggerated truths at best.
Bottom line, if you're planning on doing events – you'll want to know this before you commit.
Alex took 300 hot dogs instead of planning on 2500, he planned on getting a fraction of the fraction. Smart move.
At Times The Line Was 20+ Deep
At one point I counted 26 people in line, not counting kids with their parents. Every now and then I'd open a bag of buns for him or dig for a certain soda a customer couldn't seem to find.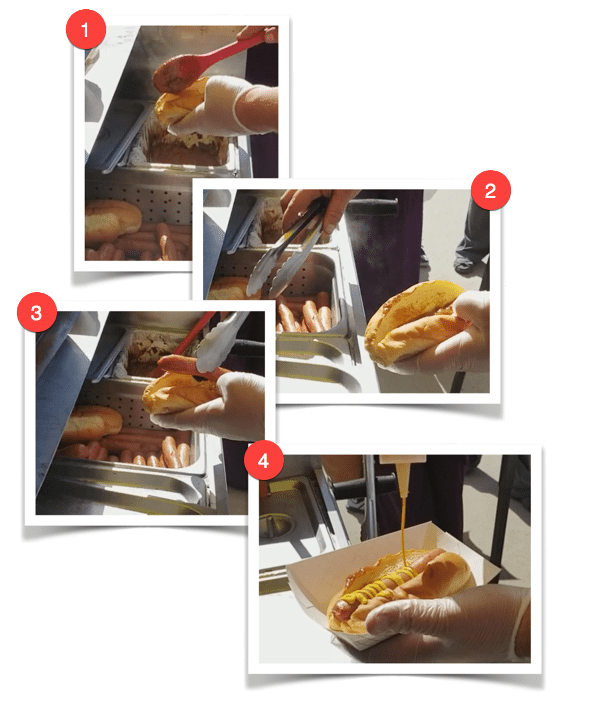 My little bit of help was minimal at best and only served to assist customers and pick up a dropped hot dog or two. I did nothing that helped his process of vending.
Me or no me, Alex would have still served as many and in the same speed.
WHAT I LEARNED FROM PRO HOT DOG VENDOR
You're probably thinking that I must be crazy. How could this GooooRoooo LEARN  anything from a three year vendor.
Well you'd be surprised then. There's not a night on our private VIP show with vendors on Monday nights that I don't learn something from someone. Lots of smart people in there. Including Alex.
So here's what I learned from pro hot dog vendor Alex.
Alex doesn't look up at the long line (he serves the next, then the next, then the next) He takes his time and carefully makes each dog.
Alex doesn't get rushed. He skips nothing. Even with a line 20 deep and he sees a kid drop his newly received hot dog. Alex stops fixing the order he's on. Grabs a bun, fixes it for the kid and hands him a brand new hot dog.
Alex doesn't wait for a break in the line to wipe down or replenish the paper towels. He just simply stops before taking the next order and he keeps everything stocked.
His 5×5 popup tent is brilliant and the weights on the top – another big advantage.
He's grilling every hot dog, every sausage. Yes, they're already heated up from the dirty water bath but he then grills them, for each customer.
He holds pre-grilled hot dogs (but not for very long) in his steamer for faster service. Something I never did, because they'll wrinkle / shrivel quickly after being grilled.
He keeps extra buns already opened and handy for quick steaming
He keeps a small knife (a tater knife as we call 'em) for cutting up hot dogs for kids and the occasional pet.
He has backups for backups and plenty of tongs so no matter where he's standing he can grab whatever he needs.
Even tired, even rushed – with folks backing up – Alex stayed calm. He just kept going and doing each order to perfection.
How he kept a metal bar in the trash can to prevent it from blowing over
How he kept condiments that he applied in the Flip Top just above the steam table
Learned to put chili on the bottom to avoid a messier hot dog (actually from a customer)
What I Learned From Pro Hot Dog Vendor – Summary
My takeaway, in summary – but certainly not all that I noticed… is this. Alex runs a top notch operation, quality foods and impeccable service.
If I had to pick just one: I'd say it's his uncanny ability to (although he stated he was) act calm, to be calm. He literally seems as if no one else is in line but that one customer he's currently serving.

No matter if the actual number is 26.
He has a system – a rhythm.
He's a pro.
He'd probably argue that but he'd be wrong.
I used comedy (and dry humor) to mask my anxiety when the line built.
Alex – well he may be masking –  but his coverup is PERFECT service.
JUST SIX MONTHS AGO…
WHAT MAKES ALEX DIFFERENT THAN MOST VENDORS?
Alex doesn't stop investing in his knowledge. He keeps learning, if we're doing a session at Vendors United, he's there. If there's something new to learn. He's there. Alex does what the Street Food Pros do. (because he is one) – He keeps going and expanding his knowledge.
3 YEARS IN – HE DOES THIS…

Why?
Because he's smart.
Because he knows he can write it all off.
Because he wants to make more & work less.
Work smarter – not harder and longer.
You should be too.
All three of those courses are great, but Vend Anywhere as probably had the largest impact on a vendors immediate success. That course will soon be over $500. Don't wait – get it for less than $100 now.