Virginia Shares Her Story of Determination
Hi, folks! I got a wonderful email today from Virginia, who has been working long and hard to get her mobile food business going. Wait until you hear her story and look at her photos! Talk about determination and persistence! And it's paying off. I know she has what it takes to be successful. She's a hard worker with a great attitude. She told me I could share her email, so here you go!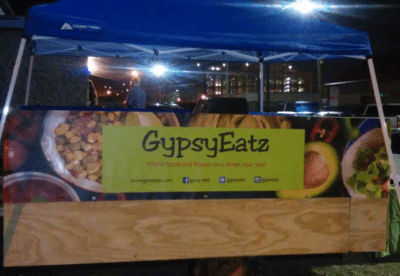 The Story of Gypsy Eatz
Hi Ben,
I just want to share my story with you. If there are any parts you think might help other vendors, feel free to share. I've also created a link to an online photo album because some things just have to be seen to be believed LOL.

Photos link:
https://goo.gl/photos/A88t7Vv8v319BmHA6

The Story:
I was a food service director with a national company. The client where I worked did not renew our contract so I was out of a job 🙁
About 6 mos prior to that, I bought an old popup camper thinking we might rehab it and go camping. Once I was out of a job, I thought maybe we could turn it into a little popup food trailer. It took several stages of destruction for me to realize I could not revive it…
All this time I was job hunting. I found a job with a hotdog vendor (was not EVEN thinking I would do it for myself, just needed a daily pay kind of gig). After handing over the bulk of the money for several days, I realized I could do this too. Did I mention I ran away from home as a teenager and went to work for the carnival? I've always been very independent hahaha. Anyway…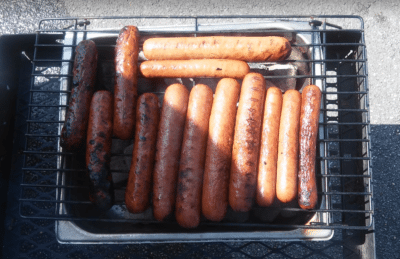 Desperately broke, I begged the hotdog guy to let me rent his cart. All the while, trying to get my own thing fixed up…finally he agreed and charged me $75 for 6 hrs. I did that one day and realized it was too much out of my pocket. I had no grill etc. so I rigged a charcoal "grill" off the hitch of my daughter's jeep! There is a funny video of this included with the pics. Went out that next day with it and made over $100 clear. I immediately started a fundraiser for myself.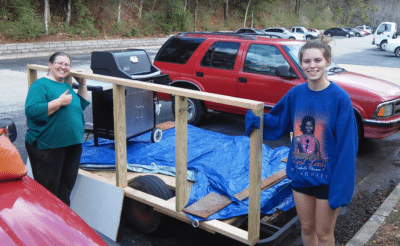 A friend donated $50 to a Go-Fund Me campaign that I started and that same night I found a grill on FB for exactly $50!! They even threw in the propane, tank, and bungees to get it home with.

Figured out I could stand it up in the trunk of our rickety 12 year old car, bungee corded it so it wouldn't fall out and started going to a late-night club on the weekends.
I saw a picture online that made me believe I could make a flatbed "mobile catering trailer" from the carcass of the popup camper so I started down that path. Lots I can tell you about that process if you want. The most important thing though is how you have helped me keep going even when I've been petrified and or depressed 🙂 Thank you from the bottom of my heart.
I found a guy to put the new floor on the metal frame for me. He let me pay him a little at a time 🙂 Then I was able to bungee cord everything onto it instead of the trunk LOL. A friend's mom donated her old grill (also with propane!) so now I had TWO!! Great 🙂
Finally getting tired of the wind whistling around me as I cooked "on stage", I convinced my teenage daughter we could frame some walls for it. We did and she was proud of her newfound carpentry skills. My mother got me a banner for Christmas and my brother gave me a turkey fryer kit…
I was approved for my HD license last Halloween (2016) but haven't been able to afford to go get it yet 🙁 I will of course! I am a "caterer" with a commissary and have the trailer registered as a utility trailer. I have purchased insurance just recently (WHEW!) and just today located a regular daytime location. Hope it works out…today was not a money-maker but I have high hopes.
My short term goal is to take home at least $100 each day. Selling forty 5$ meals/day should do it ($50 space rental daily plus expenses, then the rest is mine).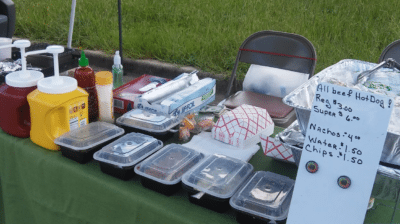 It's been almost two years of slow going. I know I still have a long way to go to become more profitable, professional, and presentable but when I start to feel I can't do it anymore, your pep talk videos, emails, and web pages all keep me on track. Hot dogs saved your life…now they are saving mine 🙂
Blessings on you and your loved ones Ben. Let me know if there is EVER anything I can do for you or yours.
Virginia Walker @GypsyEatz
Want to Get Started?
Learn how you can start your own hot dog cart with little to no money with my Instant Vendor course!